Paying More For Diversity
NORTH LITTLE ROCK (Nov. 17) – Easy now … two posts in one day? What will people think?
I drove to downtown Little Rock to the bank and decided to stop at Go Green Biofuels at 801 South Chester to fill up my S-10 with E-10 unleaded, i.e. ethanol.
I saw a news spot on the business a few weeks ago, but had not stopped to fill up since it's open from 8 a.m. to 5 p.m. and I often do not get back into Little Rock until at least 8 p.m.
It's not the easiest access either, as you cannot enter the station from Chester. In addition, 8th Street runs one-way, requiring the driver to turn on 7th Street and make the block.
When I entered the station, only the owner's Prius sat in the lot. He stepped out as I pulled up. Buddy Rawls, 58, works as a psychological examiner but wants to establish a thriving independent business.
"I guess you can call it moonlighting," he said when I called later to make sure I got his name correct. "It seems to be filling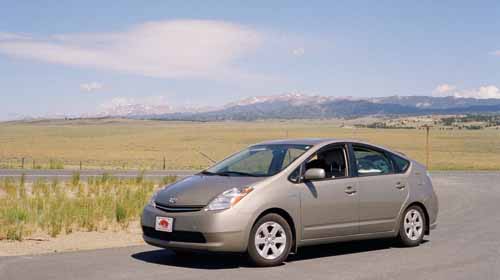 Eco-Friendly – Our Toyota Prius sits packed on the Oregon Trail during summer vacation. The car requires fuel with no less than a 89 octane rating
that role. I'm doing this in addition to my full-time work."
Before I pumped, we talked about the octane in ethanol. I always run at least mid-grade in our Prius, and usually regular unleaded in the S-10. Rawls said E-10 Unleaded consists of 90 percent gasoline and 10 percent ethanol.
He stepped back in the store and brought out a couple of pamphlets, including one from drivingethanol.org that notes ethanol-enriched gasoline burns cooler, saves engine wear and reduces emissions and air pollution by 30 percent. It also notes the IndyCar Series started using ethanol in 2006.
The other pamphlet from Ethanol Across America disputes the notion that any automaker in the world disapproves of E-10 Unleaded. It provides quotes about ethanol use from automakers owner's manuals including GM, Ford, DaimlerChrysler, Acura, Audi, BMW, Honda, Hyundai, Infiniti, Isuzu, Jaguar, Kia, Land Rover, Lexus, Mercedes-Benz, Mazda, Mitsubishi, Nissan, Porsche, Rolls Royce/Bentley, Saab, Saturn, Subaru, Suzuki, Toyota, Volkswagen and Volvo.
I ask Rawls if he expects to stay open later so there's a better chance I can stop more often. Apparently, a mechanic plans to take over the garage area, so the hours should get better starting in early December. As far as access, Rawls plans to ask the highway department to approve changing 8th Street back to two-way. If that could happen for at least a block, it would help.
The downside: E-10 Unleaded costs $2.19 when I can get on littlerockgasprices.com and find unleaded at $2.01. Yet as I'm driving home, I note Exxon fleecing the Park Hill patrons at $2.13 for unregular. I feel better about taking a stand for a choice that may prove beneficial down the road.
Final thought – it ain't easy being green, but nothing good for you is ever really easy.