Category: A Traveling Arkansan
The annual Gallup-Healthways Well-Being Index ranks eight Southern states among the bottom 10, with West Virginians taking 50th for the fourth year in a row.
West Virginians were the least likely to be thriving, as was the case in 2011. Also, West Virginians had the worst emotional health in the nation and were more likely to report being diagnosed with depression than residents of any other state.

Residents in West Virginia also had the lowest score on the Physical Health Index, which includes having the highest percentage of obese residents in the nation.
I suggest getting off your arse and seeing Southern beauty to break those blues. You could go someplace like Abrams Falls if you're in Tennessee. Or you could find someplace closer to home.
As I finish my time in Southeast Arkansas, I plan to knock out my bucket list. Check back to see you can find beauty all over our country, but especially in the South. If you're sad or unhealthy, folks, you just ain't trying.
SOMEWHERE ON I-81, Va. — Tell your mama, tell your paw … We're heading back to Arkansas.
Due to transporting three dogs and two humans and the problems finding accommodations with Wifi along the way, the news links may or may not be posted tomorrow. If not, visit our sister site, The Locust Fork News-Journal. But look for us to return as soon as technology provides.
You may have noticed the photos of people reading with the news links. This idea came from reading Mr. SEC, the definitive site to read everything you wanted to know about Southeast Conference football and basketball. You may occasionally find sports-related material here, but we plan to concentrate on bringing you other aspects of the South.
As a tease of sorts, I expect to receive photos of the group who stood for the Pine Bluff soldier once I get home. If that comes through, expect to see them as soon as I can post them.
Until.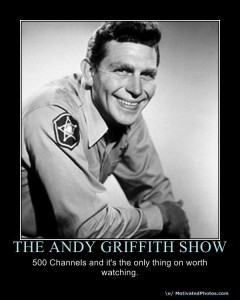 OLNEY, Md. – The South — and the world — mourns today following news of Andy Griffith's demise.
The 86-year-old came into our homes more than half a century on this newfangled contraption called TV. He made us laugh, a LOT, and brought the down-home goodness of Mayberry into the American conscious.
Sure, Andy Griffith played roles other than Andy Taylor, but no other role suited him so.
***
I started watching "The Andy Griffith Show" when my mom married my dad, Leroy Sitton, in 1977. Dad worked for the Arkansas State Police. I'm – still – a redhead. And Ronny Howard actually knew to spell his name with a "y." It all rolled from there. In hindsight, I'm only surprised that it took until the 8th grade for Patrick Grogan to nickname me "Opie."
Although I didn't live in Mayberry, I learned a lot from watching Sheriff Taylor and the gang.
Watching Aunt Bee arrive to help with Opie in "The New Housekeeper" showed me acceptance may be hard, but love can overcome anything.
Watching the citizens of Mayberry's hostility to a fella who knew everything about them in "Stranger in Town" showed me folks have NO IDEA about the long reach of media, which is particularly relevant in these days of facebook and twitter.
Watching Barney Fife take over as sheriff in "Andy Saves Barney's Morale" showed me absolute power can corrupt absolutely.
I could go on, but I'm sure you have your favorite episodes.
Surprisingly, television allowed Griffith to portray a single dad in an era where single parents were frowned upon. By the time I came around, single dad-hood wasn't a big deal as we received daily doses of "Family Affair."
***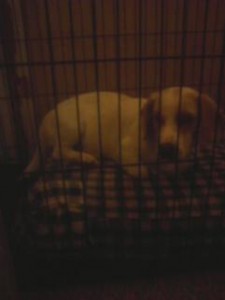 The show made such an impact on me, we named our dog Otis after Mayberry's town drunk. At first glance, this might seem to be a slight. But what else could we name the dog after he continually put himself in his kennel whenever he messed up?
***
Sunday would have been dad's 74th birthday. In a way, I find it fitting that Andy Griffith died the week that marks dad's birthday, my folk's anniversary and the nation's Independence Day.
The only way it would be more fitting would have been for "Ang" to pass on July 4th. But then again, he never was one to hog the spotlight.
We'll miss you, sir.
***
Editor's Note: A previous version left out the word "on" when discussing the reader's favorite episodes and also contained an AP style error. All apologies.
NORTH LITTLE ROCK — It looks like I'm going to help my wife start a blog about being an ecovore. Stay tuned for updates!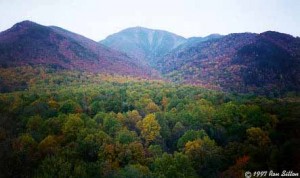 MONTICELLO, Ark. — All apologies for the lack of posts in September. But as promised, a cross-post from my personal blog when it relates to the South.
For those wondering, this week's celebrating the U.S. National Parks and Ken Burns' documentary showing on PBS. After staying West for most of the week, it's time to turn attention to the Eastern United States.
The Great Smoky Mountains hold a special place in my heart for many reasons, some of which I will describe. I first remember visiting the Smokies at the age of 5, about the time my parents were going through a divorce. Mama and Papa took me on a tour of the Southeast in hopes of getting my mind off the events at home. For the most part, it did.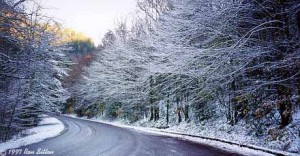 It's amazing that 35 years later, I still remember some of the things I saw, e.g. I remember seeing people outside of their cars trying to get pictures of the black bears. Granted, some of this memory has been muddled as Tanya told me about her dad trying to take a picture of a black bear and getting closer and closer until he realized he was way, way TOO close.
Much clearer, I remember coming into the North Carolina side of the Smokies. A caged bear amused tourists by drinking soda pop from a bottle. I'll never forget how sad it seemed to see such a magnificent animal behind bars when I'd just seen other bears in the "wild."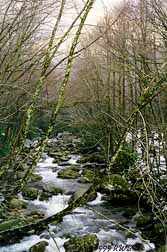 I also remember meeting Chief Fish (at least that's what he told me his name was) and getting a picture. When I returned to the area a quarter of a century later, I asked about Chief Fish and was told that he had moved away to start a road-paving business. I don't hold that against him, but I wonder if he got tired of being a curiosity. I know I will never forget him.
I moved to Eastern Tennessee in the late 1990s to work on my doctorate at the University of Tennessee. While there, I took a bunch of trips to the Great Smoky Mountains to clear my mind. It was a special haven, especially after one of the most severe break-ups I encountered in my lifetime. I don't recommend having personal angst as a reason to see it, but the beauty puts things into perspective.
I turned the camera eye on the Smokies to provide pictures for Scenic Vistas, a special feature in The Southerner online magazine that we started while I was in graduate school. The picture at the bottom of this post and the river picture to the left both came from that period.
One of the best places in the Smokies must be Cades Cove, a nice circular drive that takes you past some of the original settlers' outposts and pastoral scenes, including this one of deer in the field.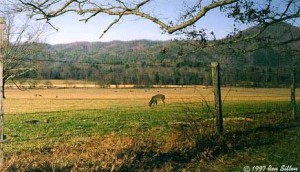 One of the funniest things about the Great Smoky Mountains that I heard actually came from a conversation with a North Carolina resident while I was visiting Boone. She noted the "Flor-idiots" would come up to see the scenery and stop in the middle of the roads, causing traffic jams (at the very least) and occasionally being a health hazard to those not smart enough to get out of the road.
But really, who can blame them when you see sights such as this (below)? Once again, I plan to add a section to my home page of photos from across the nation … but that takes time and right now, time is taken. Soon? I hope. Until then, hope you enjoy what's shown here, but better yet, get out and see it for yourself. It makes me proud that our government set land aside for future generations to enjoy without having to be wealthy individuals. Truly, it's one of the best things our government has ever done.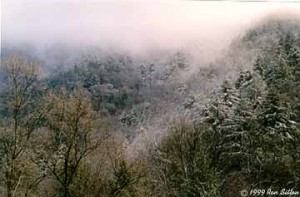 For more views of our National Parks, visit Transfixed to see a National Park of the Day for each day of National Parks' Week.
NOTE: Updated 22 Feb 13 to fix broken links.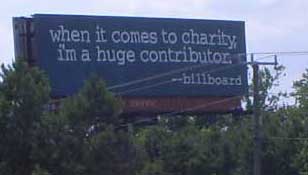 Justified — This sign seems planned to remind North Carolina motorists why it should remain standing during tough economic times.
Perpetual Notions
by Ronald Sitton
NORTH LITTLE ROCK, Ark. (Aug. 3) — You see them every day on your way to and from work, the grocery store, the library, the pool, the folks … but you might not "notice" them except for the occasional message.
In the late 1990s, "Got Milk?" grabbed the attention of passing American motorists before becoming a world-wide campaign. Without knowing the actual returns on investment, it seems the milk industry fared much better than the pork industry's "The Other White Meat" and "Beef – It's what's for dinner" (note: the beef billboards apparently spawned a PETA/vegetarian response).
Around the nation, recession billboards ask Americans to lighten up. Some of you may remember the racy Calvin Klein ads of the late '80s, but apparently the company's newest billboards even messes with New Yorkers. Someone found the time to make a Web site commemorating crazy and funny billboards for the bored to enjoy. But not all billboards are funny:
It's hard to understand the logic behind the use of some billboards.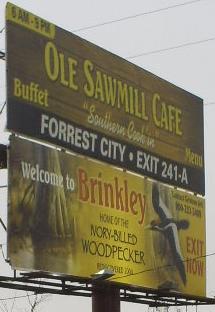 Priorities — Stop to see where the Ivory-Billed Woodpecker might be, but what about where Louis Jordan was? (File Photo)
In Kevin Clark's documentary "Is You Is: A Louis Jordan Story," Arkansongs dee-jay Stephen Koch tells of childhood expectations of seeing a statue of the legendary Rock'n'Roll Hall of Fame honoree noting his hometown of Brinkley, Ark.
Instead he found a lot of promotion for the re-discovery of the Ivory-Billed Woodpecker — but not one billboard tells passing travelers about Jordan. Wouldn't it be better to attract as many travelers as possible during tough economic times, especially when located on a busy Interstate?
Perhaps even crazier: billboards on I-40 westbound promote investment opportunities in Brinkley … right after you pass the Brinkley exit with the next exit nowhere in sight.
Of course now, it's not enough to have a static sign breaking the scenic view as you drive America's highways and byways. Electronic and digital billboards are becoming all the rage. Even the FBI understands how useful they can be with the ability to update as needed. Are they safe? The federal Highway Administration sure seems to think so, especially when they sit in congested areas that give drivers time to sit and watch them.
Some claim business forays into social media represent nothing more than electronic billboards, but somebody's watching. And just when you thought it was safe to go out in the water again … amphibious billboards! What's next? Billboards in space?
But billboards aren't just for business anymore.
GOD, Politics and Education
I'll never forget driving to Knoxville from Clinton, Tenn., and seeing:
"That 'Love Thy Neighbor' thing … I meant that." – God
Apparently, a non-denominational anonymous donor started that campaign. Halfway across the world, the Church of Singapore ran these to get more people to attend church on Sunday.
Some would say religion wouldn't be religion if there wasn't some controversy. You expect atheists to question God's existence, but what about this campaign to "challenge the mindset of a new generation of church goers"? I prefer the approach of The Foundation for Life, whose "Pass It On" series hits really hard.
When it comes to politics, sometimes it's tough to tell who's selling what. Read more: Signs of the Times
Perpetual Notions
by Ronald Sitton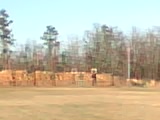 NORTH LITTLE ROCK, Ark. (April 4) — During Spring Break, I took the pleasure of spending an afternoon shooting assault weapons with old friends. Seeing how I seldom do this anymore, it made an impression on me.
I called Micah, hoping to figure out something to do since I was stuck in procrastination nation doing little but updating Web pages and loading old photos onto "crack-book." Micah told me he wanted to shoot his M-4 variant, which he recently built with Poguey's assistance. I haven't been target shooting in nearly 15 years, but Micah said he could get us on Camp Robinson to shoot.
It's been over a decade since I have driven around on the base that sits behind Burns Park. Since then, they've restricted access to the base, especially since 9-11. I thought it'd be interesting to see it at least, plus I know there's no better way to catch up with my brothers-by-other-mothers than to engage in one of their favorite hobbies. Read more: Good Times with Assault Weapons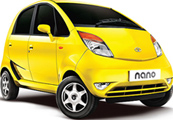 Perpetual Notions
By Ronald Sitton
NORTH LITTLE ROCK, Ark. (March 23) — So you've seen the pictures of Tata's "Nano" and you've heard the unheard of pricing of $2,000 per car in India for an automobile without air conditioning, a radio or a passenger-side mirror. You may even be aware of the 50 mpg capabilities and the steering wheel on the right side of the car.
But would you buy it?
Perhaps it's the boxy nature of this lil' chunk of love.
It somewhat reminds me of a cross between a '74 Honda Civic and a '76 Toyota Corolla, two examples of minimalist features but quality craftsmanship. Let's say with shipping and handling, it ended up more around $3,000 a car. Would that much of an increase keep you from picking one up?
If it's only money we're talking about, I'd say those with some chump change and few long-trip necessities should consider it. But before writing that check, I think we should consider something else, i.e. if some folks in India are making a $2,000 car that's supposed to revolutionize the market (and put more than a million folks behind fume-burners with the accompanying unintentional environmental consequences), why can't it be done here?
Arkansas used to make cars at Climber Motor Corporation, only two of which are still in existence at Petit Jean's Museum of Automobiles. I figured an Internet search would not uncover any independent motor corporations in the South — i.e. Arkansas, Alabama, Florida, Georgia, Mississippi, Missouri, North Carolina, South Carolina, Tennessee and Texas — but I was pleasantly surprised … OK, not astonished, but pleasantly surprised that I found an independent automobile manufacturer making an American car that gave me the shivers.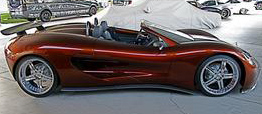 How appropriate can it be that Austin, Texas-based Ronn Motor Company is offering a green sports car, The Scorpion? It's based on a system that adds hydrogen to fuel while driving, and from the clips linked on the site, it's blowing people away. Granted, you only need $150,000 to get it.
I've found directions to build a hybrid 75-mpg car through Mother Earth News, but the article looks like it's from July/August 1979. It would have only cost $1,500 to build back then. Anybody tried this?
Somebody's got a lot of money to make somewhere.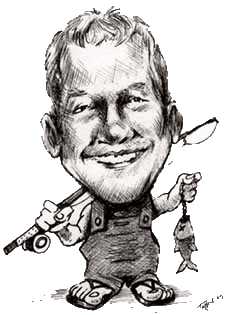 An Arkansas Traveler
By Ronald Sitton
MONTICELLO, Ark. — I'm sittin' in the carriage house without any television or Internet, save that which sporadically appears through wireless waves emanating from somewhere in the neighborhood.
I want to see President Obama's State of the Union address, but refuse to pay for cable at a place I live three out of seven days when I'm already paying Comcast at home. The net flickers in and out like a candle in a breeze; such flickering wiped out some of your comments when I last tried to clean out the spam.
"OK," I think, "I'll go FDR on 'em." I pull out my trusty Emerson AM/FM/Weather Band Portable Radio, tune in and get … sound, music, static, static, static, sound, music, sound, static, static, static, MUSIC, static, music, music, static, static, static on both my AM and FM dial.
What? No presidential speech over the airwaves to keep the poor informed? How much would it cost to add a friggin' RADIO mic in front of the president? Would it be too much to ask them to put the address on the WEATHER band when it's a government update? (Unless, of course, a tornado is coming).
SAVE the RADIO! Otherwise, they'll end up like their print colleagues.
***
In case you haven't noticed, the print newspaper industry is DYING. It's my fault, your fault, their fault … who cares?
Isn't the bigger question, where do YOU expect to get local or regional news? Read more: No "Solid State" of the Union
MONTICELLO, Ark. — I recently attended the Associated Collegiate Press/College Media Advisers annual conference in Kansas City, Mo. Students seemed worried that the media as we know it will not be there once they get out of school.
Who's to blame them considering the continual death tolls:
http://www.nytimes.com/2008/10/29/business/media/29carr.html
Considering we've just gone from three national daily newspapers to two, who's to provide the news if the profits from the print product disappear? Who's to say the Christian Science Monitor won't figure it out?
http://www.csmonitor.com/2008/1029/p25s01-usgn.html
But just when everyone says newspapers are dying, along comes a historical event and EVERYBODY wants a paper:
http://www.cnn.com/2008/POLITICS/11/06/obama.newspapers.ap/index.html
Personally I believe newspapers will stay around as long as smaller communities exist, and as long as people need something to read while taking public transportation, going to the bathroom or sitting under a tree. Truly, time will tell.