Category: Elections 2006
Rumsfeld Ousted As Secretary of Defense
by Glynn Wilson
The sweep is final and complete. The Democrats will now control a majority in both the Senate and the House for the first time since 1994 as the two close races still in play on Wednesday in Montana and Virginia ended up going to the Democrats, according to the Associated Press and other news organizations.
Jim Webb's close victory over incumbent Sen. George Allen gave Democrats their 51st seat in the Senate, an astonishing turnabout at the hands of voters unhappy with Republican scandal and unabated violence in Iraq, according to the AP, which called the race first this evening.
The Senate teetered at 50 Democrats, 49 Republicans and one independent for most of Wednesday, with Virginia hanging in the balance. Webb's victory ended Republican hopes of eking out a 50-50 split, with Vice President Dick Cheney wielding tie-breaking authority.
The AP contacted election officials in all 134 localities where voting occurred, obtaining updated numbers Wednesday. About half the localities said they had completed their postelection canvassing and nearly all had counted outstanding absentees. Most were expected to be finished by Friday.
The new AP count showed Webb with 1,172,538 votes and Allen with 1,165,302, a difference of 7,236.
An adviser to Allen, speaking on condition of anonymity because his boss had not formally decided to end the campaign, told the AP the senator wanted to wait until most of canvassing was completed before announcing his decision, possibly as early as Thursday evening. The adviser said that Allen was disinclined to request a recount if the final vote spread was similar to that of election night.
The victory puts Sen. Harry Reid, D-Nev., in line to become Senate majority leader.
Combined with the major victory in taking over the House of Representatives on Tuesday by re-capturing at least 27 seats and leading in four other races, Election Day 2006 was a repudiation of the failed policies of President George W. Bush.
In an acknowledgement of that defeat and the failed war strategy in Iraq, the president handed the Democrats the head of Secretary of Defense Donald Rumsfeld in a last gasp attempt to appear willing to acknowledge mistakes and avoid total lame duck status by appearing to be willing to work in a non-partison fashion for his last two years in office.
Rumsfeld resigned with a short statement in which he quoted the great British war strategist of World War II Winston Churchill.
To paraphrase Richard Nixon, let's make one thing perfectly clear. Mr. Rumsfeld, you are no Winston Churchill.
Bush replaced Rumsfeld with Robert Gates, who may come under close scrutiny during his Senate confirmation hearings, which will now be led by Democrats, for his controversial role in the Iran-Contra scandal when he worked for then-Vice President George H.W. Bush in the late 1980s.

Turning to the polls online to look for hope or impending disaster on election day 2006, it is surprising to find the online pollsters more optimistic for the Democratic Party than even the national corporate broadcast media at this point.
It's a balanced picture on TV, of course, with the Republicans coming back in the end.
But the best pollsters seem to think it's over and the Democrats will take back both houses of Congress.
We are not so sure, due to the "too close to call" nature of many races – and our fear that the Republicans will likely do their best to disengranchise voters where they can and "steal" any close election.
Let's hope the pollsters are right.
According to the Cook Political Report, the Democratic Party should pick up 20 to 35 seats in the House, four to six seats in the Senate and a six to eight more governor's races than the GOP.
"All Monday there was considerable talk that the national picture had suddenly changed and that there was a significant tightening in the election," Cook says, but it's not true.
"This was based in part on two national polls that showed the generic congressional ballot test having tightened to four (Pew) and six (ABC/Wash Post) points," he says.
But seven national polls have been conducted since Wednesday, November 1 and give Democrats an average lead of 11.6 percentage points, "larger than any party has had going into an Election Day in memory."
Even if you knock five points off of it for the margin of error, it's 6.6 percentage points, he says, "bigger than the advantage that Republicans had going into 1994."
"Furthermore, there is no evidence of a trend in the generic ballot test," he argues.
In chronological order of interviewing (using the midpoint of field dates), the margins were: 15 points (Time 11/1-3), 6 points (ABC/Wash Post), 4 points (Pew), 7 points (Gallup), 16 points (Newsweek), 20 points (CNN) and 13 points (Fox).
In individual races, some Republican pollsters see some movement, voters "coming home," in their direction, and/or some increase in intensity among GOP voters," he says. But "all seem to think that it was too little, too late to significantly change the outcome."
It might be enough to save a few candidates, but no one thinks it is a major change in the dynamics of races.
For all the details on each individual race, go to the Cook Political Report.
Sabato's Crystal Ball is predicting about the same result, 4, 5 or 6 seats going to the Democrats, "resting party control of the Senate squarely on the edge of the butter knife," according to Larry J. Sabato and David Wasserman of the University of Virginia Center for Politics.
"We think the Democrats may replicate their feat from 1986 (the sixth year election of Ronald Reagan's Presidency) and capture just enough seats to take over," they said. When they add together all their predictions, Democrats pick up six seats, "sufficient to wrest control from the GOP."
For all the details on each individual race, go to Sabato's Crystal Ball.
So, it looks good tonight, but don't count on it. Go to the polls yourself and make it happen. Your future freedom depends on it.
If the power does change hands, it means above all, that Rep. John Conyers will become chair of the House Judiciary Committee. No one is campaigning on the issue, but he will no doubt launch a major investigation into President George W. Bush's war crimes and bring articles of impeachment against the dicktater in chief.
He's already drawn up the articles and held hearings in the Capitol basement, since the Republicans would not use their Constitutional oversight responsibilities to do the right thing for their country. They won't even give him a room or put his hearings on the agenda.
It's at least worth an investigation, some hearings, a national discussion and a damn vote. Otherwise, we are a democratic republic no more and the world will never believe us or look up to us again…


by Glynn Wilson
BIRMINGHAM, Ala., Oct. 30 – For the better part of the past month, it's been a blast on the road "cowboying" in the Chevy van enjoying the fall weather and taking a break from television and politics out in nature – twelve days on the Gulf Coast and then four days taking in the peak color in North Carolina.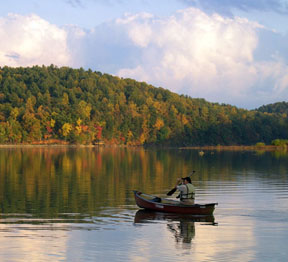 The elections coming up next Tuesday, Nov. 7, however, are too important to ignore for any serious newsman.
Alas, I almost fell asleep trying to concentrate on the televised political debates tonight on Alabama Public Television.
Governor's Debate Episode 2006
Gubernatorial candidates Lt. Gov. Lucy Baxley and Gov. Bob Riley exchanged viewpoints in this live one-hour event presented by Leadership Alabama, the Public Affairs Research Council of Alabama, Alabama Public Television and the Alabama Press Association.
Unfortunately, according to APT's Website, the show is also sponsored by a few of the most corrupt corporate polluters in the state, including Alabama Power, Vulcan Materials and Entergen. It is also sponsored by one of the worst corporate spies in the country, BellSouth, which is about to merge with AT&T, now owned and operated out of George W. Bush's Texas by Southwest Bell.
Oh, you didn't even know about the debates? Why would you, since none of the corporate television news stations or newspapers in this state did much to promote public involvement in the show.
And let's face it, the race may already be a done deal anyway. The latest polls show Riley leading the governor's race by a margin of 57 percent to 32 percent.
According to an article out today in StateLine.Org:
Republican Bob Riley is vying to become the first Alabama governor to be re-elected and to serve two full terms since George Wallace in the 1970s. Incumbents have lost the last three gubernatorial elections in Alabama, and Gov. Guy Hunt (R) won re-election in 1990 only to be removed in 1993 for an ethics violation.

In a state where voters have demonstrated their willingness to split tickets, Riley appears headed for a second term with a strong lead in the polls over Lt. Gov. Lucy Baxley, the Democratic nominee. In an Oct. 8 poll by the Press-Register/University of South Alabama, Riley led with 57 percent of voters, compared with 32 percent for Baxley.

Baxley, elected lieutenant governor four years ago after two terms as state treasurer, is trying to become the states first female governor in four decades. Wallaces wife, Lurleen, was elected in 1966 when state law barred her husband from succeeding himself.

Riley, a former three-term congressman, has benefited from little scandal, a strong economy and the states efficient reaction to several hurricanes that hit Alabama and neighboring states in 2004 and 2005. Top issues in the race include property appraisals, minimum wage levels and tax cuts.

With the state now enjoying a budget surplus, Riley is pushing for more than $300 million in personal income and business tax cuts to be phased in over five years. Early in his administration, when state revenues were down, Riley had proposed a $1 billion tax plan that would have been the largest tax increase in state history. But voters defeated the proposed increase 2-1 in a special election.

Baxley said she opposes Rileys proposed income tax cuts and prefers that extra state funds go towards education and other government services.

But both candidates favor abolishing annual property appraisals in favor of appraisals every four years. During his tenure, Riley instructed his revenue commissioner to order annual appraisals, a move he said state law required. Baxley has criticized the Riley administration for this, noting that her first business as governor would be to do away with annual appraisals, which she describes as a de facto tax increase on Alabamians.

Baxley is pushing for the state to set a minimum wage of at least a dollar more than the federally mandated rate, now $5.15 an hour. Riley is opposed to a state-mandated increase.
According to an early AP story out on the main debate:
Baxley, Riley Debate Differances On Tax Cuts, Credibility
And of course the Alabama bureau of AP put out this story a couple of days ago, which just struck me as funny.
Washington Scandals Don't Touch Alabama's GOP Governor?
So why have the Washington scandals not touched Bob Riley? Because the pathetically weak Alabama press corps did nothing to investigate the stories. Riley's connections to Bush and his lobbyist cronies have been on public display for any reporter willing to look and connect the dots. Unfortunately, since Sen. John McCain is now courting the conservative base in his obvious run for president in 2008, his staff would not cooperate with our own attempt to investigate all the connections.
So the best we can hope for is a change in the power balance in the U.S. House and Senate.
Also according to the latest polls:
Democrats Hold Double-Digit Lead in Competitive Districts; GOP Troubles Extend into Home Territory

With less than two weeks to go before the midterm elections, the Democrats not only continue to maintain a double-digit advantage nationally, but also lead by the same margin in the competitive districts that will determine which party controls the House of Representatives, according to the latest national survey by the Pew Research Center for the People & the Press.

Nationally, the Democrats hold a 49 percent-38 percent lead among registered voters, and a nearly identical 50 percent-39 percent lead among those voters most likely to cast ballots on Nov. 7.

An oversample of voters in 40 competitive districts – identified by a consensus of political analysts-shows that voting intentions in the battleground districts are about the same as they are in the "safe" House districts. Among registered voters, the Democrats lead by 11 points in competitive districts (50 percent-39 percent) and by the same margin in safe districts (49 percent-38 percent).
So even though none of the Alabama races will make a big difference in the Congressional elections, we can watch from here and have some hope that there is a good chance the power balance will change in D.C.
Sources in Washington indicate to us that the Senate could end up in a 50/50 split, putting the tying vote on many issues into the hands of Vice President Dick "Shooter" Cheney. What a wonderful prospect.
We will leave you with this final point. It is a point which we tried to get Lt. Gov. Lucy Baxley to embrace in the last three weeks of the governor's race, but she was obviously too afraid of being labeled a liberal to reach out to the most intelligent and progressive voters in this state who see no candidates with any creativity at all in their political platforms.
Photo by Glynn Wilson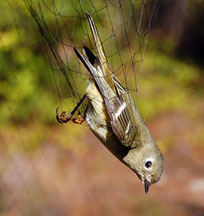 A ruby-crowned kinglet (regulus calendula) caught in the net during the annual migration bird count across from Fort Morgan, Alabama.
To demonstrate this point, just turn to the group Birders United.
According to estimates from the National Geographic Society, there are 15 million or more voting age Americans who have a serious interest in the welfare of birds. Huge numbers of adults in our country watch birds, feed birds, keep lists of birds, and give large sums of money to organizations that protect bird habitats.
In the United Kingdom the formidable political force of the Royal Society for the Protection of Birds is frequently compared to the powers of the Teamsters Union in the United States. But most of the millions of bird people in America do not realize that they have the potential voting power to control the outcome of many elections in our country.
This is not just a utopian dream. In recent presidential contests, a swing of just a few thousand votes would have changed the outcome in a number of key states.
For example, if only 270 Republican bird watchers in Florida had shifted their votes in the 2000 presidential election, President Bush would not have won the election. In many states the number of adult bird enthusiasts is so large that an organized bird watcher vote could control the outcome of almost any election.
It is a big mystery to me, and a number of my closest friends, why some people who support conservation efforts continue, for other reasons, to vote Republican.
Hey, if you really think it is more important for a president to bash gays openly than to support sensible public policies on environmental issues, by all means vote Republican. But now that you know there is a such thing as a gay Republican (thanks to the Foley page scandal), maybe it would be worth reconsidering which party you vote for – or if not, why not just consider staying home on election day?
Better yet, go bird watching. Let the rest of us decide…
I will not be happy voting in a church thanks to the Bush Justice Department's policy tearing down the wall between church and state. But I will be voting there anyway. And I will be voting for Ms. Baxley and any other Democrat worth checking on the electronic ballot.
Let's just hope Diebold doesn't steal the elections for all these so-called Christian Republicans. It's not really all that funny what corruption and hypocrisy is supported by some people in the name of Jesus Christ.
Editor's Note: Robert Penn Warren's All The King's Men is routinely listed in the top five novels in American literature, although it appears to have dropped off the radar screen of the masses in today's so-called "conservative" TV-driven American culture. It is still available in book stores and worth the read, especially for the middle class and working poor who are often misled by politicians who really do not have their economic interests in mind. It may be "the culture stupid," but the remake of this movie should be at the top of their list to see before the Nov. 7 election.
Key Quote: "If you don't vote, you don't matter."
by Henry B. Rosenbush
Charismatic, controversial and mendacious best describes the life of Huey P. Long, whose political career included tenures as railroad commissioner, state senator and finally governor of Louisiana (1928-35). His assassination in the State Capitol building on the evening of September 8, 1935 has historically been attributed to Dr. Carl Weiss, although evidence culled in the 1990s suggests that Dr. Weiss was framed. Trained in law, Long's journey to the gubernatorial mansion was filled with personal corruption, but on the other side, Long brought numerous benefits to his dirt-poor state.
Robert Penn Warren's Pulitzer winning novel, All the King's Men was a scathing examination of Populist Southern Governor Willie Stark's rise and fall. The novel inspired four films, the 1949 Academy Award winner for Best Picture, Actor (Broderick Crawford) and Mercedes McCambridge (Supporting Actress), a 1953 version produced by James Cagney, the 1989 Paul Newman version "Blaze," a comedic retelling from the point of view of stripper Blaze Starr, the recent 2006 film with Sean Penn, two made for television adaptations, a TV special, an opera and an excellent Ken Burns documentary in 1987.
While the 1949 film remains the best of the lot the most recent version at least was released during the upcoming election season. It's a shame that this one has slipped quietly away, dropping off the top 50 list last week. Roundly panned by critics (of 134 national reviews it only received 14 positive nods) for myriad reasons; casting numerous Brits in the roles of Southerners, murky subplots, a shaky narrative, well, you get the idea.
Read more: Vote and Matter: Don't and You're 'Mad as the Hatter'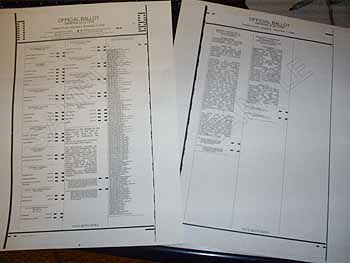 Sample Ballot
NORTH LITTLE ROCK (Oct. 23) – Election season, not exactly my favorite time of the year, arrived today with the polls opening for early voting.
Honestly, I'm ready for it to be over. My friend Zac Wright works as campaign spokesman for the Mike Beebe campaign for governor. We've promised to catch up after the election so he can meet my wife since he's now living in Arkansas. It's been too busy for us to catch up so far; that's OK. I'd rather talk about something other than politics anyway.
Not that I'm immune to the political season. I already know who I'm voting for in the Congressional midterm elections, and I've gone out of my way to be prepared for the gubernatorial election. I wrote an article on the first Independent candidate to make the Arkansas ballot since 1940. I personally watched the first debate between Rod Bryan and Green Party candidate Jim Lendall. I skipped my favorite TV shows to watch the third debate between Democrat Mike Beebe and Republican Asa Hutchinson, and the last debate between Bryan and Lendall on AETN. I've researched my ballot about as much as I can, and I've listened to the crazy attacks on television ads as we inch closer to the Nov. 7 election.
I realize most people think we live in a democracy, when it's actually a republic. You only get a democratic vote in state and local elections such as these. If you choose to waste the privileges of citizenship, you shouldn't bitch when things don't turn out as planned.
I know I'm going to be out of town teaching in Monticello on Election Day, so I decided to vote early. Compared to my first time, everything can be found online before you even vote.
I'd seen information about it the night before on KARK Channel 4 news, so I went to its Web site to see what I could find. Sure enough, there's the story on "Early Voting Starts Monday," which contained a link to the Pulaski County Election Commission.
At the PCEC site, I first decided to see what the ballot would look like. The link to "See Your Election Day Ballot" took me to the Pulaski Circuit/County Clerk's Web site, which asked for my name and date of birth. After I typed it in, the following screen shows my voter ID number, when I last voted, my name, date of birth, address, polling place, school district, school zone, city limit, city ward, Congressional district, judicial district, district court, state representative, state senator, jp district, precinct split and political party. You can also find similar information at the Secretary of State's "Voter View" Web site.
I clicked on the red ballot box and a pdf file appeared with the "Official Ballot General Election" information and a big red SAMPLE stamp diagonally crossing the page. Though I knew of most issues on the ballot, I didn't realize everything I'm able to vote for or against this election. I'm happy I can take a few minutes more to look at everything before going to the polls.
In this election, I get to vote for a U.S. Congressman, state positions comprising governor, lieutenant governor, secretary of state, state treasurer, state auditor, attorney general, state land commissioner and state representative; county positions comprising the county judge, county sheriff and circuit county clerk; a "constable hill township?", city alderman and ordinance to require one-fourth of the 1 percent sales and use tax to be used for financing capital improvements; a butt-load of unopposed candidates; Referred Question No. 1 (aka Act 1), which would use bonds to help higher education; and a proposed Constitutional Amendment to allow charity bingo and raffles. I printed a copy just so I could take a closer look without the text breaking up as I scrolled down the screen.
So I went back to the PCEC site and clicked on "Early Voting Information," which brought up another pdf file. I found out I could go to the Pulaski County Courthouse in downtown Little Rock, or just hop down to Laman Library in North Little Rock. I need some books, so I think the library will be just fine. BTW, for the first time I've seen the PCEC site, I'm impressed with the wealth of information that I didn't even know existed. It's a good thing I have a local television station, KARK, that's intent on serving local news.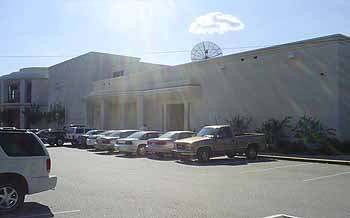 Laman Library
It takes maybe 10 minutes to drive from my house to the library. About 2:30 p.m., I got out and walked in to vote. I sat down to, once again, give my name and address on a piece of paper that verified I wanted to vote early. I took this paper to a lady who entered my information into a computer. While she entered data, I asked how many people had voted early and was told about 185 — not bad for the first day of voting.
I walked over to the electronic voting machines and listened intently as the poll worker gave instructions on how to operate them. I asked if I could take pictures and she said no. So I asked if I could talk with someone after I voted. Since I'd already reviewed the issues, it took maybe two minutes to go through the four-page ballot, which was backed up on a paper ballot on the left-hand side of the machine.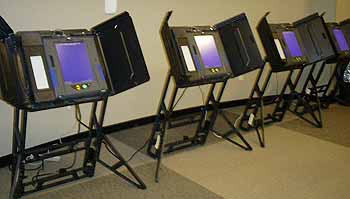 Voting Machines at Laman Library
After I voted, I asked an election official to let me take a picture of the machines for the blog. Since no one stood around the machines, permission was granted. He said the machines are a few years old and they'd had no problem with them at this station so far.
"That's good," I replied with a grin.
I left the library, jumped back in the truck and made it back to the house within 15 minutes of leaving. On the way back, I started thinking about some of the craziness within politics, e.g. one of the gubernatorial attack ads called Beebe "dangerously liberal" because he voted to raise taxes. As a witness to Ronald Reagan's contaminating the word "liberal" in the 1980s, I know what the attackers mean, but thought it'd be interesting to see how degradation transforms a word. In my 1980s Webster's Dictionary (Second College Edition), the published definitions perplexed me:
originally suitable for a free man; not restricted
giving freely; generous
large or plentiful; ample, abundant; e.g. a liberal reward
not restricted to the literal meaning, e.g. a liberal interpretation of the Bible
tolerant of views differing from one's own; broad-minded
of democratic and republican forms of government, as distinguished from monarchies and aristorcracies
favoring reform or progress, as in religion, education; specifically, favoring reforms tending toward democracy and personal freedom for the individual; progressive
Hmm … I don't see anything about yellow-bellied carpet-baggin' tax-lovin' scum in that definition; there's not even one word about being a menace to society. Many of those attributes can be found in people educated either academically or through the school of hard knocks. So what's with a "dangerously liberal" charge?
Realizing my dictionary contains 26-year-old definitions, I continued my quest by visiting m-w.com, home of Merriam-Webster's online dictionary. Here I found the following definition:
a : of, relating to, or based on the liberal arts (liberal education) b archaic : of or befitting a man of free birth
a : marked by generosity : OPENHANDED (a liberal giver) b : given or provided in a generous and openhanded way (a liberal meal) c : AMPLE, FULL
obsolete : lacking moral restraint : LICENTIOUS
: not literal or strict : LOOSE (a liberal translation)
: BROAD-MINDED; especially : not bound by authoritarianism, orthodoxy, or traditional forms
a : of, favoring, or based upon the principles of liberalism b capitalized : of or constituting a political party advocating or associated with the principles of political liberalism; especially : of or constituting a political party in the United Kingdom associated with ideals of individual especially economic freedom, greater individual participation in government, and constitutional, political, and administrative reforms designed to secure these objectives
Even though some of the definitions changed ever-so-slightly, and an effort has been made to point out the political party affiliation in England, nothing seems vile here. Perhaps I had been mistaken. In the vein of Ronald Reagan, I always thought liberal meant someone who wanted to kill babies and throw money out the window. It's funny how things can be interpreted and framed.
Just a week or so ago, my mom asked me if I considered myself liberal or conservative. I should have known better than to fall into the black-and-white trap laid before me, but I answered "liberal" in answer to her question. The look on her face was priceless, as she avowed I had been raised in a conservative family. But I realized today that I'd lied to my mother by calling myself "liberal" in a moment of speaking before thinking.
As noted before, I vote on the person. Had you looked over my shoulder today, you would have found I refused to vote on party lines. I take seriously the charge of being an informed voter rather than being a "private person," as citizens once scoffed when talking of people who fail to take their duties seriously.
I should have named myself "progressive" as I vote for people with long-term solutions to problems facing us. I'm "progressive" in that I realize education is the only thing that will bring Arkansas (flailing and kicking perhaps) into the 21st century. I'm "progressive" in thinking we need to stop arguing about "if" climate change is happening, and instead start discussing what we can do to minimize the effects. I'm "progressive" in believing people should know what they're voting for before they get to the polls. I'm "progressive" in getting out to vote in a mid-term election rather than sitting on my hands and hoping things will turn out OK.
And if you want to take that as I think people who don't do these things might be "regressive," well … a Southerner shall not stoop so low as to call others names. If their actions speak louder than words, I cannot help them.

Apologies to Zendik — I couldn't go for the communal groove of the organization, but I dig its bumper sticker. I cut it up so I can keep track of the recent elections I've attended.
by Glynn Wilson
BIRMINGHAM, Ala., Sept. 10 – On the eve of the five-year anniversary of the Sept. 11, 2001 attacks on America, you have to read between the headlines in the Washington Post to get the point.
Osama bin Laden's Trail Is 'Stone Cold,' according to a detailed analysis by the new national newspaper of record online.
Osama Bin Laden's Trail Is 'Stone Cold'
The clandestine U.S. commandos whose job is to capture or kill Osama bin Laden have not received a credible lead in more than two years. Nothing from the vast U.S. intelligence world – no tips from informants, no snippets from electronic intercepts, no points on any satellite image – has led them anywhere near the al-Qaeda leader, according to U.S. and Pakistani officials.
The objective news story doesn't draw the logical conclusion, letting intelligent readers decide for themselves what the point should be. Here it is:
… and President George W. Bush should be held accountable for that.
Read more: Hold Bush Accountable For Osama's Stone Cold Trail