Category: Technology
Are you among those wishing to break America's duopoly in national politics?
Do you know if your candidate actually shares your views?
In 2012, don't vote the party line; vote for the candidate who represents you. Find out through this quiz!
Made by self-proclaimed unaffiliated political enthusiasts, the quiz allows you to expand responses and assign importance to answers.
Once you finish, check each candidate's support across the nation, or view how each state leans from those who've participated. As of Wednesday, July 18, Gary Johnson seems most attuned to Southern voters while Maryland supports Obama and Alabama supports Romney.
Alabama – Arkansas – Florida – Georgia – Kentucky – Louisiana – Maryland – Mississippi – Missouri – North Carolina – South Carolina – Tennessee – Virginia – West Virginia
Did you hear?
Now they want to share
EVERYTHING.
Government
trade back and forth with
companies.
Demolish
any barriers
between them.
Privacy?
What an outdated
concept, please.
Gave that up
when you logged on for
the first time.
Realize:
Double-edged swords
cut both ways.
On CISPA,
Tell your senator
to VOTE NO!
NORTH LITTLE ROCK — As we get older and look at our meager earnings/savings compared to the time investments in our careers, government and taxes provide easy targets to those looking to blame someone for their fate (myself included).
"If only they'd let me get paid an honest day's wages for all of the work I'm doing!" the familiar cry rings. "How can they keep taking things from me when I don't have anything to give? If the government would just get out of my business, everything would be better."
Yet when complaints against government annually pop up, I often wonder what folks would do without the government providing roads for commerce, public safety personnel and a judicial process rather than mob rule. In some ways it reminds me of the Albert King tune with the verse, "Everybody wants to go to heaven, but nobody wants to die."Read more: Government Provides Incentive to Quit
MONTICELLO, Ark. — I just took a survey administered by Free Press. I give you my answers here if you want to see what I think about the future of journalism and the Republic.
I suggest you take the survey yourself to tell the FTC what type of media you need to make informed decisions about important events while you've still got the chance, before corporate media overwhelms the discussion and further diminishes the voices affecting the political process.
You've only got until Nov. 6. After all, you don't want Sitton's views to dominate the discussion, do ya?
---
How is the Internet changing the way you consume news and information? (How has it affected your ability to access high-quality local, national and international news? Will greater competition among media outlets support new forms of journalism?)
The Internet provides access to high-quality national and international news at the click of a button. It's easy to cross-check information by accessing multiple sites. By gathering more than one version of the news, I get closer to the truth of the matter. Read more: Perpetual Notions: The Future of Journalism and The Republic
NORTH LITTLE ROCK, Ark. (Aug. 29) — I never got rid of Comcast the last time I complained, primarily due to my wife's concern about missing the Daily Show. However, with hulu.com now available, I may not need this giant anymore.
We're paying Comcast $106 monthly for cable and Internet service. That's not a bad price for a package deal (though I could get it cheaper if I included a land line – I don't want to be in the phone book).Read more: Comcast Still Sucks
Evidence of Bush-Rove Crimes Hidden Away in Southern Town?
by Glynn Wilson
CHATTANOOGA, Tenn. — Hidden away in the basement of a bank building on Broad Street here, there is a bank of computer servers containing all the evidence Congress and the courts need to investigate and prosecute all the crimes of the Bush years. That includes the mysteriously missing e-mail messages sent by Karl Rove from his White House office through the Republican National Committee e-mail addresses from his special Blackberry reserved for political activities.
Ethics rules prohibit political campaigning from the White House, but since that was Rove's sole job as political adviser to President Bush, what was an operative to do if he wanted to insist that a U.S. attorney be fired for not towing the Bush administration line by prosecuting Democrats? Rove, who has now defied a Congressional subpoena three times — a criminal act unprecedented in American history — is known to have used that Blackberry paid for by the RNC to keep on top of all kinds of nefarious activities, including the political prosecution of former Alabama Governor Don Siegelman.
To read the full story and watch the video, go to our sister site, The Locust Fork News-Journal.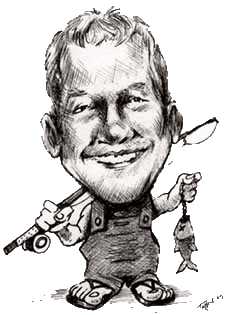 An Arkansas Traveler
By Ronald Sitton
MONTICELLO, Ark. — I'm sittin' in the carriage house without any television or Internet, save that which sporadically appears through wireless waves emanating from somewhere in the neighborhood.
I want to see President Obama's State of the Union address, but refuse to pay for cable at a place I live three out of seven days when I'm already paying Comcast at home. The net flickers in and out like a candle in a breeze; such flickering wiped out some of your comments when I last tried to clean out the spam.
"OK," I think, "I'll go FDR on 'em." I pull out my trusty Emerson AM/FM/Weather Band Portable Radio, tune in and get … sound, music, static, static, static, sound, music, sound, static, static, static, MUSIC, static, music, music, static, static, static on both my AM and FM dial.
What? No presidential speech over the airwaves to keep the poor informed? How much would it cost to add a friggin' RADIO mic in front of the president? Would it be too much to ask them to put the address on the WEATHER band when it's a government update? (Unless, of course, a tornado is coming).
SAVE the RADIO! Otherwise, they'll end up like their print colleagues.
***
In case you haven't noticed, the print newspaper industry is DYING. It's my fault, your fault, their fault … who cares?
Isn't the bigger question, where do YOU expect to get local or regional news? Read more: No "Solid State" of the Union
MONTICELLO, Ark. — I recently attended the Associated Collegiate Press/College Media Advisers annual conference in Kansas City, Mo. Students seemed worried that the media as we know it will not be there once they get out of school.
Who's to blame them considering the continual death tolls:
http://www.nytimes.com/2008/10/29/business/media/29carr.html
Considering we've just gone from three national daily newspapers to two, who's to provide the news if the profits from the print product disappear? Who's to say the Christian Science Monitor won't figure it out?
http://www.csmonitor.com/2008/1029/p25s01-usgn.html
But just when everyone says newspapers are dying, along comes a historical event and EVERYBODY wants a paper:
http://www.cnn.com/2008/POLITICS/11/06/obama.newspapers.ap/index.html
Personally I believe newspapers will stay around as long as smaller communities exist, and as long as people need something to read while taking public transportation, going to the bathroom or sitting under a tree. Truly, time will tell.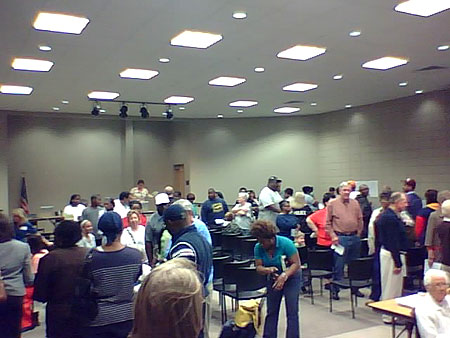 NORTH LITTLE ROCK, Ark. — Moms carried small children on their hips while the pre-teens looked around in disgust. Elderly women moved ahead to sit down while their husbands kept their place in line. Younger men and women spoke in hushed tones. Though crowded, nobody wanted to leave and miss their chance.
Early Christmas shopping? Nope; the line that stretched around the inside lobby of Laman Library held hundreds of citizens taking the opportunity to vote early as Arkansas' polls opened Monday, Oct. 20.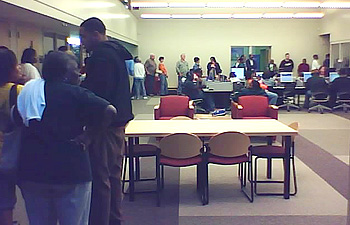 I arrived around 11:10 a.m. after purchasing $2.23 gas at the Indian Hills Kroger on John F. Kennedy Boulevard. I thought the gas line was long, but I wasn't prepared for the line to vote. The last time I practiced early voting, it was an in-and-out affair as very few people took advantage.
That's not the case this year. Luckily, I kept speaking with a corrections' officer through the wait, passing the time and being continually amazed at the numbers of people who kept pouring in the doors. I'm sure he said something about the turnout first, maybe along the lines of "This just shows people want a change." I just remember saying it did my heart good to see so many people wanting to exercise their Constitutional right.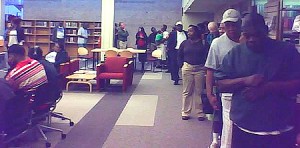 We discussed the issues while moving inch-by-inch, around the outside wall while trying not to disturb the library patrons working on the computers but having no choice but to glance at their computer screens as we moseyed by. A middle-aged woman tried breaking in line. No one said anything to her, but she must have gotten hot under the collar as the stares could've sent knives into her back; she finally moved to the end of the line, all the way back across the lobby.
As 11:15 stretched to 12:20 and we'd made it but halfway around the lobby, I decided it'd be a good idea to call work and let them know I might be late. "It shouldn't take too long. Now that I'm here, I want to make sure I vote," I told Amy Meeks, the secretary of Arts & Humanities at the University of Arkansas at Monticello. She replied that it was not a problem and she'd let the dean know.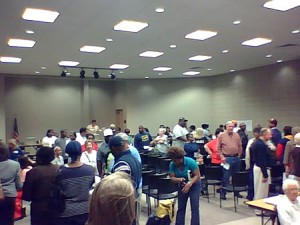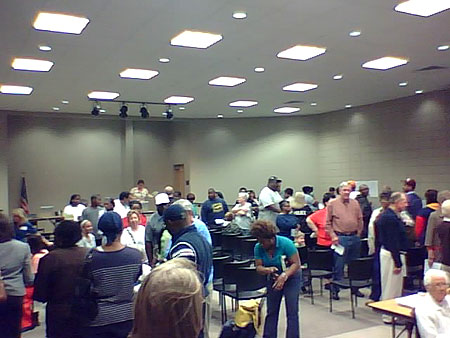 It takes roughly an hour-and-a-half to two hours for the 100-mile drive between North Little Rock and Monticello. I knew I'd be pushing it, but I'd already stood in line this long. Usually, I am not the type to wait in line at a grocery store; I'll leave the buggy and come back later. The only similar-type lines I've ever found worth the wait were for student tickets to the University of Tennessee-University of Arkansas football game in 1998 and for student refund checks while an undergraduate at the University of Arkansas at Little Rock. But to vote? I feel this election undoubtedly deserves the same rapt attention as refund checks and football tickets.Read more: Early Voters Unfazed by Long Lines
NORTH LITTLE ROCK – I believe my rights end where other folk's rights begin, and vice-versa.
A friend in Kentucky e-mailed a link to Felonspy.com, which allows you to search for violent criminals who live in your area. A useful tool, even if ethically questionable; I think I think I'd like to know more. Did these people serve their time? Have they only been charged?
The information comes from documents available in the public domain. A link on the site goes to "Remove Your Name" and then proceeds to warn anyone questioning the information: "There are no mistakes in this site, and if you think there is, you're probably the exact sort of criminal we all need to beware of."
I'd like to believe the thing is mistake-free, but then I've seen "The Fugitive" and "Minority Report."
And I read a scary comment on "Our Data Sources" link responding to the question of suggesting additions to the list:
"Yes you can! Just use our contact page, and we'll get them added in a hot hurry. Usually we verify it, but usually we don't have the needed time or resources to insure it is valid. Please use this tool with honesty and integrity."
I boldfaced and italicized the exact words from the site. Is it me, or is this why vigilantes get a bad name?