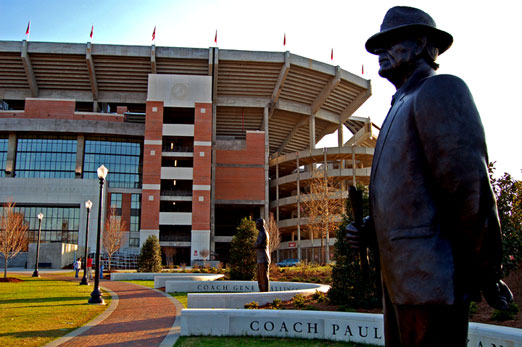 Glynn Wilson
There's an empty spot on the walk of fame at Alabama for Nick Saban, who brought Alabama back to the national championship in the Rose Bowl and coached the university's first Heisman Trophy winner, Mark Ingram
by Glynn Wilson
The University of Alabama Crimson Tide is back on top of the football world, hanging on to prevail over the Texas Longhorns in a game of unexpected twists and turns, including the early hit by Marcel Dareus that knocked Quarterback Colt McCoy out of the national championship game in the first quarter.
Dareus later scored on a 28-yard interception return just before halftime, earning him the award for defensive player of the game.
"I was thinking about grabbing the guy with the ball, but then I said, `Let me just grab this football.' I wasn't even thinking about the highlight," Dareus, a native of Birmingham who played at Huffman High School, said after the game. "I was so excited. My legs were weak, my muscles were crazy, and I made it."
This Alabama team will go down in football history for going through 14 games undefeated and for Mark Ingram's Heisman trophy, Alabama's first. Ingram earned offensive player of the game honors for running for 116 yards and two touchdowns. His roommate, Trent Richardson, ran for 109 yards and two touchdowns.
The No. 1 Crimson Tide held off a rally by second-ranked Texas and beat the Longhorns 37-21 on Thursday night in the BCS title game with help from a late fumble recovery by Courtney Upshaw at the Texas 3-yard line. Ingram scored a clinching touchdown from 1 yard out with just about two minutes left in the game.
The victory makes Alabama head coach Nick Saban, now called Saint Nick in Alabama, the first coach to win BCS titles at two universities, Alabama and LSU.
---
Note: This post originally appeared in our sister publication, The Locust Fork News-Journal