Category: Arkansawyer
Home
|
Arkansawyer
|
Defenders of Honor Stand Guard for Fallen Pine Bluff Soldier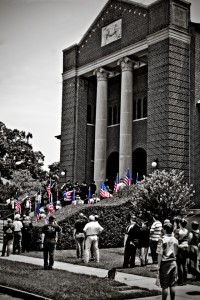 MONTICELLO, Ark. — As promised, a flashback to last weekend when a group of Arkansans mobilized in Pine Bluff, Ark.,  to defend the honor of a U.S. soldier whose funeral was targeted by the Westboro Baptist Church. Thanks to Aaron Etue of Flip Out Photography, we can show you the scene.
First a little background in case you didn't read the first post. Vilonia High School math teacher John Allison, a former Marine and friend, organized folks through a facebook public event to fight the hate of WBC with love toward the family.
Within 36 hours, 126 people pledged to attend and stand up for the honor of fallen Arkansas soldier, Army Sgt. Michael J. Strachota. Allison estimated more than 200 people (including the Patriot Guard riders) showed in support of Sgt. Strachota and his family.
"It was an awesome sight," Allison said in a facebook email exchange. "That many people, most of whom didn't know the Strachotas at all, standing in the hot sun to honor him and his family. Several elderly people stood on the flag line until they almost collapsed, but each time another person quickly came to their aid and another took their place in line."
Rumors placed WBC protestors at the White Hall Huddle House — a call to boycott the business received lukewarm response on the facebook page — but Allison only knew of three who protested at 6th and Main, down the street from the memorial service. The heat also forced some people to stay home though they'd pledged to come. Allison said the crowd thinned once the mass began.
Etue shot these photographs for posterity, but luckily he is willing to share here. Click on the photo to see the full-sized image.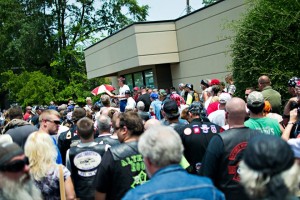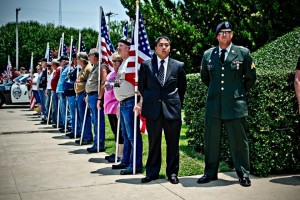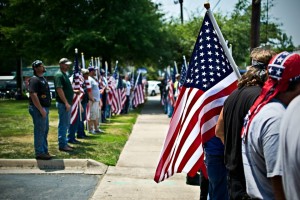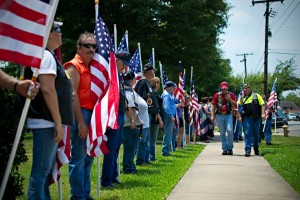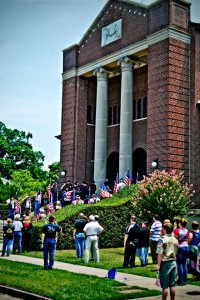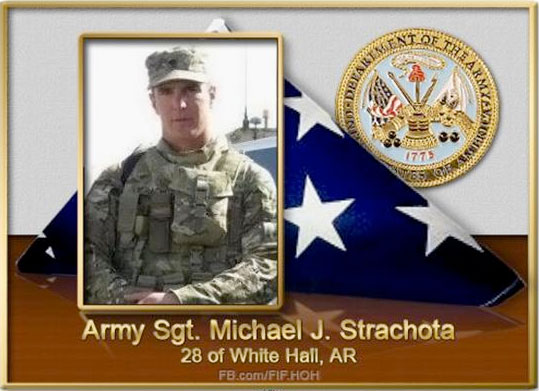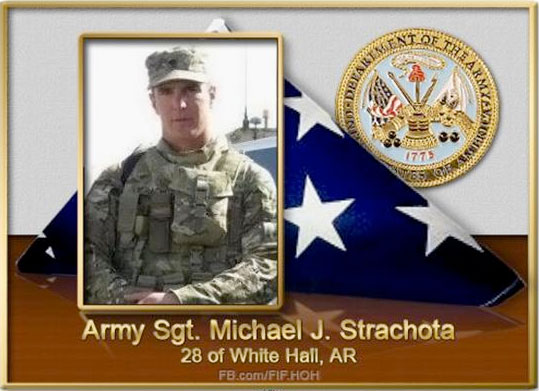 An Arkansas high school teacher's facebook page to "Preserve the Honor of Fallen Pine Bluff Soldier" plans to buffer funeral participants from a Westboro Baptist Church protest Saturday afternoon at Pine Bluff's St. Joseph Catholic Church.
John Allison, a 44-year-old former Marine who teaches math at Vilonia High School, started the page Friday afternoon; by midnight, 62 of the more than 1,800 invitees confirmed they would attend with an additional 31 maybes. (UPDATE: Those attending topped 100 by 10:30 CST this morning.)
The stated goal of attendees is to keep the Westboro Baptist Church of Topeka, Kan., from disrupting the memorial service for fallen Arkansas soldier, Sgt. Michael J. Strachota of the U.S. Army. Strachota died June 24 in Afghanistan, a week and a half prior to a scheduled home leave on July 5.
"Please join us to peaceably make certain these disrespectful hatemongers are far enough removed they cannot disrupt the service or upset the family and friends," Allison writes. "Help us prevent this so-called church from dishonoring this man's honorable service and sacrifice."
A press release indicates WBC will preach "in respectful, lawful proximity" that God kills American soldiers as punishment for sin. The flier uses incendiary language about military personnel, including the phrase, "Thank God for IEDs."
In stark contrast, Allison provided five ground rules for those providing a "shield":
"1. This will be a peaceful undertaking. We are certainly not here to cause a scene that will cause more of a disturbance than WBC. Our goal is not to shout, scream, or strike those gathered with WBC.
"2. Do not bring weapons of any kind: no guns, knives, mace, pepper spray, or anything else you might be tempted to use as a weapon.
"3. Our goal is to get enough people together to shield those attending the memorial service from the WBC protesters.
"4. Flags, crosses, crucifixes, other symbols of patriotism and religion are welcome. If you wish to make signs, they should have only positive messages honoring the courage and sacrifice, nothing derogatory or demeaning toward any person or group. Remember, we are there to help honor Sgt. Strachota, not to protest or make a political statement.
"5. We have now learned the Patriot Guard will be at the service also. They do this all the time at military funerals across the country so we will fall in with them and follow their lead."
According to the Patriot Guard Riders' website, the motorcycle enthusiasts "standing for those who stood for us" will also be in attendance. The group warns participants to hydrate; the Weather Channel predicts it will be 95-96 degrees by the 1 p.m. start, though the 46 percent humidity will make it feel like 104.
(EDITOR's NOTE: Allison and the reporter attended Northeast High School in the late '80s.)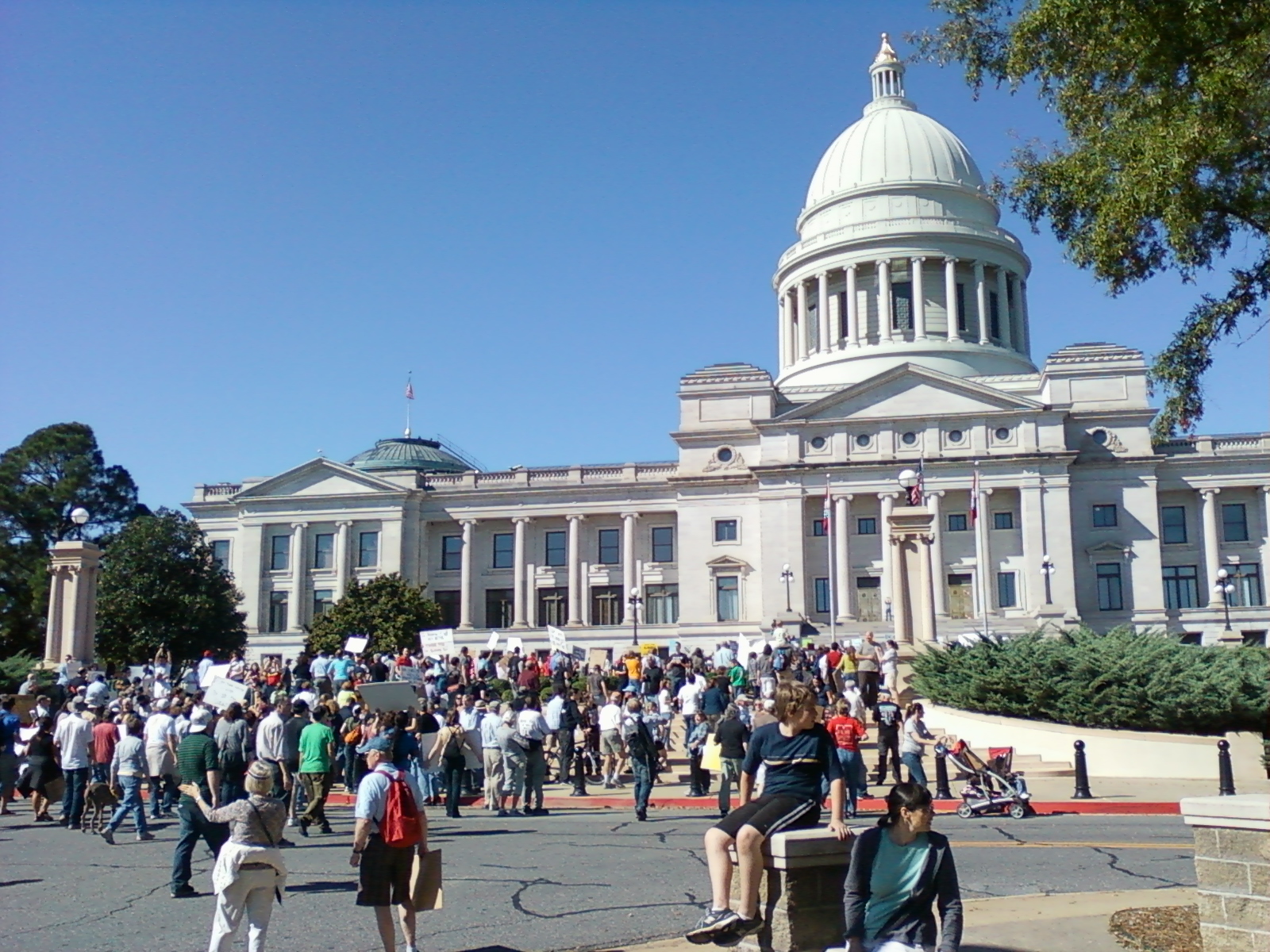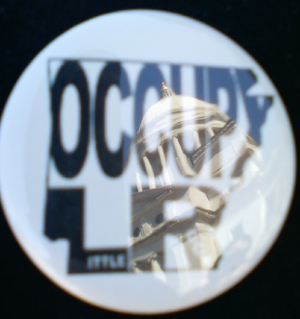 Movement the First: To Protest or Not
It started with a spark.
A Canadian spark no less, when the Adbusters Media Foundation came up with an idea to Occupy Wall Street. That spark started the occupation in Liberty Plaza Park Sept. 17, America's Constitution Day.
At first, few paid attention. But the movement gathered steam and the spark spread to cities across the country and then around the world.
During the time of year normally reserved for the state fair, the spark made it to the Natural State.
***
I stayed up too late Friday night with one of my best friends. He would leave Saturday morning for three weeks of drill with the Arkansas National Guard, which has orders to be ready to go to Afghanistan at a moment's notice … they just don't know when they're going. He's already been to Iraq twice and would just as soon not see the site of America's longest war.
I'd told him I'd planned to go to the march, to which he retorted, "As a participant or to cover it?" I hadn't actually decided yet. So he asked me what was the goal, since he'd heard it was just a bunch of rich kids camping out in New York. Why weren't they in D.C. instead, if they wanted to fix something with the government?
As I explained, it's not the government. When 9/11 happened, where did they aim first? At corporate America. That was a terrorist act; this seemed to be something more.
We spent the evening debating whether a protest would actually work. I suggested if I marched in protest, my personal reasons would be to end the Federal Reserve and to get the military out of Afghanistan. Needless to say, we kept it up long after we needed to go to bed.
As I lay down and set my alarm, I noticed it was nearly 2 a.m.  That 9 a.m. start would come early.
NORTH LITTLE ROCK — This morning we will rise early to participate in a march for Arkansas' water. Why? The easy answer: once they've messed up air, food or water, it cannot be fixed.
As an Arkansan, I've been blessed with an incredible natural water supply. I thought everyone would get pure water in the 20th century … up until the time I moved to Nashville, Tenn., in 1995. I didn't stay long, in part due to continually getting sick when the water was bad. Looking for a job took me through a couple of opportunities, including one selling water purifiers. At first I laughed, especially at the joke about "Evian," the first bottled water, being so named due to folks being naive about the world's water supply.
I didn't laugh after seeing the tap water turn a murky yellowish-brown after the exhibitor conducted a purity test.
I'm back in Arkansas again, but now the question's concerning hydrofracking and the resulting problems with our water supply (not even considering the possibility that the process is contributing to earthquakes in North Central Arkansas).Read more: "And Not a Drop to Drink"
NORTH LITTLE ROCK, Ark. — I found it funny (and not in a ha-ha way) that someone actually had to ponder whether to tell me Merry Christmas or Happy Holidays. I think the second title might give the holidaze too much credit.
How happy can one feel to wait in line for a checker when over a quarter of the lines aren't manned? How happy can one feel to see people trampled, in some cases killed, so that someone can get the big deal on the flatscreen television? How happy can one feel to know that even with cheaper gas (for now at least) it's going to be tough for people to have Christmas? Better yet, how can the vast majority of people consider it a holiday when their credit bill escalates while we bail out Citi and friends? Maybe Citi got a holiday; we didn't.
Happy holidays? Bah! Humbug!Read more: Merry Christmas (yeah, that's what I meant)
NORTH LITTLE ROCK, Ark. — 'Tis the season of ghosts, werewolves, witches and zombies. Halloween waits at week's end.
My wife carved the pumpkin at left, took its picture and sent it to me over the cell phone. She claims Halloween as her favorite holiday.
"There's much less pressure than the other ones," Tanya says. "It's pure fun. And I like the origination of the holiday as an opportunity to commune with ones who are gone."
Unfortunately, some people never know if their loved one is truly gone. They just disappear. From the other side, the system occasionally finds victims of crimes without knowing who the victim was.
For your Halloween treat, examine what happens to the unidentified dead in 21st century Arkansas through an article I wrote earlier this year.
---
Tell Me, Who are You?
Tracking the Unidentified Dead
By Ronald Sitton
---
Nobody knows the last thought that went through her head, but Little Rock homicide Detective John "J.C." White knows the last thing was a bullet.
Have You Seen Me? — Little Rock Police still want to know who this woman was. If you have any information, contact Det. John "J.C." White in homicide at 501-371-4660 or jwhite@littlerock.org.
She wore Arizona-brand carpenter jeans with a black leather belt and a large brown T-shirt. Over this, an extra-extra large dark blue windbreaker and jumpsuit pants while white-and-blue Reeboks clad her feet. A gold-and-silver link bracelet hung from her wrist. Standing between 5'3" and 5'7" with black hair and a nose broken earlier in life, the black woman could have been anywhere between 18 and 40.
On a walk with its owner in August 2002, a dog uncovered her tennis shoes and bones face-down under a pile of pink insulation behind an abandoned-looking house at 2772 Reservoir Road. The first responding officer would have started the investigation by preserving the scene, especially any physical evidence that would lead to identification of the victim or a suspect.
Dr. Cheryl May, a forensic anthropologist from the University of Arkansas at Little Rock's Criminal Justice Institute, estimated the victim's body had been there for several months. Inventory of her various clothes would later help with educated guesses of her overall size.  Pictures of the scene show an apparently abandoned house, but crime scene investigators found nothing of evidentiary value like a bullet casing or murder weapon – though they did find more of her teeth.
****
Continue the article here!
This article originally appeared in the August 2008 issue of the Arkansas Free Press.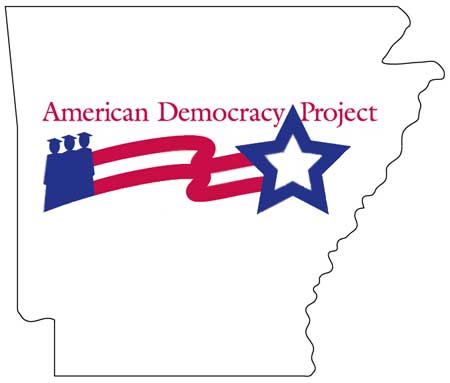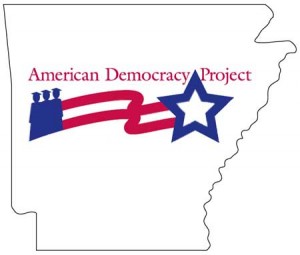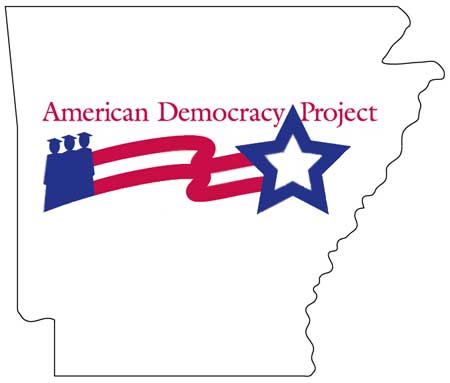 UAM PRESENTS 2008 ELECTION ISSUES FORUM
MONTICELLO, Ark. – You've heard the candidates, now it's time to also consider the issues.
Attend the 2008 Election Issues Forum at the University of Arkansas at Monticello in the University Center Green Room on Tueday, Oct. 21 at 7 p.m.
Brought to you in part by the UAM American Democracy Project, the UAM Journalism Club, and the UAM Speech and Debate Program, this event promises to educate the public about ballot initiatives prior to the Nov. 4 election.
Supporters and opponents of the ballot issues facing Arkansas voters will speak about the proposed State Lottery, Unmarried Couples Adoption Ban, Water Bond Act and more. Confirmed interest groups sending representatives include the Family Council of Arkansas, Hope for Arkansas and Arkansas Families First.
Audience members in this Town Hall-style forum will submit questions for the candidates to answer following the discussion of each issue.