NORTH LITTLE ROCK — If you didn't notice the hubbub following the Arizona shootings, you must live in a cave (Hello Mr. bin Laden!). [No, really Mr. NSA/DOJ/FBI/CIA … I meant that as a joke! Really!!] I digress.
Hank Williams Jr. reminds me the shyt will hit the fan whenever discussing this but I cannot help myself. I'll only pause for a little shameless self-promotion:
****
Follow me on Twitter @sitron45
*****
And now back to the regularly scheduled programming …
Walking into the living room before they brought Leroy home, I immediately noticed my shotguns laying across the chair. Someone went diggin' to get those out. I saw them last when they went into the gun case as I had no place to keep them in an apartment upon returning to Arkansas.
We grew up in a small arsenal. Dad kept weapons from the bedroom to the bookshelf. Before he installed a security system and bought a gun safe, he would meticulously scan every inch of the house before leaving, checking every window latch, every door lock, every hideaway.
I thought it odd until the day the .38 came up missing.
Perpetual Notions
by Ronald Sitton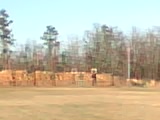 NORTH LITTLE ROCK, Ark. (April 4) — During Spring Break, I took the pleasure of spending an afternoon shooting assault weapons with old friends. Seeing how I seldom do this anymore, it made an impression on me.
I called Micah, hoping to figure out something to do since I was stuck in procrastination nation doing little but updating Web pages and loading old photos onto "crack-book." Micah told me he wanted to shoot his M-4 variant, which he recently built with Poguey's assistance. I haven't been target shooting in nearly 15 years, but Micah said he could get us on Camp Robinson to shoot.
It's been over a decade since I have driven around on the base that sits behind Burns Park. Since then, they've restricted access to the base, especially since 9-11. I thought it'd be interesting to see it at least, plus I know there's no better way to catch up with my brothers-by-other-mothers than to engage in one of their favorite hobbies. Read more: Good Times with Assault Weapons