---
---
---
Gay Talese on Willie Morris
Interview by Glynn Wilson

Download the audio while you read. You will need the MP3 player.

In 1965, I left The New York Times and I started writing pieces for magazines, and then long books, beginning with The Kingdom and the Power. There was no enthusiasm for this idea. I wanted to write about that awareness I had of the paper, the family and the characters, etc. Nobody in the book publishing industry thought it was a story because, they said, who wants to read about journalism?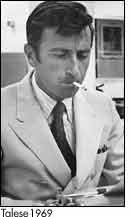 There was no such thing as a media book. The word media wasn't even in the language. So, this would be the first of the media books. But at that time, in 1966-67, there was no attention paid to the media and no interest in this book except by one guy, who gave me a total advance of $10,000. This was a man who was with a company called World. He read The New York Times a lot.

    So I started writing this book and it took me four years. After I wrote about half of it in final form, I showed it around and gave it to my publisher, but they wouldn't give me any more money and I couldn't finish it. I had a daughter in 1964, and I had more expenses than I could deal with. I went to Willie Morris who was then editor of Harper's, the top of his career as I recall. I showed him part of the book, and he liked it enough to give me $10,000.

    He took what I had written and published two excerpts in Harper's. One was the lead piece and the other followed the next month. Only because of the money that Morris gave me was I able to finish the book, which became a big best-selling book. You always hear about what he did for Mailer and Styron and Halberstam and people that knew him really well. He didn't know me that well. He only knew me through Halberstam. David Halberstam and I were very close friends during our New York Times years and after, when he quit to work for Harper's and [write] the books that would follow. I did get from Halberstam the introduction, for which I'm grateful on many counts — not the least being the generosity of Willie.

    I saw Willie about a year or so ago at Winston Groom's and was able to tell him that. We had a little seminar that Groom oversaw with students in North Carolina. That book launched me. I had written a couple of little books before that didn't go anywhere. I was very much on the margin in terms of money. That book gave me the money to do other books and it was really that important two-part series, each 5,000 words, 10,000 total guaranteed, that in 1970 turned my whole life around.

    Now it's almost 30 years since then. I wouldn't have ever done anything else probably if I had not done that book. I don't know what I would've done. It made me able to support myself as a full-time writer. Otherwise, I would've had to look for a job on magazines or do something else.

    The Kingdom and the Power, which is still in print as a paperback, launched the media books. All the books that would later on be about The Washington Post, or about journalism, or figures in it. Before that, there wasn't much about the world of journalism except biographies. Histories of The New York Times had been published, more or less under the auspices of the paper. But mine was the first that was outside the authorized biographies, or institutional books.

    I think he respected me as a working writer, but I also don't ever dismiss my Alabama years as having some connection with his true Southern background. Mine was kind of like I got a scholarship to the South.

And now, I'm not Mississippi, I'm more Alabama in my sentiments, but I certainly know the South and keep going back to it.

    He certainly affected, among the many lives, Mailer's first Pulitzer Prize — it really bailed Mailer out as a novelist. It was in non-fiction through the pages of Morris that Mailer's Steps of the Pentagon revived his career. So Morris has been a great force in the future of other people.


---
---
Copyright © The Southerner 1999.


Special Deals at PlanetRx.com