---
---
---
Populist Gould Beech Dies at 87
By Glynn Wilson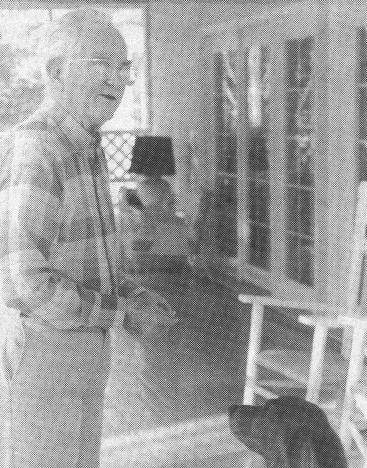 Gould Beech with his golden retriever Trumpet in 1990

It just goes to show that if you do the right thing in life and live long enough people will notice.

    Gould Beech, one of the last of America's Populists, died Sunday, Nov. 5 in a Daphne, Ala. hospital of complications from Parkinson's disease. He was 87.

    Beech and his wife Mary Foster Beech, who also died this year on July 10, were among a small group of liberal whites who fought against racial discrimination in the South in the 1930s and '40s. But they were basically run out of the state in the days before the 1954 Brown v. Board of Education decision after being branded "radical" and "socialist."

    But by the 1980s, Beech was regarded as a significant figure by historians in Alabama, both for the stands he took against racism and for his associations with such figures as Gov. James "Big Jim" Folsom, the courageous newspaper editor Grover Hall Sr., George Washington Carver, the liberal Democratic U.S. Sen. Lister Hill, and the liberal Senator and U.S. Supreme Court Justice Hugo Black.

    In 1986, the Alabama Senate passed a resolution honoring Beech. In 1995, Alabama Public Television broadcast a documentary called "Against the Grain," about Gould and Mary Beech's work on behalf of civil rights.

    "The god-awful waste of prejudice, that's been mine and Mary's constant theme over the years," Beech told the Mobile Register in 1993. In 1990, he told me in an interview for Gulf Coast Newspapers that there still exists a "hidden racisim" in Alabama and the nation, but not to the extent that everyone "was preoccupied with it."

    "In those days, race was the end all be all. Everything in politics rested on that issue," he said. "You couldn't talk about the real issues of poverty and disease and what to do about education."

    In 1990, he said, things were different.

    "People can talk about something else other than stirring up racial antagonism. I don't know of any sane person who would consider turning back the clock," he said. "We are in a period of peaceful, evolutionary change, when great things are being accomplished through peaceful means and moralsuasion — the moral power and force that can be generated by people without a gun, a rock or even a stick."

    That was not the case in 1947, when Gov. Folsom appointed Beech to the Auburn University board of trustees. Protests against his appointment from the old Farm Bureau were so vehement that the state Legislature refused to confirm him. So in 1950, the Beeches moved to Houston, Texas, where he ran a radio station and worked against Eisenhower and "anybody else who tried to keep the little man down," he said.

    Beech was born in Graceville, Fla., but grew up mostly in Foley and Montgomery. His mother died when he was five, so he was raised by female relatives and his father, a conductor for the railroad who was an outspoken critic of the Ku Klux Klan. Beech graduated from Sidney Lanier High School in Montgomery in 1930, then enrolled at the University of Alabama, where he met Mary Foster in a chemistry class and got into journalism. He became the editor of the student newspaper, the Crimson White. He was honored at the 100th anniversary of the paper in 1994.

    After graduating from Alabama, Beech attended the University of North Carolina on a fellowship, but then returned to Alabama and taught journalism for a time at Alabama Polytechnic Institute, which is now Auburn University.

    Beech went back into the newspaper business and worked for The Anniston Star, then took a position as associate editor of the Montgomery Advertiser. It was there he worked under Pulitzer Prize-winning editor Grover Hall Sr., also known for his courageous stands against racism and the KKK, and in favor of anti-lynching laws. He also attacked Gov. Frank Dixon for making off-the-record racist remarks to reporters. Beech befriended both T.M. Campbell, the state's first black extension service agent, and George Washington Carver, Tuskegee's famed horticulturist.

    During World War II, Beech was an Army officer stationed in Washington, D.C. There the Beeches were known to socialize with other liberals from Alabama who played crucial roles in the Civil Rights movement, including Clifford and Virginia Durr. They became famous for bailing Rosa Parks out of jail when she refused to give up her seat on a city bus in Montgomery.

    After the War, Beech and Aubrey Williams got financing from Marshall Field, a Chicago businessman, to buy a newspaper called the Southern Farmer. Among patent medicine advertisements and advice to the lovelorn, they published articles and editorials calling on white farmers and black farmers to work together.

    "That's what they wanted to do, put together a coalition of working class whites and blacks," Sam Webb, a history professor at the University of Alabama in Birmingham, told the Associated Press. "It was a dream that grew out of their understanding of the Populist movement."

    In 1946, while editing the Southern Farmer, with 1 million subscribers, Beech became interested in the Populist-sounding themes of Jim Folsom of Cullman, who was running for governor for the second time. So he arranged a meeting in hotel room on the campaign trail.

    He asked Folsom if he knew anything about the Populist movement. When Folsom told him his grandfathers on both sides had been Populists, Beech said: "Well, maybe I can go with you."

    With no discussion of pay, Beech became Folsom's informal adviser and speech writer, tailoring his message for radio. When Folsom was inaugurated in early 1947, Beech wrote the address, which contained this telling passage:

    "There are those who are frightened by real democracy. They have always worked to trim it down a little here and trim it down a little there. They want to keep power in the hands of a few. I am not afraid of too much democracy. I am afraid of what happens to people when they have too little democracy."

    After spending more than 20 years in Texas, the Beeches moved back to Alabama in 1972 to live on the Magnolia River in Baldwin County. They spent their honeymoon there in 1935, and were drawn to the place where the mail is delivered by boat, the last year-round river mail route in the country. They moved into their dream house in 1978, according to Mary Beech Finger.

    They had a golden retriever named Trumpet, a true Yellow-Dog Democrat, who would not eat peanut brittle when Beech said it was sent by a Republican. When Beech would name a Democrat, Trumpet would take the peanut brittle. People would always ask how he did it, and Beech would put on his poker face and say, "You've got to teach 'em to read and make up their own minds," a line he stole from his daughter.

    Beech is survived by a daughter, Mary Beech Finger of Magnolia Springs; a son, Ed Beech of Pascagoula, Miss.; grandsons Shawn Beech and Edward Alan Finger, nieces and nephews. A memorial service was held Saturday Nov. 11 at St. Paul's Episcopal Church in Magnolia Springs.

    Among the speakers was former Alabama Attorney General Bill Baxley, who called Beech a true hero. They sang "Swing Low, Sweet Chariot," and then closed with the Hank Williams classic, "I Saw the Light."

    Even though Beech was hospitalized for his last three weeks, he managed to cast his final vote in the first election of the new millennium, thanks to a dedicated daughter.

    When she told him in the hospital about sending in the absentee ballot, "he blinked eight times," a sign he understood and was pleased, she said. Of course, "it was a straight Democratic ticket."




---
---
Copyright © The Southerner 2000.