---
---
Feature

---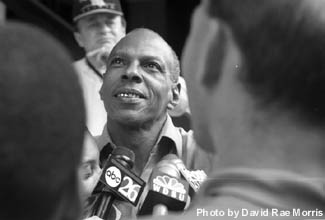 Hayes Williams speaks to reporters in front of the Federal Court House in New Orleans, LA May 15, 1997, after his release from from prison after he served 30 years at the Louisiana State Penitentary at Angola for a murder he did not commit.

Hayes Williams: R.I.P.
By David Rae Morris

He walked haltingly out of the federal courthouse and into the arms of his daughter and his niece. Although Hayes Williams later admitted to an almost overwhelming fear, he still carried himself with a poise not unlike that of Nelson Mandela. There were tears and laughter. It was May 15, 1997, and he had spent 30 years at the Louisiana State Penitentiary at Angola for a murder he did not commit.

    A state judge had already overturned his murder conviction, but today a federal judge also overturned a weapons charge related to an escape attempt and he was finally free.

    It was a beautiful spring day, and for me, as a journalist, this was a truly remarkable event to witness. A group of us had been waiting outside the federal court building for the monotonous video-poker trial of Larry Bankston and B.B. "Sixty" Rayburn to end. In the midst of our self- generated cynicism, it was a welcome diversion to see Hayes Williams emerge, and experience his first moments as a free man. It seemed like justice had been done. We all left smiling.

    However, while he had regained his liberty, Hayes Williams would continue to struggle with his freedom. He was pronounced dead just past midnight less than three years later, on Monday March 27, 2000, at Charity Hospital. He had been shot three times at the Fischer public housing development in New Orleans in January, four days before his 53rd birthday. He had allegedly tried to intervene in a domestic dispute, but authorities said there were so many conflicting accounts that the truth would never be known.

    He had lingered for more than two months, paralyzed and unable to communicate, before he slipped away. The man who shot him will not be charged, police say, because according to most witnesses, Williams was the aggressor.

    But we must move beyond the confusion of this senseless tragedy, and realize that Hayes Williams had more courage and determination than your average American, and that in his own way, he dramatically changed the course of Louisiana history. To me, Hayes Williams is a hero, not only because of what he did, but because of what was done to him. His story represents the darkest side of racism in America. He was a black man accused of killing a white man in the South. He was in the wrong place at the wrong time. The police and the district attorney suppressed evidence, witnesses lied.

    Are we surprised? He never had a chance. Finally, at the urging of his family and an alcoholic lawyer, he pleaded guilty to avoid the electric chair. His attorney promised that with time off for good behavior, he could be out in 10 years and 6 months.

    From my perspective, as a white boy from New York City, Hayes Williams' experience is simply inconceivable: He went to Angola in March 1968, just weeks after the Tet Offensive rocked South Vietnam. Lyndon Johnson was president. Bobby Kennedy and Martin Luther King were still alive. Bill Clinton was about to travel to England on a Rhodes Scholarship, and the New Orleans Saints had only won three games in their short history. Ricky Martin would not be born for more than three years, Monica Lewinsky for more than five. Edwin Edwards had yet to be elected governor, let alone indicted.

    While locked away, Williams missed all of the major events that my generation takes for granted: the Miracle Mets of '69, Watergate, Richard Nixon's resignation, the fall of Saigon, the rise and fall of disco, all of the Apollo missions to the moon — as well as 86 of the 97 space-shuttle missions, the last lifting off at 4 a.m. on May 15, 1997, the day of his release. He missed the massive integration of public schools in the 1970s, and their resegregation in the 80s and 90s. He missed the rise of Jesse Jackson and Louis Farrakhan; the terms of five different presidents, and part of a sixth; the election of record numbers of black officials; the end of the Cold War; the release of Nelson Mandela (after three years' less incarceration than Williams) from prison in South Africa; the break up of the Beatles, and the deaths of John Lennon and Bob Marley.

    When he was finally released, his parents had died, his children had grown up and the world had seemingly left him behind. I was 7 years old when Hayes Williams went away to prison; 37 when he returned.

    He tried to fit back in, but it was never easy for him. While he was warmly welcomed back onto the African-American community, and courted by reporters who wanted to tell his story, Angola was never far behind. I had spent time with Mr. Williams on many occasions, documenting his experience for various newspapers. He was a kind and gentle man, and tried his best to remain free of the bitterness that he knew could destroy him. I tried to reach out to him in any way I could, perhaps out of guilt for what the system of white oppression had done to him.

    In the end, I found it best to just listen. He was one of the most articulate men I had ever met, and put a face on his experience with a passion and directness I will never forget. "Take the most depressing moment of your entire life," he once told a journalism class at Tulane University, "and that's how you feel every minute, every hour, every day for 24 hours a day, 365 days a year when you're locked up."

    It would be a mistake, however, to believe that Hayes Williams' life was wasted. Because from the belly of the beast he made an indelible mark on Louisiana history. Using what limited resources he had available to him, he and a handful of other inmates almost singlehandedly took on the brutal system that enslaved them. In 1975, a federal judge, shocked by appalling conditions at Angola — due in large part to their lawsuits — placed it under federal control. It was returned to the state only last year. But Williams' courage and determination made him a marked man, and he remained at Angola for another 10 years, long after his co-defendants, originally convicted and sentenced to death, had been freed.

    His heart stopped beating on Sunday night in an ambulance en route to a nursing home from Charity Hospital, the day the Mardi Gras Indians took to the streets to parade. Super Sunday had been rained out, so they marched the following Sunday. "Hayes never missed a second line," one friend said. "He knew the Indians were marching the streets that day." It was if he went out his way, in the streets on parade, albeit in an ambulance.

    In life, he could not outrun the darkness. He battled depression, drugs, and alcohol, all brought on by the ghosts and demons of prison. The worst fear of any free convict is that of returning. But Angola never truly left Hayes Williams. He remained in his own personal prison, from which he could never escape. "I go to sleep and I dream about Angola," he told Rick Bragg from The New York Times. "I guess I'll dream about it till the day I die."

    Go in peace, my brother, I thought, when his suffering finally ended. He was finally free.




---
---
Copyright © The Southerner 2000.