---
---
| | | |
| --- | --- | --- |
| Bar & Grill | | |
---
Gennifer Flowers Readies New Club for First Mardi Gras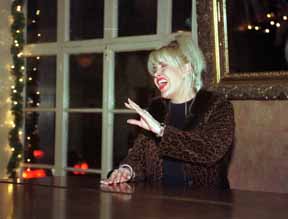 Photo by Dave Stueber

Clinton flame Gennifers Flowers sings a torch song for fans in her new club in the French Quarter.

By Glynn Wilson

NEW ORLEANS — Former television reporter, lounge singer and Bill Clinton flame Gennifer Flowers can't wait for her first Mardi Gras. Inspired in part by the spirit of a couple of legendary madams and scandal queens, she feels welcome and at home as the latest celebrity and bona fide character to put down roots in the infamous French Quarter.

    She's opened a piano bar called the Gennifer Flowers Kelsto Club in a historic address at 720 St. Louis St., a bead toss from Bourbon Street, across from Antoine's Restaurant.

    And for someone who has been around the proverbial power block from Little Rock to D.C. to Denver, Dallas and Las Vegas, it's hard to believe she's never taken part in Mardi Gras. But this will be her first Carnival, and she's looking forward to it with the enthusiasm of a teenager going on her first date.

    "I can't wait," she said with a smile that could launch at least 99 ships, even though she must be about Bill Clinton's age, in her '50s. She wouldn't say.

    The carnival season officially began January 6, the Twelfth Night. It will culminate this year on Fat Tuesday, Feb. 12, Mardi Gras Day. It's always 40 days plus 6 Sundays before Easter, the day before Ash Wednesday, which ushers in Lent.

    "The people of Dallas understand Le Bon Temps Roule, let the good times roll. It's the next best city to New Orleans," she said. "But the people of New Orleans are used to accepting interesting celebrities and characters. I really feel at home here in the Quarter."

    Ms. Flowers says everyone's been supportive since her move here. She hasn't heard a discouraging word about her status as a "national bimbo," her celebrity largely the product of an affair with a man from Hope, Arkansas who became President, not necessarily through her own talents.

    She claims her reputation as Clinton's lover, and the fact that she talked about it publicly and as a result got hounded by the national media pack, hurt her chances of working as a singer, her first love.

    Ms. Flowers performed in the Fairmont Hotel in Dallas for a few years, and in Las Vegas hotels. But when the story broke about her affair with Clinton and her face became known as the face of a scandal queen, the good singing jobs dissipated. Several deals in the works with places like the Hilton Ballroom in Vegas evaporated, she says, after a phone calls from what she refers to as "the F.O.B., Friends of Bill."

    Many venues, she said, "were not going to touch me with a 10 foot pole, and I don't blame them." The pattern became so apparent she decided to open her own place.

    "Let 'em tell me I can't sing in my own club," she said. "I've been a singer for 30 years."

    In fact, she recorded under the name Geannie Flowers on a small Arkansas label when she was 11, and under the nickname Little Scooter Bill at 13. Around that time she recorded "When the Saints Go Marching In" and performed it in Pete Fountain's Bourbon Street club on a trip with her parents, a fond memory that stuck with her through the years.

    She and her husband Finis D. Shelnutt, an entrepreneur, real estate agent and stockbroker who she married five years ago in the now closed Cipango Club in Dallas, have no special plans yet for Mardi Gras. They will be hanging out greeting guests in the front parlor bar with a leopard skin motif, in the new home of a gold piano once owned by the romantic gangster and father of Las Vegas, Bugsy Siegal. Ms. Flowers will sing a song or two when the muse strikes, or when fans persist.

    And they are working on a name for a special cocktail in the mix from Southern Comfort, a New Orleans company, that will get her famous face on the side of whiskey trucks. It's not so long a way from the Star tabloid newspaper and Penthouse magazine if you think about it. She reportedly earned several hundred thousand dollars for selling her story to the tabloid and for posing nude.

    On a recent Saturday night, curious patrons of all ages and political persuasions packed the bar by 10 p.m., waiting for a glimpse of Ms. Flowers, maybe a song.

    "She fits in well in the Quarter. I think she will do great here," says Dorothy Mayo, a Republican from Metairie who came to see the famous Gennifer Flowers because she admires her and wanted to hear her sing.

    "She intrigues me," Ms. Mayo said, taking a seat at the piano bar with her friends. "I admire her. She held her head up through tough times."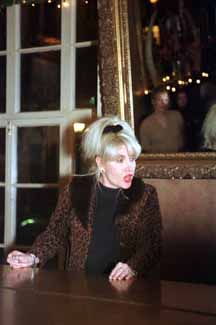 Photo by Dave Stueber

Gennifers Flowers gettin' sassy with fans
at her new home in the Quarter

    She got her wish. Ms. Flowers showed up at about 11:30 p.m. and, about midnight, gave in to the crowd and sang the torch song "Teach Me Tonight" a cappella. The piano player had the night off to work another club, since the bar just reopened after some renovations.

    An upscale restaurant is in the works upstairs with three unique features: outdoor seating, a city view and a restored red pine floor. Due to the heat, humidity and crime, few restaurants in the Quarter provide sidewalk or balcony dining. A view is rare due to the flat landscape. And New England red pine is hard to find.

    The couple lives on the third floor, and they've already experienced one encounter with a ghost. But shhh . . . don't tell Gennifer. Mr. Shelnutt says he lied when she asked about the footprints in the construction dust leading from the attic.

    "If she finds out, she may want to move again," he says, half grinning like a mischievous school boy sneaking out for the night, leading the way on a guided tour of the building with connections to a number of strong and interesting women who were not afraid of sex.

    The French structure was once occupied by Verita Thompson, allegedly Humphrey Bogart's long-time mistress. She ran a bar called Bogie and Me in the same space. Mary Lee Kelley ran the original Kelsto Club between the big world wars, and it is said she is the inspiration for Cole Porter's 1940 musical "Panama Hattie" who recorded an album and did a movie with Bing Crosby.

    "The rumor is she had 18 brass beds upstairs, and she brought in nothing but blonds," Ms. Flowers said. Apparently it was not simply a brothel, but a place for men to socialize, to dine and dance.

    "She was quite a character," Ms. Flowers said. "There are people here who remember her from the late '40s and early '50s."

    Ethel Merman played the brassy nightclub operator in the musical, an image Ms. Flowers might or might not identify with. But it was something about the story and the portrait of Madam X that inspired her to make the move from Vegas.

    A copy of John Singer Sargent's famous portrait of Madame Pierre Gautreau — the former Virginie Avegno of New Orleans who came to be known through international scandal as Madam X simply for a plunging neckline — hangs in an antique shop at 927 Toulouse St. Coincidentally, the shop and portrait are now owned by Chuck Robinson, a friend from Dallas, and the Toulouse Street address is reportedly Madam X's place of birth.

    While attending a wedding there, Ms. Flowers felt a special connection to the place and the legend, and it got her thinking about opening a club in the Quarter where she could sing whenever she liked.

    "It wasn't just that I was in the Madame X mansion and saw the portrait. It was really a combination of that and a lot of other things that day," she said. "I had been to New Orleans several times and always enjoyed it, but never really considered living here. It was the mansion, the portrait, the beautiful courtyard, the smells of the Quarter."

    A parade formed a second line down Bourbon Street that day. The song of a dozen gospel singers graced the air. A good feeling about the place just hit her, like it does many an artist and musician who find their muse on these well traveled streets.

    "The Quarter character just really took me over," she said. "It's hard to explain, but I was hooked. You really have to get into the Quarter and meet the people to really appreciate it. This is the partyin'est bunch of people I've ever seen."

Glynn Wilson is a free-lance journalist based in New Orleans. A shorter version of this story first appeared in the Dallas Morning News, Wednesday, Jan. 16, 2002


    Links:

    After the Glare of Scandal, the Soft Glow of Celebrity,
   by Rick Bragg for The New York Times, January 15, 2002.

    Do's and Don'ts of Mardi Gras

    Gennifer Flowers.com

    Declaration of Gennifer G. Flowers

    The Portrait of Madam X


---
---
Copyright © The Southerner 2000.