---
---
| | | |
| --- | --- | --- |
| Southern Culture | | |
---
Beale Street Culture Blues
By Ron Sitton

Memphis, Tenn. Birthplace of the blues and home of world-famous Beale Street, a thriving minority neighborhood in the 1930s, a jukejoint hotbed in the '40s and '50s, site of civil unrest in the '60s, a virtual ghost town in the '70s, and a multi-million dollar tourist industry at the turn of the new millennium.

    To say the city is an enigma for some is a slight understatement. After driving through the Cumberland Mountains, Memphis is the first indication you've reached a different mindset. Instead of coming upon a city, you drive upon a spread — bits of fabric spliced together through some commonalities, but maintaining cultural boundaries; sometimes to the benefit but often to the detriment of the community.

    Judy Peiser would be excited about the reference to the differences Memphis has. She's afraid the South's cultural identity is disintegrating as cookie-cutter stores crowd the landscapes of suburbia. So she celebrates the region's multiple cultural experiences in hopes of mending the tears of a city known for its racial divisions.

    It's a job Peiser's had since 1972. Under the moniker The Center for Southern Folklore, she and Bill Ferris began documenting the people and traditions of the Mid-South region, housing their collection in a bedroom of her parent's home in Memphis.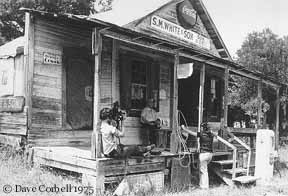 ---
Bill Ferris and Judy Peiser film Ray Lum in front of White's Store in Reganton, Miss.

    One of their first documentaries followed the last six years of the life of Ray Lum, a trader of horses and tales. A more famous documentary is the Center's award-winning film "All Day And All Night: Memories of Beale Street Musicians," narrated by B.B. King. Though Ferris eventually left to begin the Center For The Study Of Southern Culture at the University of Mississippi, Peiser stuck around.

    "We've been doing this for 25 years, documenting everyday people," Peiser says. "People in the city and (Shelby) county are saying those documents are important. It's taken a long time for everybody to come around to that."

COMING AROUND

    In a city not known for preserving its past, it's definitely a new (and welcome) attitude.

    "Memphis has torn down more history than most places have," blues harmonica player Charlie Musselwhite says. "It makes me sick the way they treat their own culture. The only reason there's anything left of Beale Street is because it finally dawned on them that they could make a buck off it. If the French Quarter was in Memphis, it would've been torn down a long time ago."

    Though he left in 1962, Musselwhite considers Memphis home and has pondered moving back. His family still lives there and he visits on breaks from his worldwide performances. Yet he says the world's view of Memphis is rather bleak.

    "(World) opinion of how (Memphis has) treated their culture and history is they're a bunch of ignorant hillbilly fools," Musselwhite says. "It astonishes people how cold they are and how they could tear everything down. It leads (others) to believe they have no culture themselves."

    Urban renewal projects in the 1970s cleared away many neighborhoods in Memphis, including the neighborhood that supported the Beale Street business district. In 1973, George B. Miller Jr. founded the Beale Street Development Corporation to combat further decay of the district.

    "(The city of Memphis was) involved in urban renewal which I interpreted as Negro removal," Miller says.

    With the help of the former Cassius Clay, Miller began trying to revitalize the neighborhood in 1979 by opening a movie theater, the Mohammed Ali Cinema. By 1982, the city of Memphis leased the Beale Street Historic District to the development company for $10 million in federal grants.

    The development company signed a 52-year sublease on all of the Beale Street property from 2nd to 4th Streets (with the exception of BSDC office space and the Old Daisy building) with the Elkington & Keltner company to maintain the common areas (sidewalks, street, parking lots), hold and promote special events in street, and act as the landlord for buildings and business in the district.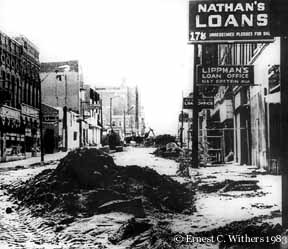 ---
Beale Street as it looked to John Elkington in 1983.

    When manager John Elkington came to Beale, his first impressions were of a war zone. The former Vanderbilt University linebacker still has a picture of the fenced-in street covered in sand, surrounded by boarded-up buildings.

    Seven years later, Elkington wrote a letter to a city official which appeared in the Memphis Commercial Appeal that said the city-owned Beale Street district should be sold to private owners upon renovation to help recoup the $13 million in public money invested in the project.

    In 1993, he was praised for rejuvenating the district though it allegedly cost him his marriage and $2 million to make the project work. By 1997, the Beale Street Historic District was removed from the historical watch as it surpassed Elvis Presley's Graceland as Memphis' major tourist draw.

    Beale Street is now Tennessee's largest tourist attraction, claiming 4.2 million visitors annually (counting local visitors), according to Mary Schmitz, vice president of marketing for the Memphis Convention & Visitors Bureau. Elkington says the two-block district holds over 700 jobs and generates more than $30 million in annual revenue.

    "When we undertook this project, we had three mandates from the city," Elkington told Agenda Online in 1997. "We had to return commerce to the street, make Beale Street a showcase for our music heritage, and create an atmosphere in which blacks and whites both felt comfortable. I think we have accomplished those three things."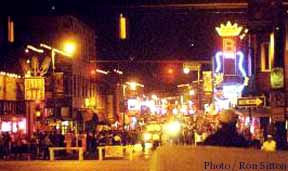 ---
Beale Street, Halloween 1999.

    For the first time since Beale was placed on the historical list in 1966, the street is completely rented. Elkington's success on Beale prompted similar development plans in Charlotte, N.C.; Columbus, Ga.; Jackson, Miss.; and Richmond, Va., under the direction of Performa Entertainment Real Estate Inc., the newest name for Elkington's operations.

    But with success comes scrutiny. Jimmy Ogle, Performa's vice president of operations, says most arrangements are made with city governments, and many governmental projects are not popular for one reason or another. Some detractors are concerned with the possible distortion and exploitation of the African-American culture. In 1996, the editor of The Jackson Advocate ran a front-page article questioning Elkington's motives and ability.

    Others have candidly questioned his motives since a Feb. 7 Commercial Appeal article found Beale Street Historic District operations cleared over $130,000 in 1998. Neither the city nor the development corporation received any of the money, which was used to repay Elkington for personal loans made to the operation during the years Beale was broke.

    Though Ogle says the money was made available, the bill remains unsettled because of a court feud between current and former leaders of the development corporation. In a twist of fate, the development company was recently evicted by Performa. Miller is taking the case goes to court Dec. 1.

    "John Elkington is a tyrannical maniac," Miller says. "His intention is to force off Beale Street anybody who cannot pay the astronomical, tyrannical rents that ingratiates his personal wealth."

    Miller says Performa has not paid rent to the not-for-profit development company in 17 years, but charges approximately $6,000 per month to businesses. He is also critical of minority ownership in the district where, although about 35 percent of vendors are minority owners, only three beer or liquor licenses are owned by minorities, including the Center for Southern Folklore under Peiser. He claims Elkington is uninterested in the heritage and cultural appeal of the Beale Street Historical District, focusing more on personal enrichment.

    "He doesn't care about the blues or the African-American experience; the only feeling he has is in his wallet," Miller says. "He's just riding on the backs of the slaves from the previous generation who were whipped with leather, who today are whipped with economics — it's just as bad. What happens to the history and culture of African-Americans who were on Beale Street anyway? If we don't remain the guardians, who the hell will?"

    Elkington maintains Beale Street is a nighttime district catering to adults, bus tours, and people with disposable income going out at night. Though culture is one factor in making an entertainment district, Ogle says a lot of things make up that package.

    "We're an urban oriented district; we're not trying to be family entertainment," Elkington says. "We're not here to be a home for not-for-profit. Our priority is to find viable business."

    And Elkington has more plans. In July, Performa signed a 30-year lease with the city to maintain Handy Park, named after blues great W. C. Handy. Elkington promises to build a covered-stage and dressing rooms, an information center, an exhibition hall and public restrooms in the park. These improvements, to be financed from Elkington's pockets, won't keep street musicians from playing in the park, Ogle says.

    "It's a pretty impromptu scene," he says. "The tourists and visitors like to see it. We're developing the district for about everybody who comes down here. We have a different variety of places to go, things to do. We're turning empty buildings into an area people are attracted to."

    In late September, the city of Memphis signed a lease agreement with Pat O'Brien's to build a new building pending approval, Ogle says. Construction is expected to begin in January 2000 at the corner of Beale Street and Rufus Thomas Boulevard, across from the Hard Rock Cafe and Handy Park, and catty-corner to the property where The Center for Southern Folklore now resides.

BEALE AND RUFUS THOMAS

    However, the Center will not be at 209 Beale St. by the time Pat O'Brien's opens. That space has been rented to Wet Willie's, a chain-establishment known for its daiquiris. Elkington says the bar will be a massive juke joint in the Beale Street tradition.

    Performa evicted the Center for not paying rent. The Center would have had to move by Halloween were it not for a mid-October "Save the Center" fundraiser and rally, which raised $1,000 and bought the Center until at least Dec. 15 to find another residence.

    The move will mark the Center's fifth home since it left a three-story house at Peabody and Bellevue in the early '80s, including stays at 329 Beale, 152 Beale, and the corner of Second and Beale in the former Lansky Brothers' Men's Store (now Elvis Presley's Memphis Restaurant).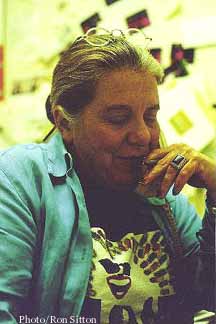 ---
Judy Peiser conducts business over the phone.

    Though Peiser garnered international acclaim for depicting the South in its natural form, her work and the attention the Center for Southern Folklore has subsequently received hasn't paid the bills.

    According to the Commercial Appeal, the Center had annual operational deficits ranging from $10,000 to almost $33,000 in six of the eight years from 1991 through 1998, a problem compounded by careless bookkeeping. Surplus revenues from the two "good" years were used on the accumulated debt.

    According to its mission statement, the Center serves to preserve, defend and protect the music, culture, arts and rhythms of the South. It tackles the broad-based mission by educating and entertaining local, national and international family-oriented audiences through traditional music, festivals, special events, traveling musical revues, lectures and educational programs.

    The Center also conducts cultural tours, hosts an hour-long monthly television program in association with the Memphis Public Library and Information Center, operates a Web site allowing world-wide audiences to learn about Memphis and the South, and maintains an extensive multimedia archive which forms the basis of Center programs, exhibits, special events and public presentations.

    Apparently the variety of programs are not enough to fulfill the lease statement that reads, "Not withstanding anything contained here to the contrary, the tenant and the Landlord agree that the tenant shall make available upon a reasonable request the following services to the Landlord in exchange for a $1,900 credit per month against rent due such as providing information about Beale Street and Memphis for tourists and the media."

    Performa states that clause has not been successfully completed, and the Center "has not produced a new exhibit in 15 years." Peiser begs to differ, believing that there must be some misunderstanding.

    "I still think people are not comprehending what we're doing today. There's a whole bulk of material they're not up to speed on," Peiser says. "We have provided documentation to (Performa) about all this, albeit some of the times we have not been able to give the information consistently because of our very small staff and the fact that we are busy doing this all of the time."

    Even if the Center met the conditions stated on the lease, it would still be obligated to pay $1,500 more a month plus a percentage of the utilities used by the building — a bill Performa's been paying. Ogle says not one rental payment has been made in the past six months.

    Peiser doesn't deny the financial problems, but says there hasn't been enough "wherewithal" to conduct a sustained membership drive or hire a business manager. Center Board Chairman Bobbie Shainberg notes the lack of a stable lease has inhibited efforts to raise adequate funding.

    "The reason that the debt got up is we couldn't get a lease and couldn't raise money," Peiser says. "We're not dealing with lots of people with lots of big bucks. Our constituency has as much money as we do. For them to give $30 is a lot of money."

    Since they couldn't give money, a few decided to raise the awareness of the Center's fate. The campaign paid off.

    "Overnight, people started calling in," Peiser says. "There's a lot of people that have really come to the aid of the Center. I never thought there'd be this type of outcry."

    The response brought the powers of Memphis together to try and save the Center. A task force, requested by Memphis Mayor Willie Herenton and Shelby County Mayor Jim Rout studied the problems facing the center. Tom Jones, Shelby County public affairs officer, estimates it will take at least $100,000 to pay the Center's immediate debts.

    "The city and county are not in the habit of convening a task force to save nonprofit organizations. The fact that we're trying says volumes about Judy and the Center," Jones says. "The danger in downtown America is we're defunking America. We can't lose the funkiness of the Center. I'd rather not have to live without it."

    Governmental involvement in Memphis' business affairs is not unprecedented. Kyle Masson, Memphis' chief administrator, noted that similar difficulties beset Memphis in May, when the city had close to $600,000 in debt because of mismanagement before a group of public and private officials restructured the festival's board of directors. That led to the most profitable year the festival's had, he says.

    The city-county task force created a five-page proposal of recommendations to help keep the Center open. The main recommendations included:
Creating a new regional board of directors;
Hiring an autonomous business manager to help the Center cure its financial woes;
Finding a permanent location for the Center's archival materials; and
Keeping Peiser as executive director of the Center with control over creative and interpretive activities.
    A similar proposal was put forth in 1992, but its recommendations were never implemented. Peiser is more comfortable with the current proposal, and believes the board of trustees will go along, even though they'll be required to immediately submit their resignations.

    Though some say the eviction of the Center and the development company is purely a financial situation, Elkington disagrees. He notes Performa could have legally ousted the Center at the end of October, but left that decision to the city.

    Elkington says he has personally raised the Center over $200,000, and in 1997 proposed to set up an incremental sales tax to fund a permanent center. However, the lack of a financial statement from the Center dissuaded him from approaching the state legislature with the idea.

    In addition, Elkington says Peforma notified Peiser in 1998 that her three-year lease would expire Oct. 30, and offered the Center other space on the street, though that option is no longer available.

    "All we want is accountability," Elkington says. "We think we've been maligned and taken advantage of. (Peiser's) thrown down the cultural card and this is not a cultural thing."

    Scott Ellsworth, historian and author of Death in a Promised Land, begs to differ. "It's been said that the Mississippi Delta begins in the lobby of the Peabody Hotel," he says. "Well the hidden South begins in the corner booth of The Center for Southern Folklore at the corner of Rufus Thomas Boulevard and Beale Street. As Southerners, we can't afford to lose the center. This is a battle about a lot more than money . . . it's about the soul of the South."

THE SOUL OF THE SOUTH

    Jones searches for words to describe intangibles The Center for Southern Folklore brings to Beale Street. However, he knows no business is indispensable to a city.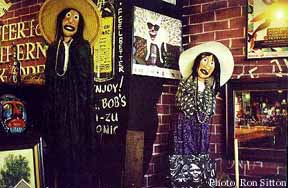 ---
Folk art hangs from the walls of the Center for Southern Folklore.

    "Any district can afford losing any piece," he says. "The Center isn't exactly the heart, but surely the Center is the soul of Beale Street and that's worth something more."

    Schmitz says the Center provides a daytime anchor for Beale, as well as a non-smoking establishment featuring "funky stuff" and artwork occasionally created before the visitor's eyes. Peiser's archival skills are well respected within the community.

    "She's someone who's preserving a piece of Southern culture that's not being preserved otherwise," Schmitz says. "It's important from a business and cultural standpoint. It's much more touchy-feely, hands on. When visitors go in there, it makes folk art much more tangible; it's not so much a gallery where people can't touch things."

    Visitors' eyes light up when viewing the Center's vibrant interior, designed by New Orleans folk artist Robert "Dr. Bob" Shaffer and Memphis artists Lamar Sorrento, Jim Esposito and Russell Wyle. Elizabeth "Lizzy" Beard, who sells her folk art in the Center, now has pieces all over the world.

    "For me, it has been a way to get my campy, funky art out there," Beard says. "I am honored to have my work sit amongst all that cool stuff! Most of what I sell there is music-related, and where in the world could I find a better avenue for my work? What in the world would Memphis do without The Center for Southern Folklore? It is one of the few 'real' places on Beale Street."

    Ellsworth claims the Center's annual Memphis Music and Heritage Festival, now in its 13th year, was before its time in promoting primitive Southern art.

    "This was a cool place but they didn't realize how much thought went behind what the Center was trying to accomplish. Americans had no knowledge of primitive Southern art," he says. "These primitive artists' impact on the culture is remarkable. It's not the big names coming to the festival, but they come and share their knowledge."

    Visitors can view photography of early Memphis including a picture commemorating "the men and women, past and present, whose music, song, and dance helped create a place, Beale Street, that generations the world over will know and be inspired by for years to come." There's even a photograph of Elvis with one of his first girlfriends.

    A "Wedding Museum" sits at the end of the coffee and beer bar. For a quarter, visitors can experience this homage to marriage as the cake turns, lights shine and historic newlyweds once again have their day in the sun. John Vanderslice, a first-time visitor from Conway, Ark., brought his family to look around the district.

    "This is the only (place on Beale Street) we've felt comfortable coming into with a 3-year-old," he says. "We probably wouldn't be able to bring the family down to Beale Street (if the Center was gone). We like the city and we'll definitely come back."

    A gift shop contains original Southern handicrafts and literature about the region, promoting itself as "one of the few locations where visitors may purchase folk art of the area, and take home a real piece of Southern history." Among the items for sale are "Slices of the South," a colorful cardboard box containing delicacies and items indigenous to the region.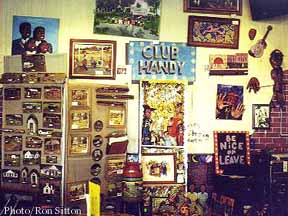 ---
Inside the Center for Southern Folklore.

    Nightly performances of blues, jazz and gospel grace the stage where 82-year-old Mose Vinson plays every Saturday night, staying until the last fan leaves. The Center gives The Daddy Mack Blues Band an opportunity to play Beale Street, while providing older bands like the Feldstones a smoke-free environment. On the first Sunday of each month, gospel music is the main fare.

    Peiser hopes a Beale Street location will be found for the Center; if it doesn't work out, she'll move, though she believes it's culturally important for the Center to remain on Beale.

    "Every street needs a soul — a soul that understands the past and present and is able to communicate that to audiences," Peiser says. "Over the years the Center has learned the soul of (Beale) from the many people with whom we've worked. It's important their soul is protected and presented by the Center for Southern Folklore."

FLUID OR STATIC HISTORY?

    Though Ogle is reluctant to call the Center expendable, he says there's not an exclusive "culture" to Beale Street. Elkington plans to open a 3,000-square-feet historical display named after the daughter of Robert Church, the South's first black millionaire, by May 1, 2000. Under the guidance of the Tennessee Historical Commission and regional colleges including the University of Memphis, the exhibit will primarily focus on African-American history.

    "This community demands we have a real cultural attraction," Elkington says. "We're not going to settle for a beer bar on Beale Street. I think with the Roberta Church Exhibition Hall, we'll present an equally good presentation or better."



Instead of the static history of a museum or archive, Peiser believes discussing music and art excites the younger generations, connecting them with a sense of place, their region and themselves.

    It's the type of display Peiser's avoided. Instead of the static history of a museum or archive, she believes discussing music and art excites the younger generations, connecting them with a sense of place, their region and themselves.

    "You build an audience who appreciate the everyday cultural experiences of the region. It's pretty important if you want to make everybody feel good about where they're from and about themselves," Peiser says. "You begin to celebrate differences. You don't have to be a cookie-cutter kid because differences are important, unique is special, and those differences bring the young and old, the black and white together."

Halloween in Memphis. Over 10,000 people pack Beale Street on Friday and Saturday night for a NASCAR/Busch series promotional. A film crew uses the district for the backdrop to a future movie. People applaud a boy who does continous back-flips down the street. Ogle's not entirely happy, though.

    "We've got a lot of good things happening on Beale Street, but bad things were on the front page of the paper three days in a row; tenants not taking care of their affairs making headlines," he says. "Good things are happening, but it gives us a black eye."

    Peiser hopes that's not the case. For 27 years The Center for Southern Folklore has served the Mid-South as a fluid historical treasure. After working many of those years for free, Peiser's unapologetic about trying to ensure the Center's survival.

    "I feel like it's important work because of what we've been able to accomplish," she says. "If I've been able to share the experiences of many different cultures on a plate that people can learn from, hold onto, and talk about, I think I've made this region a most special place."

What's your opinion about static versus fluid Southern history?



---
---
---
---
Copyright © The Southerner 1999.