---
---
| | | |
| --- | --- | --- |
| Secret Vistas | | |
---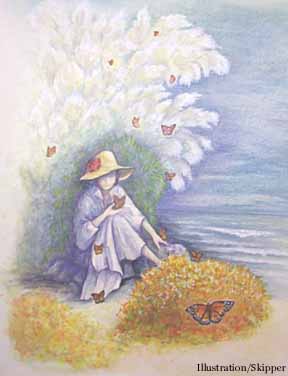 Lift Your Spirit On Monarch's Wings
Catch the Gulf Coast Migration in Late Fall
By Glynn Wilson
Every autumn, while most of the Southeastern United States changes its outward hue from a thousand shades of summer green to red, violet, amber, and ultimately winter's brown, coastal communities and barrier islands change in a different fashion.

    In Gulf Shores, Ala., for instance — one of the most interesting geological and climatological spots in the country, where the Gulf Stream sometimes sweeps ashore to brush the delicate beaches almost white — the fall does not show up so much in the trees. You have to drive a few miles north to find the oaks and maples falling asleep with grace for the winter.

    When the Shrimp Festival and the tourist season closes down in October, the place empties out like a deserted village until the Snow Birds from points north begin coming in around Christmas. The air grows cooler and the humidity drops. Visibility out to sea increases, and the photosynthesis bounces off the clouds and chemicals in the sky like a distorted mirror, the old-fashioned kind you sometimes still see in county fairs.

    But the greatest thing about autumn in Gulf Shores is the annual butterfly migration. If you find yourself there at the right time, usually late October or early November, you will begin to see the unmistakable orange-and-black wings of the majestic migrating Monarchs.

    On their long trek from Canada to Mexico, they have to stop here for the night. The protected wetlands house the milkweed and baccharis bushes they depend upon for the energy required to sustain them. Of course there are many spots from which to view this wonder of nature. I happen to favor Gulf State Park, because it's where I used to go every year on my mountain bike from my beach home of four years in the late 1980s and early 1990s. You could go down the beach a bit further west and find a spot in the Bon Secour National Wildlife Refuge, or east to a secluded spot on Wolf Bay or Perdido Key.

    Yet if you have never sat amidst them fluttering tirelessly by you in ones and twos all day long, you are missing one of the South's unique spiritual experiences.

    Go experience it for yourself, by all means. But do it on a bike, alone, with a close friend, or one you love, and sshhh! Don't tell everyone you know. We don't want to overrun the place, disturb the Monarchs, or extend the tourist season.

For an introduction to our Secret Vistas department, please see the inaugural issue, or take the:
---
---
---
---
Copyright © The Southerner 1999.