Truly a disaster waiting to happen …
MONTICELLO — Two black cats laze on the hardwoods while the gray perches in the high chair.
Cats — big and small — seldom waste steps, in essence an efficiently ruthless killing machine. If not on the prowl, they move in moderation.
Life is generally good in moderation. Excess breeds addiction.
***
According to historian Donald Holley, Monticello helped lead the anti-liquor movement within the state in the late 1800s, as the local Women's Christian Temperance Union shut down the town's saloons in 1888. The Monticello chapter of the Ku Klux Klan provided "extra-legal assistance" in Prohibition enforcement during the 1920s.
In short, Monticello faces a truly historic challenge this fall as it considers whether to go "wet."
I know this mindset, i.e. I grew up Missionary Baptist. We didn't drink; we didn't dance.
But I needed money to go to the University of Arkansas at Little Rock. I didn't come from a lot of money; I worked two or three jobs at a time going to school. I waited tables, barbacked and bartended my way through, earning a bachelor's and master's without owing anyone a dime in student loans.
Mama Macy grieved me for "slingin' that whisky." It paid the bills.
Does alcohol negatively affect people? To say it doesn't would be disingenuous. But it is also disingenuous to pretend keeping sales outside the city limits will "save" the inhabitants of Drew County. Years ago when I first came through Monticello, you would drive by a "Jesus Saves … Let Him" sign just prior to getting to the liquor store.
I would encourage the good citizens of Monticello to let him save, but otherwise help the city gain sales tax revenue from bringing alcohol-serving businesses into town. Morality should not be legislated; it's easy to make laws to target folks, but then don't be surprised when you end up targeted.
The vast majority of adults who drink do so in moderation, which is great not only for alcohol but also for proselytizing.
***
Ani DiFranco plays "Which Side Are You On?" in the background.
***
One last drop: It's time for a "sin" tax on soft drinks in Arkansas. For those so concerned about what I'm drinking, two can play at that game.
-30-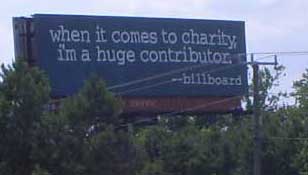 Justified — This sign seems planned to remind North Carolina motorists why it should remain standing during tough economic times.
Perpetual Notions
by Ronald Sitton
NORTH LITTLE ROCK, Ark. (Aug. 3) — You see them every day on your way to and from work, the grocery store, the library, the pool, the folks … but you might not "notice" them except for the occasional message.
In the late 1990s, "Got Milk?" grabbed the attention of passing American motorists before becoming a world-wide campaign. Without knowing the actual returns on investment, it seems the milk industry fared much better than the pork industry's "The Other White Meat" and "Beef – It's what's for dinner" (note: the beef billboards apparently spawned a PETA/vegetarian response).
Around the nation, recession billboards ask Americans to lighten up. Some of you may remember the racy Calvin Klein ads of the late '80s, but apparently the company's newest billboards even messes with New Yorkers. Someone found the time to make a Web site commemorating crazy and funny billboards for the bored to enjoy. But not all billboards are funny:
It's hard to understand the logic behind the use of some billboards.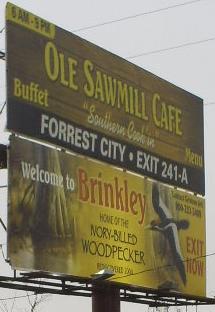 Priorities — Stop to see where the Ivory-Billed Woodpecker might be, but what about where Louis Jordan was? (File Photo)
In Kevin Clark's documentary "Is You Is: A Louis Jordan Story," Arkansongs dee-jay Stephen Koch tells of childhood expectations of seeing a statue of the legendary Rock'n'Roll Hall of Fame honoree noting his hometown of Brinkley, Ark.
Instead he found a lot of promotion for the re-discovery of the Ivory-Billed Woodpecker — but not one billboard tells passing travelers about Jordan. Wouldn't it be better to attract as many travelers as possible during tough economic times, especially when located on a busy Interstate?
Perhaps even crazier: billboards on I-40 westbound promote investment opportunities in Brinkley … right after you pass the Brinkley exit with the next exit nowhere in sight.
Of course now, it's not enough to have a static sign breaking the scenic view as you drive America's highways and byways. Electronic and digital billboards are becoming all the rage. Even the FBI understands how useful they can be with the ability to update as needed. Are they safe? The federal Highway Administration sure seems to think so, especially when they sit in congested areas that give drivers time to sit and watch them.
Some claim business forays into social media represent nothing more than electronic billboards, but somebody's watching. And just when you thought it was safe to go out in the water again … amphibious billboards! What's next? Billboards in space?
But billboards aren't just for business anymore.
GOD, Politics and Education
I'll never forget driving to Knoxville from Clinton, Tenn., and seeing:
"That 'Love Thy Neighbor' thing … I meant that." – God
Apparently, a non-denominational anonymous donor started that campaign. Halfway across the world, the Church of Singapore ran these to get more people to attend church on Sunday.
Some would say religion wouldn't be religion if there wasn't some controversy. You expect atheists to question God's existence, but what about this campaign to "challenge the mindset of a new generation of church goers"? I prefer the approach of The Foundation for Life, whose "Pass It On" series hits really hard.
When it comes to politics, sometimes it's tough to tell who's selling what. Read more: Signs of the Times
For those of you blissfully unaware, the savior of Golden Eagles' football faces a dilemma of whether to return to the Land of Cheese and pacify both his flock and his folly.
Brett Favre, known in these parts first for taking little ol' Southern Miss to its first 10-win season in over 35 years, went on to do a few things in that professional league too. Folks up there practically built shrines for the guy who made the Pack relevant again.
Now it seems Mr. Wrangler might want to play (though he denied it) and doesn't really care if it's for a new set of worshipers or the old (after all, those Greek gods did all right switchin' to the Romans, didn't they?). And all the talking heads are in a twitch.
Well Brett, I'm here to tell ya don't do it son. Read more: bReAk ThE cUrSe!
ATLANTA (Oct. 27) – Water problems abound in Georgia, leading to $1,000 fines and jail terms for people who've watered their lawns at night, as well as this toon from my dad.