by Paul Rockne
It's Championship Weekend for Southeastern Conference football – and for several other leagues as well – with the surprising Arkansas Razorbacks representing the Western Division and the not-so-surprising Eastern Division champion Florida Gators going head-to-head for the SEC title Saturday in the Georgia Dome in Atlanta.
The Hogs and Gators would figure to grab all the football headlines this week … but they didn't as the Alabama Crimson Tide captured the media attention – almost pushing the SEC championship game into the background except in Arkansas and Florida – by abruptly firing head coach Mike Shula and announcing a nationwide search for a new coach.
The word "again" belongs at the end of the last sentence. The slap-in-the-face firing of Shula brings the Alabama football program back around to where it has been all too often in recent years – in a search for another head football coach. Tide Athletic Director Mal Moore is currently engaging in his fourth search for a new coach in his tenure.
Shula may have deserved being fired but the feeling from here is that, considering the mess he inherited with Dennis Franchoine's sudden departure for greener pastures, the Mike Price debacle and NCAA probation, he deserved at least another year. With the losses this year being as close as they were, many oh-so-close to being a victory, the odds were good that the Tide could/would have produced another 10-win season in '07.
Shula was, obviously, both disappointed and surprised when Moore made the Sunday night call. After all, Shula had done what he had been hired to do – clean up the Alabama image. He never embarrassed the university on or off the field. There were no drunken nights along the T-Town strip, no accusations from secretaries, no rumors of affairs or any other improprieties. He worked hard, recruited hard and gave the best he had for four years.
On the other hand, long-time Bama fans couldn't have been surprised at Shula's fate. After all, Shula went 0-4 against Auburn. Bill Curry was fired as the Bama head coach for not being able to beat Auburn – and his overall record was much better than Shula's. When Bear Bryant was being interviewed for the head coaching job in Tuscaloosa, the first question asked of him was: "Do you think you can beat Auburn?" Despite the loss to Mississippi State and the mediocre record this year, if Bama had beaten Auburn in the '06 Iron Bowl, Shula would still be captain of the Tide football fortunes.
But whether Shula should or shouldn't have been let go is not as important as how he was treated. The slap-in-the-face manner in which the whole affair was handled will make it harder to find and hire a good replacement – in fact, only another Bama grad or former player should even consider taking the job.
Some big-time names have been named as possible replacements for Shula – Steve Spurrier, Nick Saben, Rich Rodriguez, Bobby Patrino, Paul Johnson, Jim Grobe, Houston Nutt – but most have been quick to deny any interest in the job. That could be how they really feel or just part of playing the game. But if they have been watching events closely as they unfold, the above-mentioned coaches who are all successful in their present positions with their present teams will think twice – or more – times before they sign on the dotted line with the University of Alabama.
The powers that be at Alabama waited until late Sunday to hand Shula his walking papers and made Shula look like a naïve fool in the process. After twisting in the wind for eight days following the Iron Bowl loss, the former Tide QB and son of one of the winningest coaches in NFL history, told his players and assistant coaches at an early Sunday evening meetinig not to believe the rumors of his impending demise and to get their minds on the upcoming bowl game. Less than two hours later, he was gone.
That insult, that slap in the face, should serve as a warning to candidates in the present coaching search. If the way Moore and Company treated Shula is the way it treats one of its own, how will they treat an outsider with no ties to the Bama family?
Perhaps Alabama's only hope is a second resurrection – Bear Bryant coming back for a second go. But who knows? In these days of instant gratification and lack of patience, Tide fans might not even give Bear a break.
Oh yes – the SEC Championship Game. It will be played Saturday (today) at 5 p.m. in the Georgia Dome. Florida is a 3-point favorite. The two teams have met just six times before, with the Gators holding a 5-1 edge. It will be the fourth SEC title game matching two teams ranked in the top 10.
This weekend's championship college football TV schedule kicked off Friday night with the Conference USA title game, in which Houston defeated Southern Mississippi.:
Saturday's championship week lineup is as follows:
Connecticut at Louisville, 11 a.m. (WCSS)
ACC Championship Game, Georgia Tech vs. Wake Forest., noon (ESPN)
Army vs. Navy, 1:330 p.m. (ABC)
Division II title game, Delta State vs. North Alabama, 1:30 p.m. (CSS)
Stanford at California, 2 p.m. (FSNS)
Southern Cal at UCLA, 2:30 p.m. (ABC)
SEC Championship Game, Arkansas vs. Florida, 5 p.m. (CBS)
Troy at FIU, 6 p.m. (CSS)
Rutgers at West Virginia, 6:45 p.m. (ESPN)
Big 12 Championship Game, Nebraska vs. Oklahoma, 7 p.m. (ABC)
Editor's Note: A controversy rages in Alabama over whether to continue calling the Alabama-Auburn game the "Iron Bowl."
Over at Tuscaloosa News columnist Tommy Stevenson's new blog, he's asking the question.
We raised the issue last year in this story, which should tell you where we come down on the subject: It ain't "The Iron Bowl" no more.
What do you think? Sign in below and give us your comments. Onto the story…
by Paul Rockne
It's Traditional Rivalry Week for Southeastern Conference football.
Photo by Glynn Wilson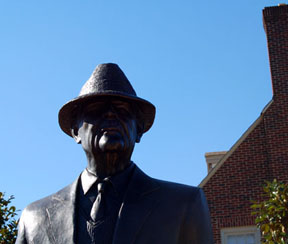 Funny, when Paul "Bear" Bryant was alive, it was hard to get a picture of him where you could see his eyes, especially on the football field. Now, with the sun behind Bryant-Denny Stadium, it's hard to get a photo of his new statue with his eyes in the picture…
There are three of these throw-out-the-record-books games, in which the outcome is the be-all and end-all for rabid fans, on tap this weekend – headed by the Iron Bowl, which annually pits Alabama against Auburn.
In the state of Alabama, polls have shown that over the years some three-fourths of the population – young and old, women and men – watch the Bama-AU battle if it is offered on TV. This year it is being carried live on CBS (not a good omen for Alabama, which has fared poorly on that particular network in the past few years).
Outside of Alabamians, few football fans in the other 49 states will be tuned into CBS Saturday because they will be tuned into the big No. 1 Ohio State vs. No. 2 Michigan game over on ABC that will determine the Big Ten title and put the winner into the BCS national championship game.
The Tide-War Eagle game is more important than life or death to a good number of the teams' fans. While it doesn't quite mean that much to the teams and players – winning or losing won't mean a winning or losing season for either and a win won't put either into the Western Division title game – it does have it's importance to both.
For Alabama, it will mean stopping a four-game losing streak to Auburn. A Bama win would also be big in that it would be the first-ever for the Tide in Tuscaloosa. Right now Auburn owns a five-game winning streak in T-Town, owns the Alabama home field. Add to that the fact that, so far, Bama Coach Mike Shula is 0-for against Auburn. No coach can last for long at Alabama if he can't beat Auburn – and Shula knows that.
A win for Auburn would erase the two losses this season and send the Tigers a-bowling with a good taste in their mouths. It would also be win No. 10 for the season for Coach Tommy Tuberville's team. And it would probably mean a new version of the "Fear the Thumb" T-shirts that AU unveiled after last year's Iron Bowl triumph.
People outside Alabama have a hard time understanding exactly why the "Iron Bowl," if we should still call it that, is such a big deal (although ESPN announcers have been debating among themselves if it is or isn't the nation's fiercest rivalry, thus giving the game more national attention).
Remember, this is a series that was put on hold for 41 years over a dispute – following a tie game – over a referee and per diem money paid to players to travel. Alabama owns a 38-31-1 edge in the series, with the lone deadlock coming in that final game before the 41-year break. There have been 22 shutouts in the series (meaning a close, low-scoring game benefits the Tide?), while Auburn owns a 4-1 record in one-point games in the series (meaning a close game is a good omen for AU?).
One final historical fact does seem to lean the Tide's way. This is the eighth time since the series was rekindled in 1948 that both teams come into the Iron Bowl off losses. Alabama holds a 5-2 edge in games that followed the double losses.
The other two other rivalry games set for Saturday include Ole Miss (3-7, 1-5) at No. 9 LSU (8-2, 4-2) and No. 22 Tennessee (7-3, 3-3) at Vanderbilt (4-7, 1-6). The schedule also includes one big non-rivalry matchup – No. 5 Arkansas (9-1, 6-0) at Mississippi State (3-7, 1-5). Arkansas can clinch the Western Division crown with a win over the Bulldogs, or a win over LSU next week.
Other league games on tap this week include a trio of cremepuffs with the SEC taking on two Sun Belt Conference squads and one Divison 1-AA team: No. 3 Florida (9-1) will get no computer points for its national title game bid with a win this week. The Gators host Division 1-AA Western Carolina (2-8). South Carolina (5-5) looks pretty assured of getting that sixth win to become bowl eligible as the Gamecocks host Middle Tennessee (7-3). Kentucky (6-4) will be at home against Louisiana-Monroe (2-7).
Saturday's weekend TV football lineup, other than pay-for-view is as follows:
Miami at Virginia, 11 a.m. (WB)
Yale at Harvard, 11 a.m. (WGN)
Iowa at Minnesota, 11 a.m. (CSS)
Maryland at Boston College, 11 a.m. (ESPN)
Michigan St. at Penn St., 11 a.m. (ESPN2)
Buffalo at Wisconsin, 11 a.m. (ESPNU)
Oklahoma at Baylor,11 a.m. (FSNS)
Tennessee at Vanderbilt, 11:30 a.m. (Lincoln Financial)
Charleston Southern at Coastal Carolina, 12:30 p.m. (SS)
Army at Notre Dame, 1:30 p.m. (NBC)
Michigan at Ohio State, 2:30 p.m. (ABC)
Auburn at Alabama, 2:30 p.m. (CBS)
Alcorn St. at Jackson St., 2:30 p.m. (CSS)
Kansas St. at Kansas, 2:30 p.m. (FSNS)
Bethune Cookman at Florida A&M, 2:30 p.m. (ESPNU)
San Diego St. at TCU, 3 p.m. (VS)
Arkansas St. at Troy, 6 p.m. (CSS)
Washington at Washington St., 6 p.m. (FSNS)
Virginia Tech at Wake Forest, 6 p.m. (ESPN2)
South Florida at Louisville, 6 p.m. (ESPNU)
Rutgers at Cincinnati, 6:45 p.m. (ESPN)
California at Southern Cal, 7 p.m. (ABC)
UCLA at Arizona St., 9:15 p.m. (FSNS)