Category: Under the Microscope


Under the Microscope
by Glynn Wilson
A couple of weeks ago, when not one single Republican took up our new President Barrack Obama's call for "bipartisanship" to vote for his stimulus package to aid the faltering economy — a measure backed by virtually every economist in the land as a needed step to avert a far worse economic collapse — a reader on an e-mail list asked: "Why is cable media spinning this as a failure for Obama?"
My answer?
"Because they are the corporate media," I wrote. "That's why we are building a replacement here at the Locust Fork News-Journal."
Obviously, more of an explanation is in order.
In one of his blog columns this week, Tommy Stevenson at The Tuscaloosa News picked up on a recent episode of the Bill Moyer's show on PBS, which Moyer's set up by asking: Is the old media sustaining the old politics?
Guests chosen for the show to discuss this issue were New York University journalism professor Jay Rosen, who later had this blog post on the subject under this statement: pundits and reporters as an establishment institution.
Also on the show was attorney and Salon.com columnist Glenn Greenwald, who also wrote more about it later in this post, summarized by this statement: The mentality of the Beltway journalist.
Before I get to the criticism, let me applaud all these commentators for getting a discussion going on these issues. It has been reported that the Moyers show got more comments than anything they have done to date.
This is just one demonstration of the public upheaval that has been building for several years against the establishment media in this country, sometimes referred to, and not as a compliment, as "the mainstream media."
The blogging revolution started in part as a place to vent this backlash against the press and the media, the TV punditry, mainly for not doing its job in the run up to the Iraq war or for holding the Bush administration accountable on all kinds of issues.
There is no doubt the establishment or corporate press as I call it was complicit in allowing the Bush administration to get away with murder, literally, as well as torture, warrantless domestic spying, and turning the justice department into just another political wing of the Bush White House's perpetual campaign operation.
With all due respect to Tommy Stevenson, Bill Moyers, Jay Rosen and Glenn Greenwald, none of them have ever chased major stories for the national desk of the New York Times. None of them have ever worked a major city bureau for a top 10 circulation newspaper like The Dallas Morning News out of New Orleans. None of them have ever had the experience of making democracy work like I did working for a chain of weeklies on the Gulf Coast, where for nearly four years in the late 1980s and early 1990s, thanks in part to my reporting, we won every environmental battle that came down the pike.
To read the full essay, go to our sister site, The Locust Fork News-Journal


Under the Microscope
by Glynn Wilson
The history of the Civil War has never really interested me that much compared to the American Revolution. Neither has the Great Man theory of history interested me nearly as much as the study of science and nature.
But just like in life we can't ultimately escape death or taxes, I can't seem to get through life as an American or a Southerner without facing the baggage left over from the Civil War — and the man-centric view of history.
I would rather be camping out in the Great Smoky Mountains photographing birds in the wild.
But since Birmingham Congressman Artur Davis has thrust this race for governor upon us a year and a half ahead of time, like a lot of men before him whose ambitions drove the agendas of their state or nation, it is impossible NOT to spend some time thinking about these things.
To read the full column, visit our sister blog, The Locust Fork News-Journal.

It's the 200th anniversary of Charles Darwin's birth and the 75th anniversary of the Great Smoky Mountains National Park

Under the Microscope
by Glynn Wilson
I can't wait for 2009.
When the ball drops and the calendar changes at one minute after midnight this Wednesday evening, Thursday morning, I've got a feeling the world is going to take a dramatic turn in a better direction. I could be wrong, but I say change is good.
If what I'm thinking turns out to come true, 2009 may be the year the human species turns it all around and starts living up to a smarter, more positive destiny. Maybe we can begin to escape the yoke of ignorance and religious dogma once and for all.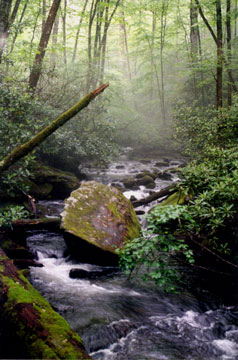 Glynn Wilson
I captured the legendary blue mist of the Smoky Mountains on film one day in 2000. This is not just fog. It emanates from the pine trees there and is the reason the Cherokee people called it "the land of the blue mist." European settlers came up with the translation "the Smoky Mountains."
For starters, there will be a massive celebration among intellectuals on January 20, the day when George W. Bush boards that presidential helicopter with his dog Barney and leaves the White House lawn forever to head back to that fake ranch in Crawford, Texas.
On the same day, of course, Barack Obama will be sworn in as the 44th president of the United States. He will arrive in Washington, D.C., on a train, after riding a two-year campaign of "hope." We will be drinking more than one toast to his victory on this New Year's Eve, full of hope that he will be able to fulfill his promises.
The mainstream, corporate news media will treat every proposal he offers with a fake skepticism, questioning whether he can really make a difference. But here in Webland, we are going to reserve judgment and keep hope alive.
In addition to coverage of the new world under Obama, we will be spending a good bit of time and space in 2009 celebrating a couple of noteworthy anniversaries.
You will not be able to escape coverage of these events, so you may as well learn about them here first, since few American news organizations have turned the page to these issues, yet.
For the next year, it will be hard to turn on the TV and not see something about the 200th anniversary of the birth of Charles Darwin. The year 2009 also marks the 150th anniversary of the publication of his myth-shattering book, On the Origin of the Species.
A column in the British newspaper The Guardian has the first story we've seen on this yet, and even acknowledges a fact you won't see reported by any American news organization, since the religious backlash to Darwin is still powerful after 150 years.
According to the British author, it is reported that Darwin "is one of the three great intellectuals of the 19th century who shaped modernity, along with Marx and Freud."
That would be Karl Marx, the social theorist who is attacked by the ignorant on a daily basis in the U.S. because of his association with Socialism, and Sigmund Freud, who pioneered explorations of the mind known as psychoanalysis.
All three of these men had a profound impact on the 20th century, as much for their influence on other thinkers as for the ideas they published themselves. That's what the uneducated masses and the anti-intellectual news media don't get.
I spent a good deal of time in Tennessee in the late 1990s studying Darwin myself in a science communications doctoral program, so you can bet we will be following these stories all year with a great deal of relish.
And speaking of Tennessee, the year 2009 will also mark the 75th anniversary of the Great Smoky Mountains National Park, which means, of course, that several camping trips will be in order this year to one of my favorite places on Earth.


Under the Microscope
by Glynn Wilson
In a world of hurt and bad news as the global economy implodes, there is some good news to report this Sunday morning as the late October air finally begins to cool off the brick walls of The Bunker.
The best news is that the presidential election of 2008 is almost over. One more week of negative TV ads and lying robo-calls and then we can all breathe a sigh of relief and get on with trying to turn this country in a better direction after eight years of black Bush anti-rule.
That is if the Democrats win and we don't have to spend another four years fighting the idiotic conservative policies of the angry John McCain and his right-wing nut running mate Sarah Palin.
The other good news is that with one week and two days to go, the aggregated polling at Pollster.com shows the Democratic Party ticket winning in a landslide on Nov. 4. Let's just hope the lead holds up for a few more days so that Karl Rove's hackers cannot steal another election.
While the not-so-liberal New York Times issued it's reasoned endorsement of the ticket of Barack Obama for president this week, our wildly conservative Republican hometown newspaper just had to extend its losing streak with this hilariously misleading endorsement of McCain.
We are still waiting on the apology from that editorial staff for their two-time endorsement of the dufus president-prince George W. Bush. It's a wonder the racist "pro-life" newspaper sells any papers at all in a city full of liberals and African-American voters. I guess it's safe to say they sell more newspapers in the white-flight suburbs than the city itself. The financial calculation had to be that an endorsement of Obama would have finished off the paper that has lost a significant portion of its staff of late to early retirement packages.
If only they knew how to produce a Website readers could use, they might have a chance of surviving in this new online world. There are a number of us out here who will never forgive them for their role in killing the one Scripps paper in Alabama, The Birmingham Post-Herald, which might have been able to provide the kind of Web journalism this state needs. Other Scripps papers around the country are doing some amazing work, including the Rocky Mountain News in Colorado and the Knoxville News-Sentinel in east Tennessee.
But that's OK, because we have a long-term plan to continue providing a viable alternative to the people of this state who want a FREE free online news source without all the bureaucratic baggage of a conservative chain newspaper where corporate profits rule the editorial roost.
Since we already endorsed the Democratic Party's pick in this race, there's no reason to re-endorse the Obama-Biden ticket. Our recommendation is for voters to check the Big D and vote a straight Democratic Party ticket on the Nov. 4 ballot, not so much as an endorsement of "the man," but to throw the Republican bums out who have screwed up just about everything they can in this country for the past eight years.
It is really hard to understand how anyone can vote for another Republican with the economy in the worst shape since the Great Depression, along with the debacle of the Iraq war, the failures associated with Hurricane Katrina in New Orleans, and the complete loss of trust of the United States by people the world over.
We are concerned with some of Barack Obama's suggested moderate policies, such as his hedge to the private sector on national health insurance. And we were not happy with his vote this summer for Bush's spying bill that gutted the Fourth Amendment to the Constitution.
But we believe he is an educated man with an even-keel personality who can negotiate our way back into the hearts and minds of people around the world. And that should be our number one priority right now. We are going to need the good will of the world to right the wrongs and reverse the bad policies of the Bush-Cheney years.
Our first priority has to be an energy plan that begins to reduce our dependence on oil from the Middle East, a policy that also begins to address the top problem facing the world right now: climate change due to global warming. Even the Bush CIA and Senator John McCain realize that's the world's top problem, although that news gets buried in an election year when, in American elections, no one wants to be labeled a "liberal environmentalist."
Once this election is over next Tuesday, that will be our focus. We will be working to influence the new administration in dealing with our energy and environmental problems, as well as figuring out how to provide health care to every American citizen. While the conservatives will continue to scream about "big government," it's going to take a pretty big government in the U.S. to tackle these problems.
And the fact is, it's going to take a pretty big government, as well, to provide the leadership and incentive structure to fix the shattered economy. Our vision is that the only real future we have is a green future. We can grow our way out of this mess with green technology. That is our only real hope.
Under the Microscope
by Glynn Wilson
Have you ever wondered why so many movies depicting the South also contain an underlying crazy theme?
I guess that's what they think of us in New York and LA.
One of my favorites is Crazy in Alabama, featured on HBO recently. It's a comedy-drama released in 1999 written by Mark Childress, based on his own 1993 novel of the same name. It stars Melanie Griffith as an abused wife who flees small town life in the South for California to become a movie star – with her dead husband Chester's head in a hat box.
Meanwhile back in Alabama, her nephew, the story's narrator, has to contend with a racially-motivated murder involving a corrupt sheriff during the Civil Rights Era.
It's an interesting model for any would-be Southern writer thinking of trying to get New York editors interested in stories that will also play well on the big screen.
I've been mining the movie field of late thinking of stories to tell myself.
One of my favorite books written by a Southern author and then made into a movie is The Prince of Tides, based on a 1986 novel by Pat Conroy.
It tells the story of the narrator's struggle to overcome the psychological damage inflicted by his dysfunctional childhood in South Carolina and stars Nick Nolte as a football coach and Barbra Streisand as a New York psychiatrist. While changes to the film upset some Conroy purists, it was a box office smash and put Streisand on the map as a director. It was also recently featured on HBO.
Conroy is probably the premier Southern author of the late 20th century whose work has been both financially successful and also acclaimed in literary circles, unlike John Grisham's work, which is relegated to the legal thriller genre. In spite of the film's flaws, The Prince of Tides does capture both the character of the South and New York in the introspective times of the 1980s, making it an irresistible tale that will last – like Robert Penn Warren's All The King's Men.
But neither of those movies is what draws me to the keyboard tonight.
I doubt if it qualifies for the National Film Registry, but another innocent little tale caught my attention today. Sometimes when the cable offerings are weak, it's worth stopping on the story of Doc Hollywood, or Dr. Ben Stone, played by Michael J. Fox, not my favorite actor by a long-shot.
My first column mug shot: Hotter than MJF?
But in this one, which reminds me of a story from my own life, he plays a hotshot young doctor who longs to leave the drudgery of the emergency room and finally leaps at his chance at more money and less work on the West Coast. But along the way he gets off the Interstate and smashes his 1956 Porsche Roadster into a judge's fence and is forced into community service at the small town of Grady, South Carolina's general hospital.
There he meets and falls in love with an ambulance driver named Viloula but called "Lou," sexy and smart and played by Julie Warner, who has in incredible nude scene emerging from one of Grady's famous fishing lakes. The town is also known for its squash, which the mayor uses to explain a slice of life in his attempt to lure the doc to stay in town – as he bets him $10 that he will not score with Lou.
The story is perhaps just a bit too cute for serious movie critics. But it reminds me of a time when I was 23-years-old and just out of college working in a small town at my first professional newspaper reporting job.
It was 1984. The town was Bay Minette, Alabama. The paper was The Baldwin Times.
Upon graduating from the University of Alabama in Bear Bryant's last year, I had lofty goals of one day working for a great newspaper like the New York Times. But in those days, the mobility of college students was far more limited than it is today.
I advised students at Loyola New Orleans from 2000-2002 who were able to make the leap to New York, DC and LA. But being poor and from Alabama during Ronald Reagan's first term as president, and George Wallace's last term as governor, some of the best opportunities to break into newspapering came working for weeklies in small towns across the South.
The movie about Grady reminds me of those times, not because the stories are totally similar, but because some of the experiences and emotions ring true of being a young person trying to decide whether to make a life in a small town, where the living can be easy but perhaps not so lucrative, or making a break for the big city life and the big time bucks.
I also have to laugh at all the machinations people in small Southern towns will go to trying to lure young professionals to stay. This kind of scene plays out, still, in many towns across the country, as the out migration of the young and educated continues apace today. It is as true of Alabama today as it was in 1984, I'm sure, and can lead to some incredibly funny stories.
There's not enough space and time here to tell them all. Maybe one day if I get around to writing a memoir.
Let's just say I had a number of experiences with young women there, like Lou, who either wanted to seduce me to stay in Bay Minette – or to hook up with someone who could get them out.
I'm thinking of one particular young woman now about my age at the time who openly displayed a crush on me. I won't reveal her name. She may still be there – or maybe she got out.
One night she displayed this crush a little too openly at a Christmas party, held at the Holly Hills Country Club, when, after a few too many glasses of wine, she tripped on the hem of her long dress and fell right into my arms. It was a classic scene of a drunken Southern debutante right out of an F. Scott Fitzgerald or Tom Wolfe novel. As she fell toward me – and I still recall the scene in real-life slow motion, in part probably due to my own inebriation – the top of her bright red dress slipped down off her left breast, fully exposing the nipple for virtually everyone at the party to see.
It bordered on a scandal, since she also happened to be the chamber of commerce president's daughter, making her the perfect ambassador to try grabbing me for life. Perhaps like Doc Hollywood I should have more actively pursued that road, but there were complications.
Now at 50, do I harbor any regrets about leaving small town life there?
Only one. And it happened many years later.
In 2002, back when it was announced that the Alabama governor's race results came down to 3,000 votes in Bay Minette, I went back there from New Orleans for The New York Times – to investigate the election.
But when Siegelman conceded, I was pulled out of Bay Minette and sent back to New Orleans.
Knowing what I know now, since the Jill Simpson affidavit came to light, I wish I had stayed and worked my sources. I learned how to cover a courthouse and develop sources there, in that courthouse. It was the best school in the world for getting hands-on experience in that world, in more ways than one. Don't even ask about the secretaries in those days.
But of course it takes time and money to really work a story like the election, just as it takes time and money to work up a full scale relationship with a fine smart woman – in a small town or anywhere else.
And in the news game, there ain't never enough time – or money.
Life blogs on…
Now that I think about it, there's plenty of craziness to go around and write about in this world. And it's not all in the South.
I'm thinking now of a crazy New York editor, a woman, in part a figment of my imagination.
And I'm also thinking, if I had stayed in Bay Minette, either time, none of this would have ever happened – the good or the bad. Perhaps there is no stopping fate in any event – if there is such a thing.
I'm not convinced.
Life is not like a box of chocolates or cherries. It's more like a full-blown meal.
How good it turns out to be any given time is complicated and turns on choices and chance, luck and timing.
It can be as scrumptious as the fried green tomatoes in mushroom sauce at Jacquimo's in New Orleans, or as spare as the BLT at the drugstore in Bay Minette.
And I'm convinced, politics and government do matter – in all kinds of ways many people don't even seem to fathom, certainly not in a crazy place like Alabama. Maybe you have to be a little crazy to try to break out – or to try making a difference here.
Maybe you have to be a little crazy to try making art – or a living – as a writer in this world, if you didn't start out in it rich.
I can only wish good luck to the striking writers in New York and LA. I hope they win that fight to get part of the proceeds from sales on the Web Press. One of these days maybe I'll get a share of my own in that world, after we get rid of George W. Bush.
I understand Childress did it while working a day gig at Southern Living, not exactly a bastion of great journalism.
Long live the movies…

It was the best of times, it was the worst of times, it was the age of wisdom, it was the age of foolishness, it was the epoch of belief, it was the epoch of incredulity.
– Charles Dickens, A Tale of Two Cities, about the era of the French Revolution


Under the Microscope
by Glynn Wilson
It was the worst of times, the best of times, but now it's over. Thank dog for the passing of August, 2007 – the hottest month on record in much of the United States and Alabamaland.
The dead leaves from the drought-ravaged trees in the area are already falling and the fall bird migration has officially begun.
But while August was a rough month to take in many ways, let's not forget some of the best political news of the past seven years. President Bush's amoral political aide Karl Rove and his incompetent but loyal Attorney General Alberto Gonzales have left the building – the White House that is – and slunk back to Texas in disgrace.
Senator Larry "I am not gay" Craig announced his resignation yesterday, helping to bring the Log Cabin Republican story out of the closet before the masses and the mass media.
Not since Monica Lewinsky's stained blue dress have so many media organizations struggled with where to draw the line in talking about sex and politics in the same breathless sentence.
It just makes my heart sing when truth and justice are actually in evidence in the good old US of A.
But there's more work to do to right the ship of state that has been careening toward the abyss of history since the Bush gang decided to invade Iraq in the wake of 9/11.
If things go as planned, North Alabama lawyer Jill Simpson of Siegelman affidavit fame will be heading up to Washington in mid-September to brief the House Judiciary Committee staff on what she still sees as an injustice directed from the White House in that political prosecution.
While the Alabama Democratic Party and even Siegelman's own lawyers still don't seem to get this story, it is one of the most important narratives going in the drive to set the ship of America back on an upright course.
There are no guarantees yet that the Democrats in Washington will be able to grasp this information and seize the day to turn this ship around. But at least it's worth a try.
On September 15, we are told, there will be a large mass anti-war march in Washington on the same day Bush's general in Iraq is supposed to report back on the progress of the troop surge. We will be there to cover it.
According to several early stories about that report leaked to national newspapers, the news will not all be good. But since those stories have been out there, the report seems to be changing, at the direction – surprise, surprise – of the Bush White House.
According to all the TV punditry on the Sunday morning talk shows today, Army Gen. David H. Petraeus may now have more so-called "good news" to report, although it will still set off a contentious debate in Washington over what to do about the debacle over there.
Reports Add Fuel to Iraq Debate
If the talking heads are to be believed on "Meet the Press" and the newer Chris Matthews show on NBC, Bush is so politically savvy that he will turn the political debate over the war around and the Republicans will stand by their man and not help the Democrats do anything to de-fund the war or force the beginning of troop withdrawals from Iraq.
I think they are totally wrong from a political point of view and certainly in terms of what is right for the country. Apparently, however, establishment Democrats are still such a part of the Washington taint that they do not have the guts to take the fight to Bush all the way to ending the war and impeaching Bush.
Sources tell us that the Republicans have the dirt on every Democrat in Washington, including Rep. John Conyers of Detroit, Michigan, who was seen in Africa with Rep. William Jefferson of Louisiana – the guy who got caught with a bunch of tainted cash in his refrigerator.
Before the 2006 mid-term election, Conyers was holding hearings in the Capitol basement and pounding the minority gavel saying if the Democrats regained control of Congress, he would move to impeach Bush, one of the worst presidents in American history and whose administration has been riddled with one scandal after another from Katrina to torture to spying on Americans.
Since the Democrats took back Congress, however, there has been very little talk of that, except from Rep. Dennis Kucinich, who is running for president but does not have an angel's chance in hell.
A few weeks ago, there was a lot of talk about impeaching Gonzales. But he did the Washington two-step and got out of town while Congress was on vacation in August, right after Rove announced his resignation and just before Larry Craig announced his. The result? A buried story.
And now it's football season, so the masses are paying even less attention, especially in Alabamaland.
Nick Saban seems to be on the right track with the Alabama Crimson Tide's 52-6 season opening victory over Western Carolina, but let's face facts. The Hoover High School football team could have beaten Western Carolina. It was no true test.
Let's just hope the worst of times are over and that the best of times are still ahead. I don't have much faith. But you've got to hold out some hope in life.
At least we're all not dead yet. And as I often like to say, "you can't win if you don't play."
So let's take the fight to them! What do you say?

Not Black and White



Under the Microscope
by Glynn Wilson
BIRMINGHAM, Ala., June 10 – There is a famous story about editors at the New York Times I learned while working with the elite of the elite a few years back.
Reporters who make the big leagues of American journalism hear this story and learn to deal with it in their own way.
As the story goes, when an editor calls a reporter in the field in a place like Birmingham, Alabama, and asks: "Is the community torn asunder down there?" The reporter, if he wants to keep his job, is supposed to not only answer, "yes." You are supposed to provide direct quotations from people in the community who will corroborate the premise of the story, to back up the lede, so to speak.
There have been many situations when my own instincts and the facts on the ground did not support the premise, and in fact, the opposite, counterintuitive truth is often the case.
And since I am in the business of calling it like I see it and telling it like it is, I often reported the truth on the ground and to hell with what a bunch of editors in New York think.
But today, in the story I am about to report, I think it is safe to say that this community is torn asunder. It's just that in this case, the editors in New York could care less. Why? Because the story does not involve Paris Hilton or the Red State-Blue State, Conservative-Liberal, Democrat-Republican divide.
The story involves a little old man named Clay Blake, 78, who lives right down the street from here.
This past Tuesday afternoon around 1 p.m., in what we like to call "broad daylight," Mr. Blake was unloading some groceries from his pickup truck. And up walked a mixed up young man – who should never have been in the possession of a hand gun – and held up Mr. Blake. He forced this little old man who never hurt anyone in his life into the house he has lived in for the past 40 years.
Once inside, this young man, of the African-American persuasion, tied little old Mr. Blake up with the power cord from a vacuum cleaner. He then kicked Mr. Blake in the face, rendering him unconscious.
When Mr. Blake came to, he discovered his wallet and a couple of pistols missing, and then made a phone call and had himself checked into the hospital at Medical Center East.
The neighborhood was all abuzz about this dastardly dead after the crime brief hit the Birmingham News on Saturday.
What this mixed up young man who committed this crime does not understand is that his already sad and pathetic life is about to take a drastic turn for the worse. Maybe the money he stole went to purchase some food and bought him another day of life on this planet. Or maybe it just went for some crack cocaine to make him fell better about himself for a few measly minutes.
Either way, this young man is about to be found out and turned in to authorities in ways he will never comprehend. And he will either end up in prison or dead.
Maybe he would be better off dead. Or maybe he should never have been born in the first place, if his mixed up single mama had been told by someone cool that there is a such thing as a condom – and that there is no shame in using one.
Now here is where the politics and sociology of the situation get interesting beyond the basic facts about the crime. If only she had been told that this is a black and tan world, not a black and white world, maybe none of this would ever have happened.
What do I mean by that?
It's like this. There are some racist, conservative members of this community who would like to hang this little shit up by his toes and torture him to death for his crime. But these are the same Republican voters who oppose birth control – and taxes for prisons. It is just bad public policy to think you can have it both ways.
When the church and the state both advocate unworkable policies and try to tell teenagers to "abstain" from sex, and deny them a real education about sex and intelligent alternatives to unwanted pregnancies and the spiraling down nature of poverty, what kinds of bad decisions can we expect in our communities?
And this is particularly acute in a town like Birmingham, where both races still suffer from the sting and distrust of segregation.
At least in a place like New Orleans, the races lived in relative proximity of one another and in relative harmony for 300 hundred years. It is different in Birmingham, where the clash of the races in the newer, sprawling suburbs comes into specific relief every time an incident like this one is reported.
The African-American community in and around Birmingham will never trust white people, and the whites will keep trying to escape these kinds of crimes by moving further and further out into the country toward Blount and St. Clair Counties.
Meanwhile, nothing is done to try and bring people together and get them to understand the larger facts on the ground. And this serves only the politicians on the right and the left who get themselves elected by using the great divide to scare people and keep them down.
If only people could understand that there is no such thing as a simple, black and white world. There are an abundance of shades of gray out there.
What we need is a government that tackles practical solutions to real problems. One real problem that is leading to the current crime wave is the growing divide between the rich and the poor, fed by a mostly Republican effort to keep wages down so large corporations can make more and higher profits for mostly white stockholders.
This is an unsustainable world where all the problems in society are going to get worse, not better. And for every conservative who listens to talk radio and Fox News who likes to say, "that's the American way," here's a fact for you.
The founding fathers of this democratic republic had in mind an egalitarian society with a large middle class with equal opportunities for all. They DID NOT envision a so-called "Christian" nation modeled after the Monarchies of Europe.
You can say it all day long every day. But that does not make it true.
And what is so Christian anyway about a society that discriminates on the basis of race and class? Nothing.
So show me a Democrat or a Republican politician who understands these things, and he or she will get my vote, black or white.
Now call me a liberal and dismiss what I have to say – you idiot so-called conservative lurkers.
We say there is a two-word phrase for anyone who plays that game. In the perfect, fictional world of Locustforkland, where the river runs cold and true, the great blue herons dance like Elvis and the people like to shoot the breeze (and they are usually right), we like to call you "Alabama dumbasses."
And of course we are right.



Under the Microscope
by Glynn Wilson
The spring bird migration seems to be over now, the grosbeaks have moved on north and the mosquitoes have finally arrived, along with the dreaded need for air conditioning – a great invention that allows us in the South to live in these climes year around but fuck up the planet at the same time.
The news is not so interesting these days, although the scandals still pile up in Washington. It's not a bad time to reflect on another Monarchical time – thanks to Showtime.
If you have not been watching the new series on the young Henry VIII, you may want to catch up with the action as young Henry is about to figure out a way to marry the vivacious Anne Boleyn and split from the Catholic Church to form the Church of England, an event that led to the beginning of a great flight of Europeans to what became the United States of America.
The series shows just how corrupt and sick ruling elites can be in a Monarchy. It's something Americans should beware of considering our current political predicaments. If the Bush's had their way, we would be headed – or beheaded – in that general direction politically.
One point you should understand right away. The cardinal is the king's pimp.
That is more or less an accurate depiction of what the mix of religion and state can produce when the leader of a people is said to get his power from a divine source. They called it the "divine right of kings."
We did away with that shit in the American and French revolutions, and it would be a shame to see something similar return to public favor on Earth.
One of the more important and interesting characters being depicted is Sir Thomas More (1478-1535), also known as Saint Thomas More, an English lawyer, author, and statesman. During his lifetime he earned a reputation as a leading humanist scholar. He was a man of great honesty and character, apparently, which makes him rare in this tale.
More coined the word "utopia," a name he gave to an ideal, imaginary island nation whose political system he described in an influential book called Utopia published in 1516.
I red this book a long time ago, but lost my Book Club hard bound copy along with all my Aristotle, Plato and Socrates on my move from Gulf Shores back to the Southside of Birmingham in 1992.
Utopianism or "no place" refers to an imaginary island depicted by Sir Thomas More as a perfect social, legal, and political system. Various social and political movements, and a significant body of religious and secular literature, are based upon the idea of a Utopia on earth.
Utopia is largely based on Plato's Republic. It is a perfect version of Republic where equalism (egalitarianism) and pacifism flourish throughout human society and where poverty and misery are eliminated. It is a place where private property does not exist and religious toleration is practiced. It has few laws, no lawyers and rarely sends its citizens to war.
Utopia is often seen as the forerunner of the Utopian genre of literature, in which different ideas of the "ideal society" or perfect cities are described in varying amounts of detail. It is a typical Renaissance movement, based on the rebirth of classical concepts of perfect societies as set out by Plato and Aristotle, combined with the Roman rhetorical finesse of Cicero. Utopianism continued well into the Enlightenment Age.
Many commentators have pointed out that Karl Marx's later vision of the ideal communist state strongly resembles More's Utopia, especially on the issue of individual property, although Utopia is without Marx's atheism.
Apparently Henry VIII employed More's exceptional intelligence and grasp of the law and religion to write several treatises in defense of the Catholic faith against European reformers, notably Martin Luther.
But after young King Henry split from the Catholic Church, which would not grant him a divorce, and after he formed the Church of England, More came to believe that the rise of Protestantism represented a grave threat to social and political order in Christian Europe. As with many of Henry's enemies, he was charged with high treason for denying the validity of the Act of Succession and sentenced to be hanged, drawn, and quartered – the usual punishment for traitors. But the king commuted his sentence to execution by beheading.
We suspect if Bush had his way, he would be allowed to do that to his enemies. Instead, these fuckers just set out to ruin people who criticize them via rumor, innuendo and secret dossiers passed around over the "Internets." Sometimes the bastards employ a car crash that looks like an accident. Yes, we could cite specific examples and document them.
But it's late. And afterall, how many scandals does it freaking take to get rid of these corrupt swine?
I'm far more interested in getting past these royal assholes and getting onto more productive pursuits, such as later versions and theories of Utopia. Maybe a scientific approach, something like the one founded by the Global scenario group, an international group of scientists led by Paul Raskin, which uses scenario analysis and backcasting to map out a path to an environmentally sustainable and socially equitable future. Its findings suggest that a global citizens movement is necessary to steer political, economic and corporate entities toward this new sustainability paradigm.
But apparently we're going to have to re-fight the American and French Revolutions, at least in the political realm, before we can get on with that paradigm shift. We always seem to repeat the mistakes of the past, perhaps because people don't remember the past in an educated way.
Did you hear the socialists are rioting as the Conservative Sarkozy won the French presidency?
Bummer man…
Get on top of things people. Don't just watch The Tudors.
And let's stop it from happening all over again…



"The most beautiful thing we can experience is the mysterious. It is the source of all true art and science."
– Albert Einstein
Under the Microscope
by Glynn Wilson
My favorite answer to just about any political, social or technological question these days is: "It's a mystery."
When it concerns the workings of computers and the Internet, it's "a dang old dot dot dot mystery."
Life is full of mysteries. Love them or hate them, you can't avoid them.
There are things we can know; things we can't.
For a journalist or a scientist, even a social scientist, this can be infuriating.
But you learn to live with it.
One of the things we humans do to deal with all the mysteries of life is to turn for answers to literature, movies or music. Some people turn to tabloids and soap operas. But they are not worth considering in this discussion.
Read more: Under the Microscope: It's A Mystery