Category: Education
Lottery sales keep breaking records this summer: Arkansas, Florida, Georgia, Louisiana, Maryland, Missouri, North Carolina and Tennessee.
Some states essentially made the lottery into an education lifeline, but not all of the money goes to education as shown in this South Carolina example. Missouri budgeted for an increase that did not occur. Ohio educators claim education does not receive the money it deserves. With that much money, is it any wonder crime occurs?
What do you think?
Feel free to comment.
NORTH LITTLE ROCK — As we get older and look at our meager earnings/savings compared to the time investments in our careers, government and taxes provide easy targets to those looking to blame someone for their fate (myself included).
"If only they'd let me get paid an honest day's wages for all of the work I'm doing!" the familiar cry rings. "How can they keep taking things from me when I don't have anything to give? If the government would just get out of my business, everything would be better."
Yet when complaints against government annually pop up, I often wonder what folks would do without the government providing roads for commerce, public safety personnel and a judicial process rather than mob rule. In some ways it reminds me of the Albert King tune with the verse, "Everybody wants to go to heaven, but nobody wants to die."Read more: Government Provides Incentive to Quit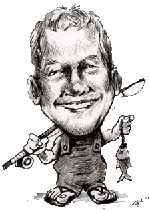 Around the South
by Ronald Sitton

As the academic calendar rolls, summer recedes. Now's the time to say goodbye to your favorite beach and prepare for the fall onslaught.
Of course, that means back-to-school specials. For those planning to get a post-secondary education, the Princeton Review named 141 colleges and universities as "Best Southeastern Colleges" to help you (note: registration required to see the list); Forbes came out with its own list. Interestingly, Miss Gay Texas questions if SMU belongs on the Princeton Reviews' homophobic schools list.
Education can only help the region: job losses have a distinctive Southern drawl, but home foreclosures seem to be stabilizing. Many Southern communities celebrated the 26th annual National Night Out, and a Tennessee celebration featured a 30-foot-long banana split. Now if we could just get people to donate as blood banks are running critically low in North Carolina and around the Southeast.
Of course if food is your thing, you need to know tomato sandwiches ain't just a Southern thing … or so we're told. Perhaps it's just another indication that Southern food is spreading. That's good news for Waffle House.
A continued economic downturn caused Time Inc. to shutter Southern Accents, a magazine dedicated to interior decorating. The economy also caused the Gulf Coast Black Mayors' Conference to be postponed, but it isn't holding up preparations for the 29th Annual Mule Day Southern Heritage festival in Georgia.
On a brighter note, Site Selection magazine recently featured Arkansas, Louisiana, Missouri, Oklahoma and the Southeast in its July issue. That's good news for business, as is a report that Louisiana's transportation department wants to use "wasteful" federal spending to create a passenger railway from New Orleans to Baton Rouge.
Politically speaking, Sarah Palin recently endorsed Texas Gov. Rick Perry, perhaps in hopes of a 2012 ticket. Meanwhile, Minnesota Gov. Tim Pawlenty (R) keeps speaking at southern GOP fund-raisers, including an upcoming one in Florida.
Florida Gov. Charlie Crist may cancel another climate-change summit as he backs away from his cap-and-trade energy policy after fellow Republicans chided him. Meanwhile, Florida Sen. Mel Martinez (R) plans to resign when Crist finds his replacement; Crist had planned to run against Martinez, but vowed not to tap himself as Martinez' replacement. Elsewhere, Texas Congressman Ron Paul's son, Dr. Rand Paul (R), will seek the seat of outgoing Kentucky Sen. Jim Bunning.
Some question if Southern politicians are what's wrong with the GOP. Clashes of wills about health care-reform and Judge Sonia Sotomayor's Supreme Court nomination have rekindled talk of The Southern Strategy. It can't help that Mississippi Republicans continue to call for a voter identification bill. Interestingly, despite being a big player in the Civil Rights movement, the Southern National Leadership Conference hasn't been noticeable recently. (If you're into prose, you'll want to ruminate over the limits of Southern liberalism).
Georgia Gov. Sonny Perdue plans to play hardball in the three-state legal battle over federal water rights. (Wonder if there will be a similar battle over Southern Co.'s proposed nuclear plant?)
On a somber note, former Vanderbilt chancellor Alexander Heard died a few weeks back. He authored "A Two-Party South?"
And on the sports scene, the USA Today Coaches Preseason Poll predicts Florida will defend its national championship. Officials slashed ticket prices for next year's Southern 500 at South Carolina's Darlington Raceway. Tallahassee's 13 and under All-Stars won the Southeast Regional championship for the right to compete Aug. 22 in the Babe Ruth World Series in Utah. And never fear, Dr. Lou will NOT run for Congress!
As we close, you should know you can still get your tickets for the 15th annual Southern Brewers Festival. I want to go, but don't see it happening. BTW, I didn't receive any money for this promo, but maybe they'll send samples of the best of show?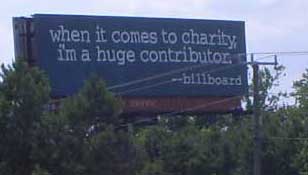 Justified — This sign seems planned to remind North Carolina motorists why it should remain standing during tough economic times.
Perpetual Notions
by Ronald Sitton
NORTH LITTLE ROCK, Ark. (Aug. 3) — You see them every day on your way to and from work, the grocery store, the library, the pool, the folks … but you might not "notice" them except for the occasional message.
In the late 1990s, "Got Milk?" grabbed the attention of passing American motorists before becoming a world-wide campaign. Without knowing the actual returns on investment, it seems the milk industry fared much better than the pork industry's "The Other White Meat" and "Beef – It's what's for dinner" (note: the beef billboards apparently spawned a PETA/vegetarian response).
Around the nation, recession billboards ask Americans to lighten up. Some of you may remember the racy Calvin Klein ads of the late '80s, but apparently the company's newest billboards even messes with New Yorkers. Someone found the time to make a Web site commemorating crazy and funny billboards for the bored to enjoy. But not all billboards are funny:
It's hard to understand the logic behind the use of some billboards.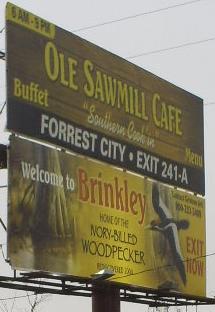 Priorities — Stop to see where the Ivory-Billed Woodpecker might be, but what about where Louis Jordan was? (File Photo)
In Kevin Clark's documentary "Is You Is: A Louis Jordan Story," Arkansongs dee-jay Stephen Koch tells of childhood expectations of seeing a statue of the legendary Rock'n'Roll Hall of Fame honoree noting his hometown of Brinkley, Ark.
Instead he found a lot of promotion for the re-discovery of the Ivory-Billed Woodpecker — but not one billboard tells passing travelers about Jordan. Wouldn't it be better to attract as many travelers as possible during tough economic times, especially when located on a busy Interstate?
Perhaps even crazier: billboards on I-40 westbound promote investment opportunities in Brinkley … right after you pass the Brinkley exit with the next exit nowhere in sight.
Of course now, it's not enough to have a static sign breaking the scenic view as you drive America's highways and byways. Electronic and digital billboards are becoming all the rage. Even the FBI understands how useful they can be with the ability to update as needed. Are they safe? The federal Highway Administration sure seems to think so, especially when they sit in congested areas that give drivers time to sit and watch them.
Some claim business forays into social media represent nothing more than electronic billboards, but somebody's watching. And just when you thought it was safe to go out in the water again … amphibious billboards! What's next? Billboards in space?
But billboards aren't just for business anymore.
GOD, Politics and Education
I'll never forget driving to Knoxville from Clinton, Tenn., and seeing:
"That 'Love Thy Neighbor' thing … I meant that." – God
Apparently, a non-denominational anonymous donor started that campaign. Halfway across the world, the Church of Singapore ran these to get more people to attend church on Sunday.
Some would say religion wouldn't be religion if there wasn't some controversy. You expect atheists to question God's existence, but what about this campaign to "challenge the mindset of a new generation of church goers"? I prefer the approach of The Foundation for Life, whose "Pass It On" series hits really hard.
When it comes to politics, sometimes it's tough to tell who's selling what. Read more: Signs of the Times
MONTICELLO, Ark. — I recently attended the Associated Collegiate Press/College Media Advisers annual conference in Kansas City, Mo. Students seemed worried that the media as we know it will not be there once they get out of school.
Who's to blame them considering the continual death tolls:
http://www.nytimes.com/2008/10/29/business/media/29carr.html
Considering we've just gone from three national daily newspapers to two, who's to provide the news if the profits from the print product disappear? Who's to say the Christian Science Monitor won't figure it out?
http://www.csmonitor.com/2008/1029/p25s01-usgn.html
But just when everyone says newspapers are dying, along comes a historical event and EVERYBODY wants a paper:
http://www.cnn.com/2008/POLITICS/11/06/obama.newspapers.ap/index.html
Personally I believe newspapers will stay around as long as smaller communities exist, and as long as people need something to read while taking public transportation, going to the bathroom or sitting under a tree. Truly, time will tell.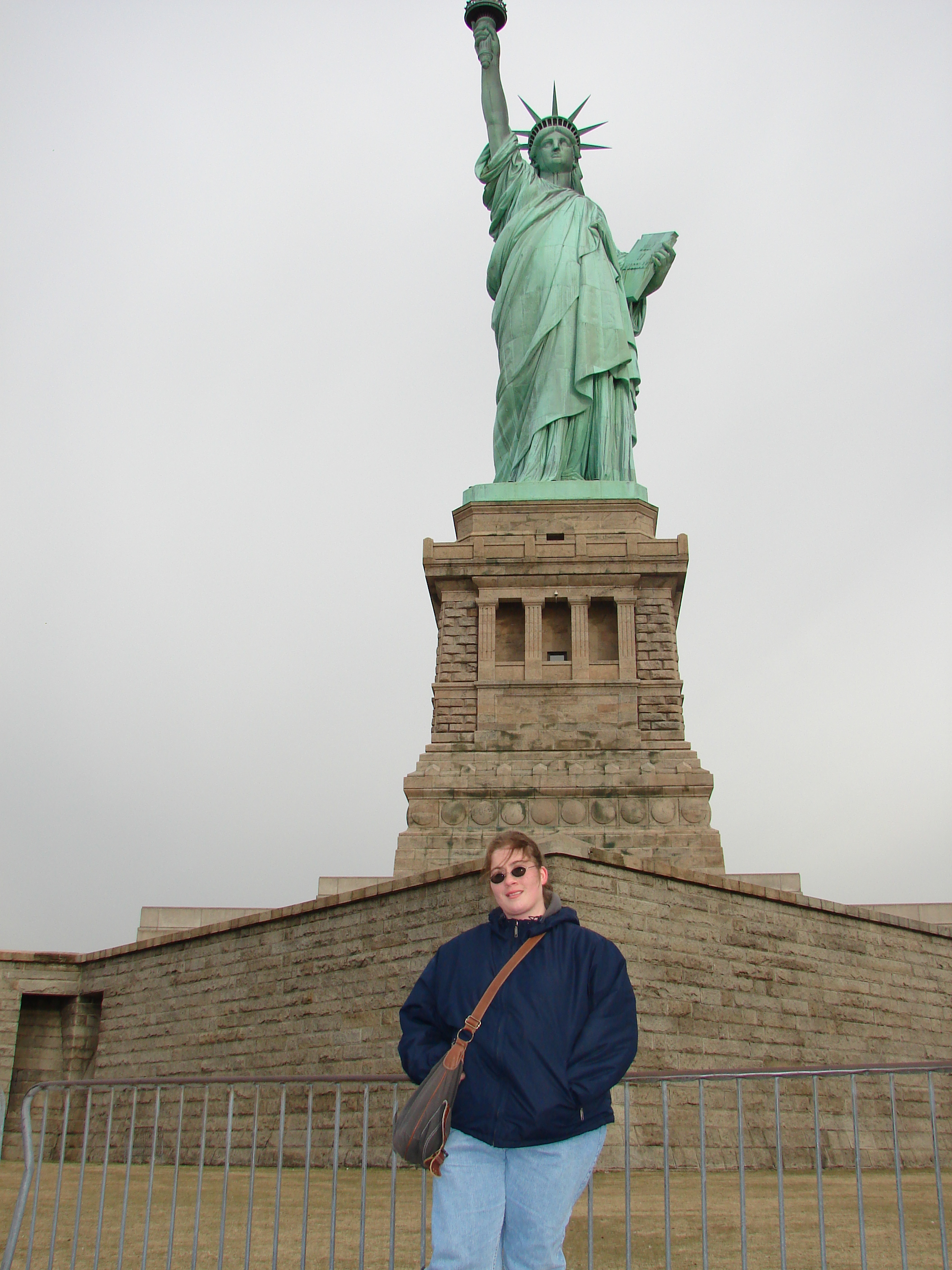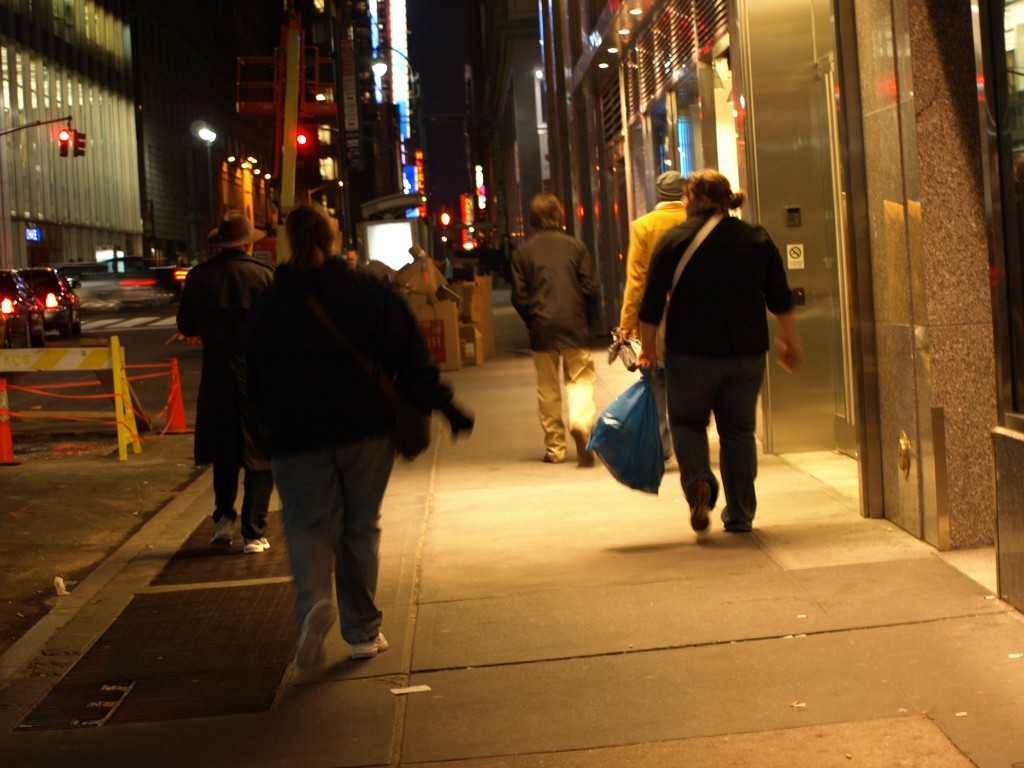 Photo by Latoya Shelton
Walkin' — A contingent from the University of Arkansas at Monticello walks in The Big Apple over Spring Break.
** Editor's Note: Through the generosity of an unidentified donor and the New York Times' American Democracy Project, five students from the University of Arkansas at Monticello made a trip to New York City for Media Pro Workshops and the College Media Adviser's annual spring conference. Four of the five had never ventured north of Missouri; one had never flown. Here's her story for your late Spring reading.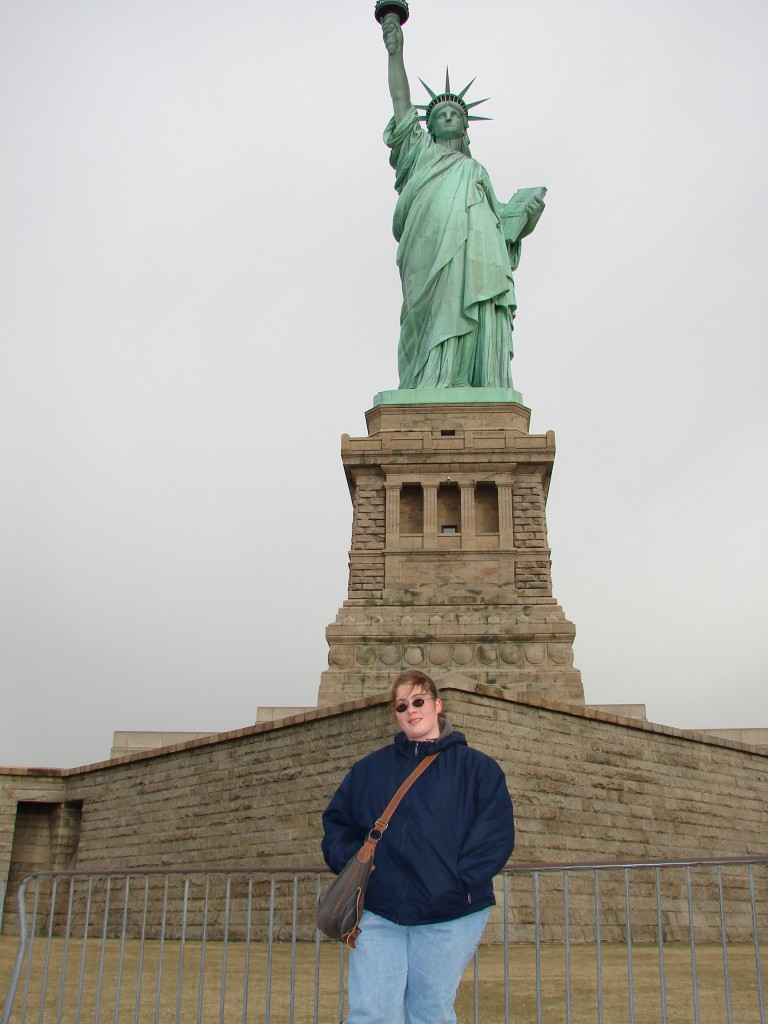 Photo by Ron Sitton
Lady Liberty — Linna Jones poses in front of the Statue of Liberty. Her trip marked many firsts in her life.
By Linna Jones
Many thoughts ran through my head, while packing for what would be the first plane ride of my life. I took this first flight to New York City and the upper part of the East Coast. I took my first trip to the airport as the passenger and a first of many new experiences. I feared the airline would lose my luggage or I might get motion sickness as I sometime do when traveling by car. I didn't know what to expect. I didn't know how I would react to the plane and I didn't know what world was behind those nylon dividers at the top of the stairs, where people checked their ticket to go through to board at the Little Rock National Airport. I watched people going into the nylon maze before, but I never passed that point. I knew everything would be a surprise.
Before the Airport
I started packing in the afternoon of March 11 for the trip; I selected my clothing carefully knowing I might meet many people in the world of journalism.
In the big black rolling nylon suitcase on the floor, I placed the sorted clothing items into the bag starting with my slacks and blue jeans. They filled a narrow rectangular section of the bag, with empty space in the shape of an L around them. Next, I placed my shirts in the L folded neatly as possible to fill the empty space. I folded my black-hooded fleece sweater and placed it in the left corner of the suitcase where the lid opened to expose the inside space.
I then packed my white New Balances wrapped in a Wal-Mart sack to keep them from getting dirt all over the clothes. I placed my toiletries or anything else that would cause a mess if the contents leaked in gallon freezer bags. As always, I packed two Ace bandages just in case I twisted my ankles. In another Wal-Mart sack, I placed three books; two for my literary journalism class and one just to read, if I wanted to.
After I packed all that I thought I needed, I still had a little room in the suitcase so I put a pillow in there, too. I heard that items in suitcases may be displaced during travel and handling, so I shook it to see what would happen inside the suitcase. The contents shifted out of place without the pillow. The pillow steadied the contents and filled-up the empty space.
Just in case, I packed a carry-on with a change of clothes, a pair of shoes I could walk in, a scarf and hat (in case it was cold when we arrived) and my homework that needed to be done.
The next morning, I checked out of my dorm room and went to weigh my suitcase. I parked my car behind the Baptist Collegiate Ministry building on the day of the Wellness Fair. Vehicles packed the parking lot of the John F. Gibson University Center. Jeff Peebles, a Public Safety officer, pulled up by that time in his squad car; he guessed the weight of my suitcase, after picking it up, to be 38 pounds. Peebles overestimated the weight by three pounds; it weighed 35.
I returned to find my Buick Roadmaster blocked in by another car and I tried every possible way to get it out. Eventually Beth Dillard, a resident in my dorm, offered to move the red truck on the right side of the car. I feared I would hit the car behind me by not having help in backing up. Another member of the BCM walked up and he backed it up for me while I watched how close he got to the car. Finally, he backed it out and I thanked him for his help and started on my way to Star City to meet my mother.
I arrived at the Star City Nursing Center 30 minutes later and met my mother and fellow church member Janice Mizell, who rode along to drive my car back home. I entered through the double glass doors and turned down the right wing of the nursing home to visit my grandmother in her room of white cement blocks, white Venetian blinds and tan divider curtains. This time, she didn't know I was, but I talked to her anyway. "Who are you?" she asked. "I am you ornery old granddaughter," I said. She looked at the ceiling never turning her head. She often kept her eyes closed, because she is blind. I told her I was going on a trip. She still didn't know me and at times, decided not to talk. I told her I loved her and I left. I walked down the hall to visit another resident and then I left.
We loaded the car and started on our journey to the airport, but we stopped at my father's work place to pick him up. My mother drove right by it saying she sometimes missed it and we turned around and turned onto a dusty gravel road. She turned left on another gravel road, out the window we passed barren fields not yet planted for the year. We finally turned in the shop yard, where tractors were parked under open-air tin-roofed sheds and parked in front of the shop with a concrete floor and particleboard walls on the inside. My mother took out the overalls and dress shirt she gathered for my father and he changed. While he changed, I placed my toothbrush and other items I forgot to put in my luggage, out of my black leather carry-on and into my suitcase.
Soon we traveled on our way to Little Rock. Anxious and excited, I looked out on the road and at familiar scenery of empty fields, railroad tracks paralleling the highway and the beginnings signs of Pine Bluff passing by my window. We passed by Pine Bluff and traveled to the Wal-Mart to eat at a Burger King near it. From there, we traveled on to Little Rock and to the airport.
Little Rock National Airport
We arrived at the airport an hour and a half earlier than the 3:30 p.m. meeting time. Mizell and I carried in my carry-on, heavy coat and big black suitcase into the airport. We stopped by a seat where we entered and sat down. My mother and father came in after they parked the van. We sat near the baggage check area for the airlines and watched as families with small children, men and women in business suits and other travelers walked by carrying or rolling their luggage. We sat in front of Delta Airlines check in and I tried to remember which flight our group was scheduled to fly on. I forgot to bring my flight itinerary and it set on my desk in my dorm.
I went and asked about where to check my luggage at Delta Airlines and the attendant ask my name and for my identification. She told me the flight was with Northwest Airlines. I decided to wait for everyone else to arrive before I printed my ticket and checked my luggage.
I kept a close eye on my luggage. I heard of unattended luggage being stolen, even if left for a minute. I sat with my mother, father and Mizell and talked while we waited.
At one point I left them, I felt the need to move, and walked up steps to the gift show on the second floor. I walked in the brightly lit space filled with books, reading materials, candy and snacks, post cards, Razorback memorabilia and other items. While there, I talked to a staff member of an airline. I asked him questions about flying, one of them being, where can I get my wings? "It all depends on the airline and you have to ask the flight attendant," the man said. We spoke for a little longer and parted. Before I left, I bought two packages of peanut butter and crackers for the plane in case I needed them. I waited to buy water until I was on the other side of the nylon maze. I descended the stairs and again joined my party and continued waiting.
Soon after, everyone arrived and we checked our bags. We walked down to the end of the room to the Northwest Airlines' counter. I waited in line and showed my ID to the attendant and he even didn't weigh my bag. He lifted and said it weighed below 50 pounds. "How can you tell?" I asked. "I deal with bags all day, I know," he said. I didn't question him and then tried to print out my tickets, and didn't have a clue about what to do.
After I asked what to do, I slid my debit card in the machine and with help found my way through screen taps I printed my ticket. I collected one and walked off thinking I had all of them. I didn't and a woman called my name and said I left my ticket. I thanked her and put the tickets into an envelope and safely into my purse.
I then stood in line to have my luggage scanned, which was by the ticket machines and divided lanes of the Northwest counter. They took my luggage. Ronald Sitton, the journalism adviser, collected numbers from the parents of the students just in case something happened.
Pretty soon, the time arrived to go and I handed my keys over to my mother. It felt strange not to have them hanging from my belt loop, but I decided not to take the chance and lose them. "Have fun and be careful," mom said. "I love you." I hugged my mother, father and Mizell and walked off with the group to get ready to board the plane.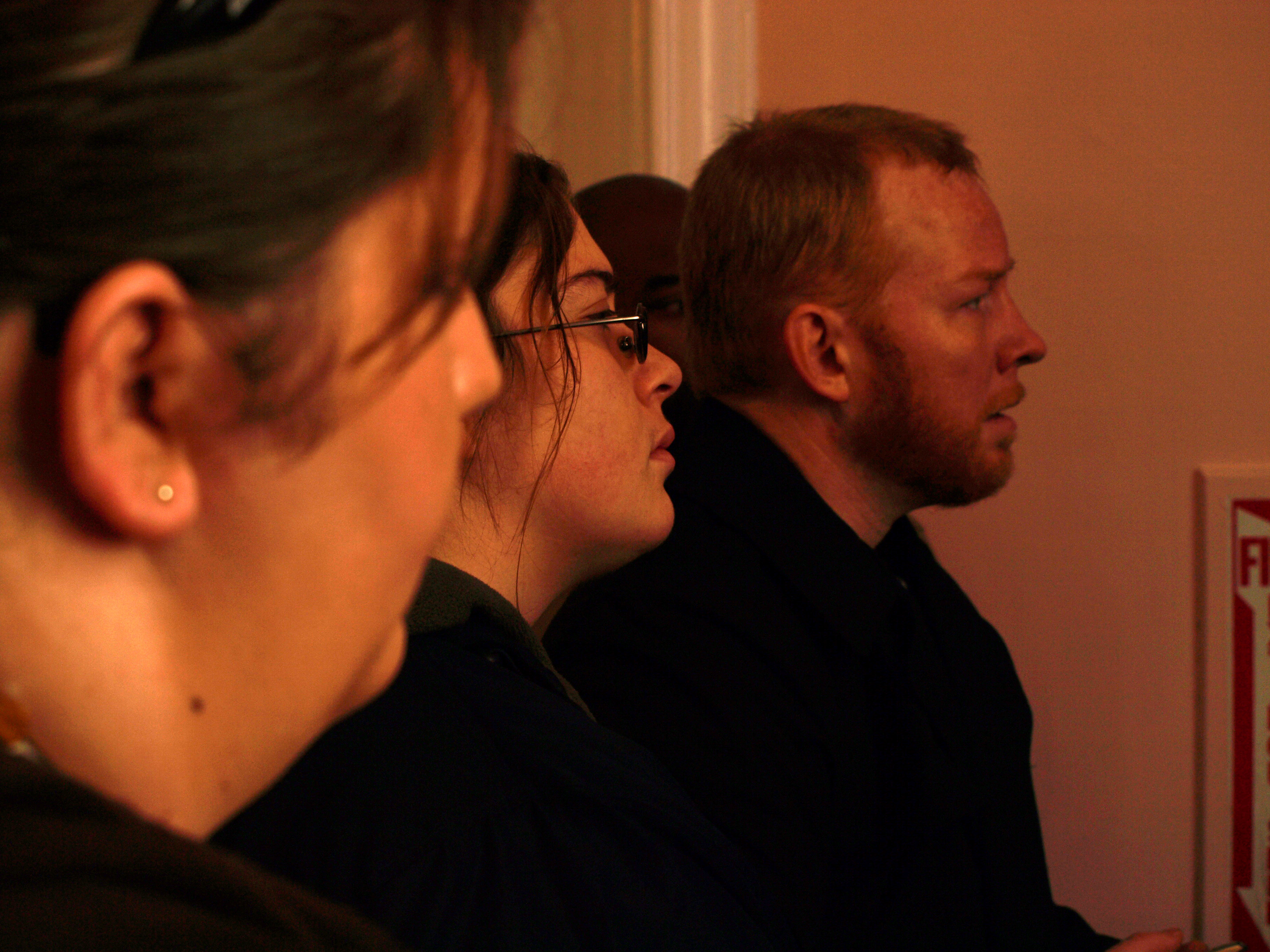 Photo by Latoya Shelton
St. Paul's Chapel — Flanked by Danielle Thomas and adviser Ronald Sitton, Linna listens intently to UAM alumnus Chester Johnson describe St. Paul's Chapel's role in the aftermath of Sept. 11 and Ground Zero.
The Nylon Maze
The second floor of the Little Rock National Airport hosts a gift shop, a restaurant and the entrance to the terminal. Looking at it, the nylon strips and the poles extended from the beginning of the little room to the scanning machine. The strips and poles reminded me of a maze. I looked at this barrier before as a person merely dropping someone off, but I never walked into it, only away. It seemed like a mystery, a portal into another world. I walked up with three other members of my group and waited in line to get our tickets checked.
As I waited I watched the man checking tickets; he looked like he enjoyed his job. He laughed and joked with the passengers as he looked at the tickets. When I finally reached him, he greeted me with cheerful tone and expression. He looked at my ID and asked, "Did you know your license was about to expire?" I said I knew, but I didn't have time to renew it. I also knew I would be back in the state of Arkansas before it expired. We spoke for a few more moments and I walked through the maze of nylon bands
The room where they scanned seemed blank with only white, black and grey as the color scheme. I approached where they scanned the luggage and other personal items; I watched a man remove his shoes and contents from his pocket and place them in a grey plastic container. A woman working with the TSA, the security for the airport, repeatedly shouted a warning "Remove all liquids and gels from you carry-on. If you don't you will hold up people behind you," the woman said. Danielle Kloap, a fellow classmate, dug into her bag and pulled out a bottle of water. The woman told her to throw it away. Kloap looked unhappy about this, but she threw it away. She removed her shoes and placed them in the plastic bin with the contents of her pockets her purse and her gels and liquids.
When a free space opened up on the counter, I picked up a bin. I removed my shoes and placed them in the bin along with my purse and coat. I guided the bin and my carry-on to the scanning machine and put it on the conveyor belt when they told me. I walked through the metal detectors, and collected my things on the other side.
I picked up my carry-on, coat, cell phone, purse and other items from the bin and put on my black loafers. I almost stopped for a minute, surprised by a long room with multiple sitting areas for the flight gates and restaurant for people to eat. I followed Kloap, Michael Thomas and Michael Ford, because I did not want to be left behind or lost. They stopped at Quiznos. I bought a bottle and I paid $2.62. For some reason the price didn't shock me; I somehow expected it to be high. I placed the water in my purse and walked to keep up with the group to get to our flight gate.
The Flight
The time soon arrived to board, each passenger showed the flight personnel their ticket and they scanned it. The group and I walked down this long tunnel, which connected to the door of the plane. I carefully stepped into the plane and a room that looked like a long tube met my eyes. Blue seats three wide lined the sides of the plane creating a narrow aisle. Passengers found their seats and put their luggage in the overhead compartments.
I sat between Latoya Shelton and Kloap and it looked like we were close to the wing. Shelton sat down first and then I clumsily sat down and then placed my luggage underneath the seat in front of me. Shelton looked at me "You've never flown before have you?" she asked. "No," I said. I soon found my seat belt and put it on. I remember staring ahead looking at the interior of the plane and it felt like the plane was moving, creeping at a slow pace. I looked out the window and saw the ground moving like a movie, except I was the one moving. I watched the ground and the people or objects move out of the window as they taxied the plane onto the runway.
When it reached the runway, I heard the engine power up and felt the plane slowly gain speed and rise. Each time the plane ascended, my stomach felt like a gymnast doing back flips. I closed my eyes and took deep breaths to ease the queasy feeling in my stomach. My head felt like it was about to explode from the pressure, but the gum I chewed helped. The plane soon leveled off and I pulled out my journal to write down some notes and occasionally I looked out the window.
The plane passed over fields and waterways. The view reminded me of the satellite view on Google Maps or a patchwork quilt of greens, browns, blues and whites sewn together with turn rows, and drainage ditches. I looked at one of the fields as we passed and it had water furrows, wavy lines, like a rice field.
In about an hour, the plane reached Memphis, Tenn. I looked through the window and at the earth to see the city, which looked like a mini city built by a child from Lego blocks. I saw a silver pyramid out the window and as the plane turned in the sky, I saw it from multiple angles. When the plane was finally cleared to land the details of the landscape, houses, cars and even the side of a FedEx truck became more readable.
We arrived at Memphis International Airport around 5 p.m., but a delayed flight kept us there for two hours.
To New York
The plane soon arrived to carry us to LaGuardia and the island of Manhattan. The passengers boarded the plane and the plane allowed passengers a little room to move. Kloap and I moved to different rows than the number on our tickets read and I sat comfortably with three seats to myself. The nauseating feelings I felt the first time didn't happen this time. I sat by the window watching the ground move beneath the plane.
During the two-hour trip, I attempted to do a little homework and completed some of it.
I looked out of the window, when the plane approached New York City. I looked at the glow of the lights and saw patterns among the buildings, street lamps and other illuminating devices. As we flew around the island of Manhattan, I saw the tall buildings, and the lady liberty herself. I took pictures of the lights from the view out of my window and prayed the pictures would turn out all right; they didn't.
As the plane flew lower to the ground my head felt like a balloon with too much air. I popped one of my ears, but I couldn't pop the other one. The captain came on the intercom announcing our arrival and said the weather was about 30-40 degrees, colder than when we left Tennessee. The plane finally landed and we exited the plane and went to collect our luggage. After finding all of it, we rented a SuperShuttle van to take us to The Roosevelt Hotel on Madison Avenue at 45th Street.
In New York
My view of New York City came somewhat from the movies and television shows I watched. I expected it to be cleaner; I don't know why. The height of the buildings amazed me for the first few days and then the older buildings fascinated me more with their architecture and style.
The buildings made me feel small, but it was the people I met and some of the things I experienced that really stood out in my mind. St. Paul's Chapel stood out among all of the tall buildings. From the outside, the chapel looked small among the high rises around it, but the inside made some of the biggest churches I've seen look tiny. I felt like I was walking with the forefathers of our great nation and the volunteers and firefighters of Sept. 11. Chester Johnson explained what happened during the attacked on the World Trade Centers and how St. Paul's Chapel helped when they were needed most.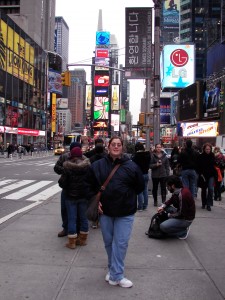 For the longest time, I wanted to see a Broadway play. I got my chance to see one the night of March 15 and proved to myself that I could walk New York City by myself. I knew "Mary Poppins" might be playing in New York from a friend who saw it in London told me it was coming to the United States. By this time, I walked with others to Times Square enough to know where I was going, but I was still unsure. I wanted to see the show and after a nap, I bought a map and asked for the best way to get there. A bellhop at The Roosevelt Hotel showed me on the map and I began my walk to the discount ticket booth, where I thought I needed to buy my ticket. I passed the familiar sights on my way to my destination. When I arrived, I found out I needed to purchase the ticket at the theater. When I asked where it was he told me it and then I asked what was near it. He told me to look for "Champs."
I started my walk and asked a couple of times if I was going in the right direction. I soon saw the word "Champs" in red lights and turned right. I saw the New Amsterdam Theatre and to my surprise a McDonald's I saw on the Food Channel one day. It looked like a theater, too, all-lit up in lights. I remembered the cable program saying they changed a large amount of light bulbs to keep the thing lit.
I walked up to the theater and up to the ticket booths and asked the cost of tickets for Saturday and Sunday nights. The man quoted a Sunday ticket being $120, and then he said there was a ticket for $80 in the mezzanine section that night. I said I would take it. I pulled out a $100 bill and paid for the ticket. I looked at my watch; it read 7:30 p.m. and the show started at 8 p.m. I went next door and bought a chicken club sandwich. The inside of the restaurant looked like the backstage of a theater, just like the program described. I soon returned to the New Amsterdam Theatre. I rode the elevator to the mezzanine section of the theater and found my seat. I waited for the show to start.
Two women and a man from Spain sat in my row. I tried to talk to a woman beside me and found out she didn't speak English. The young woman with an accent explained that her mother didn't speak English and the daughter often translated for me. I tried to speak to her in what Spanish I remembered, but I used broken Spanish and probably slang.
The play soon began and color met my eyes and the beautiful music and talent met my ears as I watched and listened to the performance. I remembered some of the scenes from the collector's program I saw over a year ago and looked at my own. At times, I sang along with the actors and other times I just soaked all of the color and song I could in my mind.
After the night of the play, New York City poured out new sites. I watched another play: "Chicago." I met a woman and other volunteers who collected money for the homeless and an elderly woman who watched the crowd carefully to cross the street in safety. I walked across with her. I looked upon the face of the Statue of Liberty and felt short standing beside a bronze replica of her face. I only came up to the wide part of her nose.
I even tried a little white wine, only two sips though, but I will save that story for another time.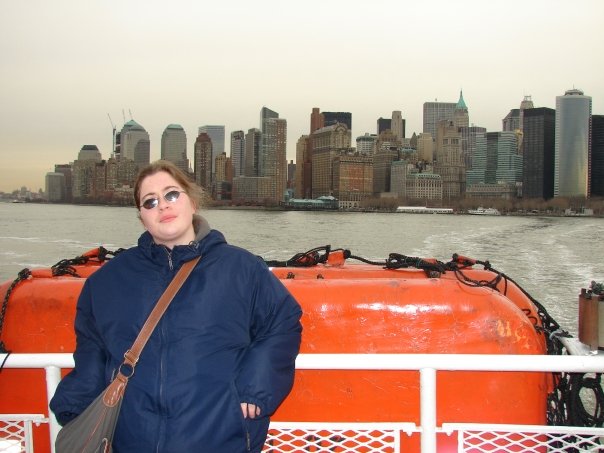 Under the Microscope
by Glynn Wilson
Have you ever wondered why so many movies depicting the South also contain an underlying crazy theme?
I guess that's what they think of us in New York and LA.
One of my favorites is Crazy in Alabama, featured on HBO recently. It's a comedy-drama released in 1999 written by Mark Childress, based on his own 1993 novel of the same name. It stars Melanie Griffith as an abused wife who flees small town life in the South for California to become a movie star – with her dead husband Chester's head in a hat box.
Meanwhile back in Alabama, her nephew, the story's narrator, has to contend with a racially-motivated murder involving a corrupt sheriff during the Civil Rights Era.
It's an interesting model for any would-be Southern writer thinking of trying to get New York editors interested in stories that will also play well on the big screen.
I've been mining the movie field of late thinking of stories to tell myself.
One of my favorite books written by a Southern author and then made into a movie is The Prince of Tides, based on a 1986 novel by Pat Conroy.
It tells the story of the narrator's struggle to overcome the psychological damage inflicted by his dysfunctional childhood in South Carolina and stars Nick Nolte as a football coach and Barbra Streisand as a New York psychiatrist. While changes to the film upset some Conroy purists, it was a box office smash and put Streisand on the map as a director. It was also recently featured on HBO.
Conroy is probably the premier Southern author of the late 20th century whose work has been both financially successful and also acclaimed in literary circles, unlike John Grisham's work, which is relegated to the legal thriller genre. In spite of the film's flaws, The Prince of Tides does capture both the character of the South and New York in the introspective times of the 1980s, making it an irresistible tale that will last – like Robert Penn Warren's All The King's Men.
But neither of those movies is what draws me to the keyboard tonight.
I doubt if it qualifies for the National Film Registry, but another innocent little tale caught my attention today. Sometimes when the cable offerings are weak, it's worth stopping on the story of Doc Hollywood, or Dr. Ben Stone, played by Michael J. Fox, not my favorite actor by a long-shot.
My first column mug shot: Hotter than MJF?
But in this one, which reminds me of a story from my own life, he plays a hotshot young doctor who longs to leave the drudgery of the emergency room and finally leaps at his chance at more money and less work on the West Coast. But along the way he gets off the Interstate and smashes his 1956 Porsche Roadster into a judge's fence and is forced into community service at the small town of Grady, South Carolina's general hospital.
There he meets and falls in love with an ambulance driver named Viloula but called "Lou," sexy and smart and played by Julie Warner, who has in incredible nude scene emerging from one of Grady's famous fishing lakes. The town is also known for its squash, which the mayor uses to explain a slice of life in his attempt to lure the doc to stay in town – as he bets him $10 that he will not score with Lou.
The story is perhaps just a bit too cute for serious movie critics. But it reminds me of a time when I was 23-years-old and just out of college working in a small town at my first professional newspaper reporting job.
It was 1984. The town was Bay Minette, Alabama. The paper was The Baldwin Times.
Upon graduating from the University of Alabama in Bear Bryant's last year, I had lofty goals of one day working for a great newspaper like the New York Times. But in those days, the mobility of college students was far more limited than it is today.
I advised students at Loyola New Orleans from 2000-2002 who were able to make the leap to New York, DC and LA. But being poor and from Alabama during Ronald Reagan's first term as president, and George Wallace's last term as governor, some of the best opportunities to break into newspapering came working for weeklies in small towns across the South.
The movie about Grady reminds me of those times, not because the stories are totally similar, but because some of the experiences and emotions ring true of being a young person trying to decide whether to make a life in a small town, where the living can be easy but perhaps not so lucrative, or making a break for the big city life and the big time bucks.
I also have to laugh at all the machinations people in small Southern towns will go to trying to lure young professionals to stay. This kind of scene plays out, still, in many towns across the country, as the out migration of the young and educated continues apace today. It is as true of Alabama today as it was in 1984, I'm sure, and can lead to some incredibly funny stories.
There's not enough space and time here to tell them all. Maybe one day if I get around to writing a memoir.
Let's just say I had a number of experiences with young women there, like Lou, who either wanted to seduce me to stay in Bay Minette – or to hook up with someone who could get them out.
I'm thinking of one particular young woman now about my age at the time who openly displayed a crush on me. I won't reveal her name. She may still be there – or maybe she got out.
One night she displayed this crush a little too openly at a Christmas party, held at the Holly Hills Country Club, when, after a few too many glasses of wine, she tripped on the hem of her long dress and fell right into my arms. It was a classic scene of a drunken Southern debutante right out of an F. Scott Fitzgerald or Tom Wolfe novel. As she fell toward me – and I still recall the scene in real-life slow motion, in part probably due to my own inebriation – the top of her bright red dress slipped down off her left breast, fully exposing the nipple for virtually everyone at the party to see.
It bordered on a scandal, since she also happened to be the chamber of commerce president's daughter, making her the perfect ambassador to try grabbing me for life. Perhaps like Doc Hollywood I should have more actively pursued that road, but there were complications.
Now at 50, do I harbor any regrets about leaving small town life there?
Only one. And it happened many years later.
In 2002, back when it was announced that the Alabama governor's race results came down to 3,000 votes in Bay Minette, I went back there from New Orleans for The New York Times – to investigate the election.
But when Siegelman conceded, I was pulled out of Bay Minette and sent back to New Orleans.
Knowing what I know now, since the Jill Simpson affidavit came to light, I wish I had stayed and worked my sources. I learned how to cover a courthouse and develop sources there, in that courthouse. It was the best school in the world for getting hands-on experience in that world, in more ways than one. Don't even ask about the secretaries in those days.
But of course it takes time and money to really work a story like the election, just as it takes time and money to work up a full scale relationship with a fine smart woman – in a small town or anywhere else.
And in the news game, there ain't never enough time – or money.
Life blogs on…
Now that I think about it, there's plenty of craziness to go around and write about in this world. And it's not all in the South.
I'm thinking now of a crazy New York editor, a woman, in part a figment of my imagination.
And I'm also thinking, if I had stayed in Bay Minette, either time, none of this would have ever happened – the good or the bad. Perhaps there is no stopping fate in any event – if there is such a thing.
I'm not convinced.
Life is not like a box of chocolates or cherries. It's more like a full-blown meal.
How good it turns out to be any given time is complicated and turns on choices and chance, luck and timing.
It can be as scrumptious as the fried green tomatoes in mushroom sauce at Jacquimo's in New Orleans, or as spare as the BLT at the drugstore in Bay Minette.
And I'm convinced, politics and government do matter – in all kinds of ways many people don't even seem to fathom, certainly not in a crazy place like Alabama. Maybe you have to be a little crazy to try to break out – or to try making a difference here.
Maybe you have to be a little crazy to try making art – or a living – as a writer in this world, if you didn't start out in it rich.
I can only wish good luck to the striking writers in New York and LA. I hope they win that fight to get part of the proceeds from sales on the Web Press. One of these days maybe I'll get a share of my own in that world, after we get rid of George W. Bush.
I understand Childress did it while working a day gig at Southern Living, not exactly a bastion of great journalism.
Long live the movies…



The newspaper industry is in trouble, and in no measure, it's because of out of touch people like William Bunch, a senior writer for the Philadelphia Daily News who also publishes a blog.
His latest misinformed missive was the lead story today on the Poynter Institute's media blog put together by a little guy named Jim Romenesko.
Romenesko: Your daily fix of media industry news, commentary, and memos.
First, here's some of what he had to say, followed by my response.
I'm a fan of some conspiracy theories. And so really, what could be a more compelling conspiracy theory than the plot to destroy the American newspaper, hatched – in our imagination anyway – by a secret cabal of bloggers and Web gurus meeting in a diner off Calle Ocho in Miami, then launching their assault on circulation from a Grassy Knoll somewhere in cyberspace?

Except this is one conspiracy that can be easily debunked. The American newspaper is being assassinated by "a lone nut." And we're going to tell you the name of that lone nut:

Craig Newmark of Craigslist . . . a man whose altruistic vision of running a business to NOT maximize profits is now threatening the livelyhood of thousands of working men and women across this country, your neighbors who work at and publish your local newspaper, jobs that were once supported by the classified ads that have migrated to the most free . . . Craigslist (sic: dot org).

Last week, Newmark's co-conspirator (OK, he's not a totally "lone" nut) – his CEO Jim Buckmaster – told stunned Wall Street analysts how they're happy to forego profits to save you a couple of bucks on a classified ad, and put some of my best friends on the unemployment line in the process. They even leave on the table money in ways that wouldn't come directly from their customers:

If you won't charge customers for ads, and apparently you won't, then at least start accepting those text ads, and funnel those millions of dollars into the newly formed Craig's Foundation. And what will be the main benefactor of this new foundation? A scholarship fund, to pay for the college education of the dozens of displaced journalists across America losing their jobs everyday. . . . And if there's any cash left, how about building a retirement home for any newspaper folks who might somehow see a diminished pension down the road?

The "lone nut" theory of the American newspaper assassination
Since no one else will ever set the record straight on this, apparently, perhaps because they have not studied the issue enough to be in command of the facts, let me have a go.
It's not that much of a mystery to me why newspaper reporters do not understand what's going on here. Most of them got into newspapering in the first place because they could not do math. And from their early days in the business, they shunned any knowledge of the business side of newspapering, believing that to know the facts about business would jeopardize their objectivity.
But anyone who has ever worked as an academic, teaching journalism, should be familiar with the literature on how newspapers make money to pay reporters. And its not from classified ads or the price of a subscription.
Admittedly, a lot of academics don't have those facts at their disposal for a variety of reasons. I once got into a heated argument with a faculty member at a reputable regional university who insisted out of ignorance that the Washington Post was a national newspaper, for example. But anyone who knows the facts here, including the publisher and the circulation manager at the Post, knows this to be true: The Post made a conscious decision not to invest in regional printing plants and daily distribution across the country like USA Today, the New York Times and the Wall Street Journal. It is a metropolitan newspaper with distribution in D.C., Maryland and Virginia.
They now have an opportunity with the Web Press to reach out to a national and international audience, however, and so far they seem to be capitalizing on it – without charging for access to their Web edition.
So let's be clear. Craigslist.Org is not putting any newspaper reporters out of work because the revenue from classified advertising never, ever went for paying the salaries of reporters in the first place. Nor did the price of a mail subscription or the price of the paper in the newsstand or box on the corner.
The price of the paper itself has always been earmarked primarily for the cost of distributing the newspaper. If anything was left over from that, it went for the cost of printing the newspaper.
Fact: It costs nothing to print or distribute a newspaper on a Web Press. It does cost a little to put it online, but nothing compared to the millions of dollars of paying for and maintaining an offset press, not to mention the rising cost of paper and ink.
Classified ads in newspapers has been a source of revenue for paying staff at newspapers, but mostly for the production and circulation staff. News staffs and most of the employees of newspapers have always been paid from general advertising revenue.
So perhaps Mr. Bunch should redirect his ire at Craigslist toward building a retirement home for newspaper delivery boys and pressmen.
But guess what? There's an antidote to Craigslist and the newspapers have it in their power to overcome the threat from the competition. If they would just stop bashing the online revolution and join it, they are in a powerful position to take advantage of it. If newspapers would just invest in original journalism and put it online for free, thereby putting themselves in a position of generating a massive amount of traffic AND online advertising revenue, they could survive.
They could even start their own free online classifieds to compete with Craigslit. They could sell Google text ads and pocket all the money and brag at the end of the year to their stockholders.
But apparently, newspaper managers (and columnists) are so out of touch with the reality available right in front of them that they will go on bashing the Web until they are out of business.
When that day comes, us former newspaper reporters who understand the Web Press will be right here to take over where they left off – if there is a First Amendment left after Bush's appointments to the federal bench get done with sending it to the trash heap of history.