Category: Politics
MONTICELLO — In hopes of limiting facebook political rants, I'm blogging for those wishing to consider and discuss.
We just thought it was ugly so far.
***
Prior to Labor Day weekend, I plan to vote for Gary Johnson, the Libertarian candidate. In a nutshell, here's why:
If you want to keep the wars, vote Democlican or Republicrat.
If you want to keep the drug war, vote Democlican or Republicrat.
If you want to remain a slave to the Federal Reserve, vote Democlican or Republicrat.
If you think it's insanity to continue things more-or-less the way they've been while expecting change — well, you know what I think. Just remember: when civil liberties disappear, it's impossible to correct government.
(Note: I plagiarized myself by writing the previous bit here, posting it to facebook, then deciding to repost it here yet again.)Read more: Why a Libertarian Vote Matters
Click the above link for info on the quiz to determine which U.S. Presidential candidate most aligns with your views.
Are you among those wishing to break America's duopoly in national politics?
Do you know if your candidate actually shares your views?
In 2012, don't vote the party line; vote for the candidate who represents you. Find out through this quiz!
Made by self-proclaimed unaffiliated political enthusiasts, the quiz allows you to expand responses and assign importance to answers.
Once you finish, check each candidate's support across the nation, or view how each state leans from those who've participated. As of Wednesday, July 18, Gary Johnson seems most attuned to Southern voters while Maryland supports Obama and Alabama supports Romney.
Alabama – Arkansas – Florida – Georgia – Kentucky – Louisiana – Maryland – Mississippi – Missouri – North Carolina – South Carolina – Tennessee – Virginia – West Virginia
Alabama Governor Robert Bentley seems to like the taste of his own toes. He sticks his foot in his mouth so often that people down south have taken to calling him "Goober" after the character on the Andy Griffith Show who just could not keep his mouth shut even though he rarely knew what he was talking about.
But that's Alabama for you, where the state's history is rife with goofy governors, especially Republicans like Guy Hunt and Fob James.
This time, the mainstream Associated Press picked up Bentley's comments suggesting that Massachusetts Mormon Mitt Romney might want to release his tax records if he wants to be president as President Barack Obama has been saying regularly on the campaign trail of late. It was Saturday at the National Governors Association conference in Virginia, and a reporter just happened to spot Bentley and ask him whether he thought Romney should release his tax returns. The governor said yes – adding that he believes in transparency and releases his own tax returns every year.
"If you have things to hide, then maybe you're doing things wrong," Bentley reportedly said. "I think you ought to be willing to release everything to the American people."
After Democrats seized on his words and the comments began to be picked up on blogs, Facebook posts and Twitter Tweets, Bentley later stuck his foot even further into his mouth, saying he still believes Romney's taxes should be released and he believes in transparency, but his staff issued a statement insisting he wasn't implying that Romney had anything to hide.
"I believe my comments were taken out of context, they were not reported in their entirety, and I want to make sure the record is set straight," Governor Bentley said in this statement. "I believe in trasparency, and that was the basis for my answer. I personally choose to release my own returns each year, and there was no effort to imply that Mr. Romney has anything to hide.
"While I believe in total transparency, I also believe much of the rhetoric surrounding Mitt Romney's personal finances is nothing more than an attempt by Democrats to distract from the real issues of the presidential campaign," Bentley said. "The real issues are the economy, employment and getting America back on the right track. I fully support Mitt Romney and his vision for our country, and I will do everything I can to help get him elected."
Woops. Too late, and wrong.
Romney's record on the economy is not only fair game in the campaign, it is sort of critical for voters to know what kind of president he would be if elected. If his record as a business administrator are any indication, he will outsource jobs overseas, hide his personal wealth in overseas accounts, and then lie about it, according to the AP.
Bentley has his own political problems back home in Alabama. Perhaps he should stick to trying to set things right in his home state. He has made the state the butt of national and international jokes once again as a racist place for passing a discriminatory and draconian immigration law in a state where illegal immigrants are hardly a problem at all compared to California, Arizona and Texas.
He presides over a state in which all three branches of government are run by a rapid, right-wing Christian tea party that has damaged the very thing everyone seems to value most: the business recruitment climate. They have ruined public television and are hell bent on destroying the unions, just like the Republicans tried to do in Wisconsin. They are trying their best to run off school teachers and even turn the public schools into Christian schools.
They are going to join a few other so-called conservative states in defying the implementation of the Affordable Care Act, even though a conservative U.S. Supreme Court upheld the law.
All of this begs a few questions on this Sunday morning.
Are people still trying to secede from the rest of the country and the world by creating a safe little poor place for only uneducated, white Christian radicals to live?
Doesn't it sort of remind you of the Civil War all over again?
Why would any half-way intelligent person want to live and work in Alabama?
Perhaps it's time to make that move out West, my friends, or at least escape to the mountains of North Carolina or Virginia.
If some smart, progressive Democrats don't get it together and take back over this state — and soon — they will see a brain drain like nothing they have seen so far. Most of the kids from Alabama who manage to get out and get an education today don't come back anyway. They know there are better opportunities elsewhere where a higher percentage of the population can at least think for themselves.
While many talented and intelligent people have come from Alabama, it is becoming an almost unbearable intellectual wasteland of morons and dingbats, even on the political left. What is an educated person to do? Get out, that's what.
MONTICELLO — Two black cats laze on the hardwoods while the gray perches in the high chair.
Cats — big and small — seldom waste steps, in essence an efficiently ruthless killing machine. If not on the prowl, they move in moderation.
Life is generally good in moderation. Excess breeds addiction.
***
According to historian Donald Holley, Monticello helped lead the anti-liquor movement within the state in the late 1800s, as the local Women's Christian Temperance Union shut down the town's saloons in 1888. The Monticello chapter of the Ku Klux Klan provided "extra-legal assistance" in Prohibition enforcement during the 1920s.
In short, Monticello faces a truly historic challenge this fall as it considers whether to go "wet."
I know this mindset, i.e. I grew up Missionary Baptist. We didn't drink; we didn't dance.
But I needed money to go to the University of Arkansas at Little Rock. I didn't come from a lot of money; I worked two or three jobs at a time going to school. I waited tables, barbacked and bartended my way through, earning a bachelor's and master's without owing anyone a dime in student loans.
Mama Macy grieved me for "slingin' that whisky." It paid the bills.
Does alcohol negatively affect people? To say it doesn't would be disingenuous. But it is also disingenuous to pretend keeping sales outside the city limits will "save" the inhabitants of Drew County. Years ago when I first came through Monticello, you would drive by a "Jesus Saves … Let Him" sign just prior to getting to the liquor store.
I would encourage the good citizens of Monticello to let him save, but otherwise help the city gain sales tax revenue from bringing alcohol-serving businesses into town. Morality should not be legislated; it's easy to make laws to target folks, but then don't be surprised when you end up targeted.
The vast majority of adults who drink do so in moderation, which is great not only for alcohol but also for proselytizing.
***
Ani DiFranco plays "Which Side Are You On?" in the background.
***
One last drop: It's time for a "sin" tax on soft drinks in Arkansas. For those so concerned about what I'm drinking, two can play at that game.
-30-
Continuing a long-running trend
MONTICELLO — Hey Arkansawyers!
Today marks your last chance to vote early before tomorrow's important primary election. Make sure you vote!
Why does it matter? Our nation reached the sorry state it occupies because the electorate didn't pay attention during the primaries. By the time the general vote came around, we were left choosing between Tweedledum and Tweedledee, both beholden to industry interests that have no interest in the regular folk's problems.
Don't let that happen this year. Vote out ANYONE willing to give away our rights as citizens of Arkansas, the United States or the world. Think globally, but VOTE locally.
Did you hear?
Now they want to share
EVERYTHING.
Government
trade back and forth with
companies.
Demolish
any barriers
between them.
Privacy?
What an outdated
concept, please.
Gave that up
when you logged on for
the first time.
Realize:
Double-edged swords
cut both ways.
On CISPA,
Tell your senator
to VOTE NO!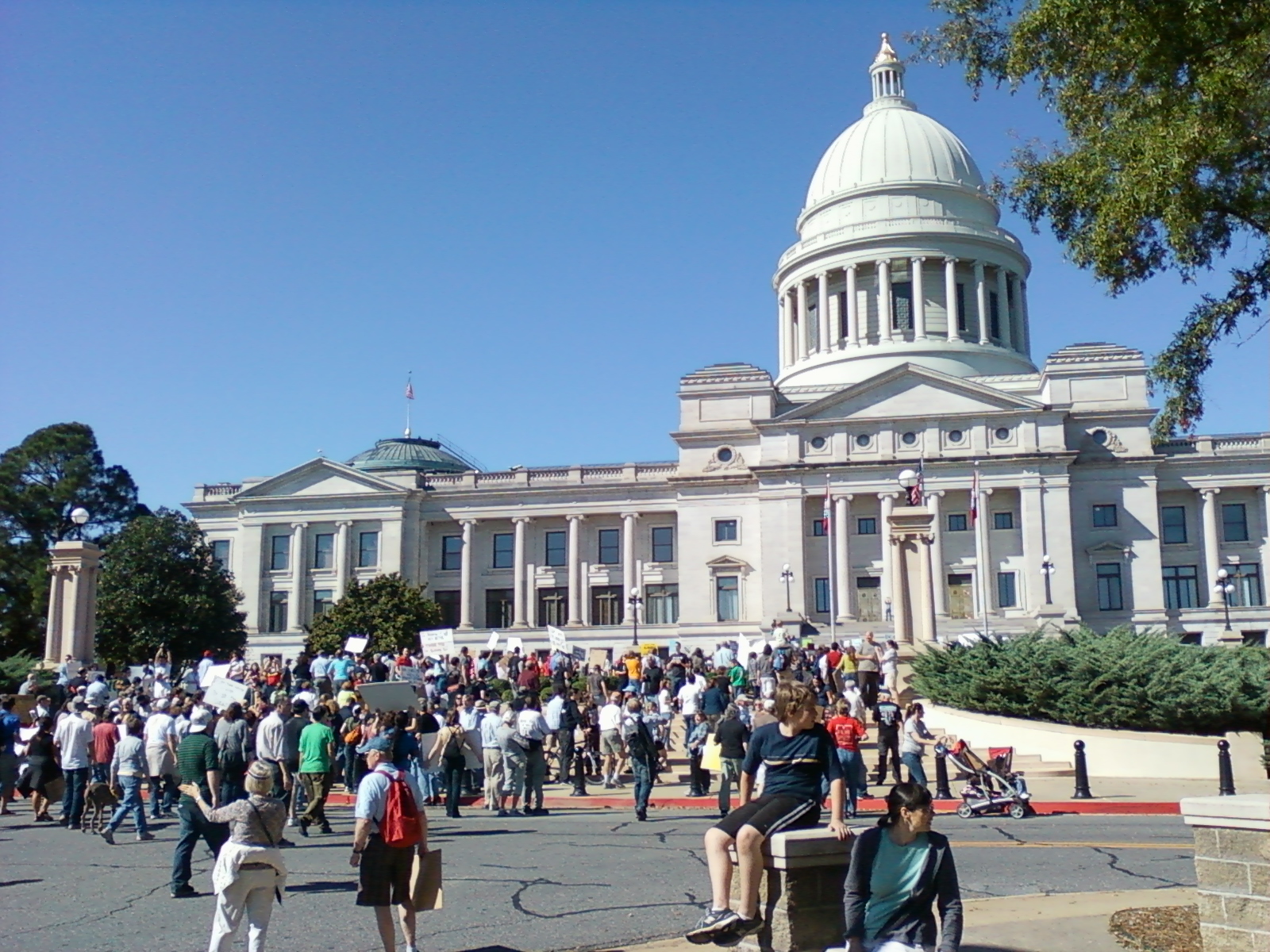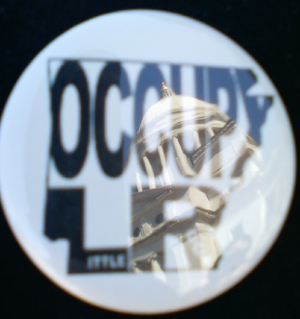 Movement the First: To Protest or Not
It started with a spark.
A Canadian spark no less, when the Adbusters Media Foundation came up with an idea to Occupy Wall Street. That spark started the occupation in Liberty Plaza Park Sept. 17, America's Constitution Day.
At first, few paid attention. But the movement gathered steam and the spark spread to cities across the country and then around the world.
During the time of year normally reserved for the state fair, the spark made it to the Natural State.
***
I stayed up too late Friday night with one of my best friends. He would leave Saturday morning for three weeks of drill with the Arkansas National Guard, which has orders to be ready to go to Afghanistan at a moment's notice … they just don't know when they're going. He's already been to Iraq twice and would just as soon not see the site of America's longest war.
I'd told him I'd planned to go to the march, to which he retorted, "As a participant or to cover it?" I hadn't actually decided yet. So he asked me what was the goal, since he'd heard it was just a bunch of rich kids camping out in New York. Why weren't they in D.C. instead, if they wanted to fix something with the government?
As I explained, it's not the government. When 9/11 happened, where did they aim first? At corporate America. That was a terrorist act; this seemed to be something more.
We spent the evening debating whether a protest would actually work. I suggested if I marched in protest, my personal reasons would be to end the Federal Reserve and to get the military out of Afghanistan. Needless to say, we kept it up long after we needed to go to bed.
As I lay down and set my alarm, I noticed it was nearly 2 a.m.  That 9 a.m. start would come early.