Tag: National Conference for Media Reform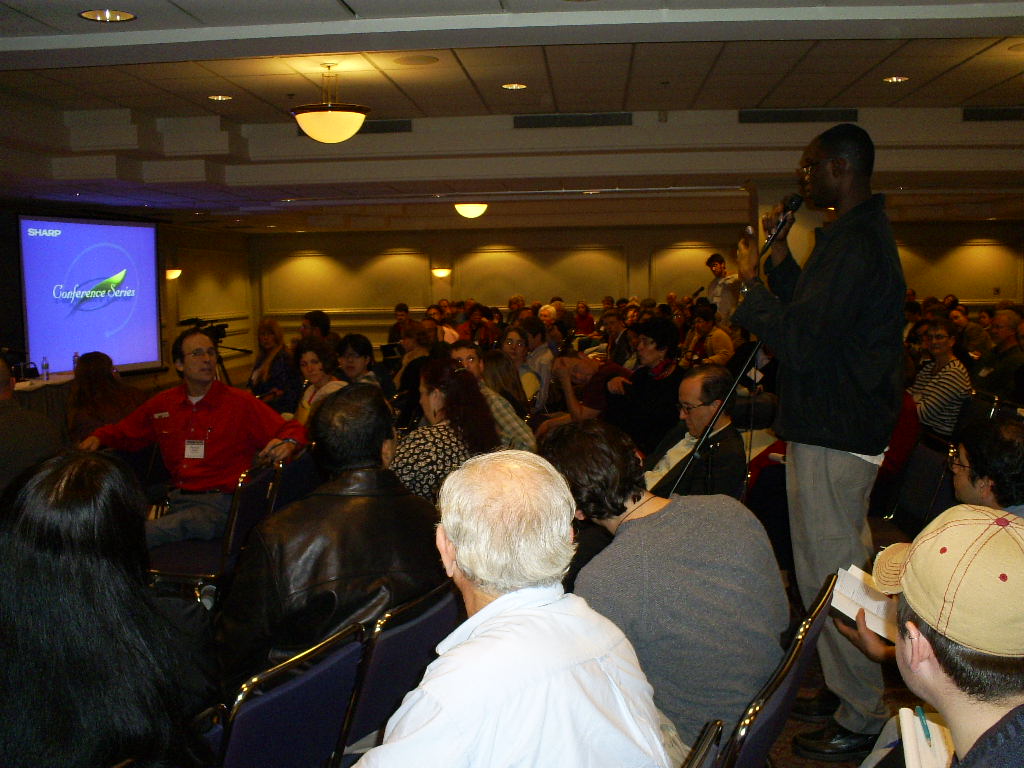 How do I? – John Gilchrist of Superspade.blogspot.com/ questions the panel on social networking and political change. Between the subject and the occasional bass from a session in an adjoining room, no one slept after lunch at this session.
MEMPHIS (Jan. 13) – The "Bubbling Up: MySpace, YouTube, Social Networking & Political Change" breakout session at the National Conference for Media Reform promised to cure the after-dinner sleepies by discussing the future of independent media and political activism through an examination of social media.
James Rucker, of ColorOfChange.org, helped the 2006 election coverage through Video the Vote, which recruited voting activists who had a camera or cell phone to document the disenfranchising of any voter.
"What you have with the Internet is a publishing platform that anyone can participate in," he said. "As we heard problems developing, we'd deploy a volunteer who'd signed up online. They'd document the problem and upload it to our site."
The site acted as a front end into the YouTube database, which Rucker said is hard to navigate due to its lack of consumable packaging. Video the Vote took the disparate videos and produced video essays, some of which were picked up by corporate media. Rucker plans to use the same idea for CopWatch, which will document police brutality.
"Everyone knows a story of police brutality," he said. "It's the kind of thing that's very hard to get a feel for what's happened when it's in print. With cell phones, people capture things of cops being rough."
Rucker said he believes in the power of citizen media and thinks it will change corporate media from the kind of force that it's been. While at the moment many of the smaller players are not necessarily trusted nor do they carry the brand name, Rucker looks to bloggers as an example that the market place has been forced to acknowledge.
"I actually think corporate media will have a hard time competing with people producing citizen journalism," he said.
Memphis (Jan. 12) – During Friday's "Building and Sustaining Independent Media" breakout session, the presenters overviewed their individual independent outlets and suggested how the independent media landscape could be strengthened, yet they could only suggest diversifying when trying to answer the most-asked question of the afternoon: how can independent media make money?
Kim Spencer, executive director of Link TV, said the key to profitability rests in a variety of funding sources. While that may seem obvious, Bonnie Boswell of The Real News took it a step further, noting that the proposed international independent news network would rely on individuals as the primary source of funding, in essence creating a publicly driven media source.
"We intend to have no government financing or advertising," Boswell said. "We've raised $5 million and intend to raise $15 million more. If we can get 250,000 people to give $10 a month then you can be independent."
Moderator Tracy Van Slyke, publisher of the 30-year-old independent national award-winning news magazine In These Times, noted while independent media may be poor in capital, it boasts rich content. In hopes of increasing the reach of that content, many of the organizations joined Mediaconsortium.org – a network of 35 progressive media organizations filling a void created by the loss of organizations like the Independent Press Association, which folded over a week ago.
"Many funders don't understand the need for funding of the progressive media landscape," Vans Slyke said.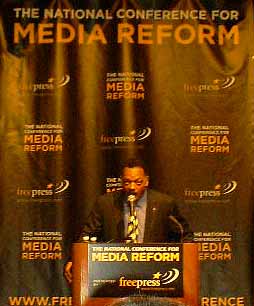 Continuing the Fight – Rev. Jesse Jackson finishes his speech at the National Conference for Media Reform. Jackson urged participants to continue the fight to keep independent media alive and well.
MEMPHIS (Jan. 12) – Rev. Jesse Jackson told a gathered crowd of approximately 2,500 and an additional 2,000 watching the event through streaming media on freepress.net that President George W. Bush is a war addict who needs some type of methadone.
"The president is in a hole looking for a shelter rather than a rope," Jackson said.
While he occasionally referred back to the president, Jackson used the forum to speak about the upcoming national Martin Luther King, Jr. holiday and claimed that romanticizing King's legacy takes away from the struggle of today.
In a rather poignant moment, Jackson spoke of King's last hours before coming to Memphis, noting King spent his birthday at home with family and in the basement of his church trying to decide how to end poverty and to end the war. Jackson said King almost gave up the struggle the morning before coming to Memphis due to the accomplishments of the Civil Rights movement, comparing King's indecision to that of Jesus in the garden of Gethsemane prior to his crucifixion.
Jackson then spoke of the problems of the affirmative action movement, noting the main beneficiaries of affirmative action has been white women through Title IX legislation allowing equal competition in sports. But he claimed many young white female beneficiaries are against affirmative action because they don't hear the truth of affirmative action in mass media.
"I'm concerned that the media has the capacity to make America better," Jackson said. "We must fight to open the airwaves for all people."
Jackson said corporate ownership of media may be a small part of the bottom line for corporations, but it's a big part of the propaganda to continue the war that's profiting the corporations.
Read more: Jackson Invokes King's Memory, Purpose
By Ronald Sitton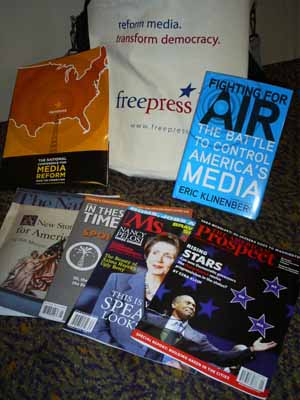 Schwag – The conference fees paid for this tote bag, book, magazines and access to a Friday night concert featuring the North Mississippi All Stars among other things.
MEMPHIS (Jan. 12) – I've just pulled into Memphis and made it to the Conference Hall for the National Conference for Media Reform.
Slate-gray skies and a steady mist took me from Little Rock to the City of the Blues this morning. It's almost winter in the Delta; the weather-niks even forecast cold temperatures for next week. As I drove I thought that regardless of your views on global warming, no one can deny the weather cycles strayed from normal over the past decade.
The Black Keys' Magic Potion provided a soundtrack as I looked across the landscapes that urbanites deride as monotonous but farmers appreciate as fields of gold. Yet when it takes Coca Cola's plight of perhaps losing its winter icon, the polar bear, to make the current administration use the term "global warming," I wonder if we can make "dilemonade" out of the dilemma confronting mankind with the current leadership lacking in powerful places. We passed the point of preventing the problem; pray we can mitigate the effects.
Sometimes as I pass the Super Uninformed Victims clogging the road and our air, I wish I owned a bumper sticker asking, "Suckin' Gas?" But what's a fella to do when our government provides a $100,000 tax credit to buy a gas hog versus a $4,000 credit to buy a hybrid that gets better than 60 mpg at 55 mph?
What does this have to do with media reform, you ask?