MONTICELLO — In hopes of limiting facebook political rants, I'm blogging for those wishing to consider and discuss.
We just thought it was ugly so far.
***
Prior to Labor Day weekend, I plan to vote for Gary Johnson, the Libertarian candidate. In a nutshell, here's why:
If you want to keep the wars, vote Democlican or Republicrat.
If you want to keep the drug war, vote Democlican or Republicrat.
If you want to remain a slave to the Federal Reserve, vote Democlican or Republicrat.
If you think it's insanity to continue things more-or-less the way they've been while expecting change — well, you know what I think. Just remember: when civil liberties disappear, it's impossible to correct government.
(Note: I plagiarized myself by writing the previous bit here, posting it to facebook, then deciding to repost it here yet again.)Read more: Why a Libertarian Vote Matters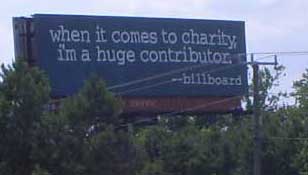 Justified — This sign seems planned to remind North Carolina motorists why it should remain standing during tough economic times.
Perpetual Notions
by Ronald Sitton
NORTH LITTLE ROCK, Ark. (Aug. 3) — You see them every day on your way to and from work, the grocery store, the library, the pool, the folks … but you might not "notice" them except for the occasional message.
In the late 1990s, "Got Milk?" grabbed the attention of passing American motorists before becoming a world-wide campaign. Without knowing the actual returns on investment, it seems the milk industry fared much better than the pork industry's "The Other White Meat" and "Beef – It's what's for dinner" (note: the beef billboards apparently spawned a PETA/vegetarian response).
Around the nation, recession billboards ask Americans to lighten up. Some of you may remember the racy Calvin Klein ads of the late '80s, but apparently the company's newest billboards even messes with New Yorkers. Someone found the time to make a Web site commemorating crazy and funny billboards for the bored to enjoy. But not all billboards are funny:
It's hard to understand the logic behind the use of some billboards.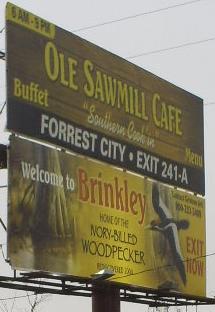 Priorities — Stop to see where the Ivory-Billed Woodpecker might be, but what about where Louis Jordan was? (File Photo)
In Kevin Clark's documentary "Is You Is: A Louis Jordan Story," Arkansongs dee-jay Stephen Koch tells of childhood expectations of seeing a statue of the legendary Rock'n'Roll Hall of Fame honoree noting his hometown of Brinkley, Ark.
Instead he found a lot of promotion for the re-discovery of the Ivory-Billed Woodpecker — but not one billboard tells passing travelers about Jordan. Wouldn't it be better to attract as many travelers as possible during tough economic times, especially when located on a busy Interstate?
Perhaps even crazier: billboards on I-40 westbound promote investment opportunities in Brinkley … right after you pass the Brinkley exit with the next exit nowhere in sight.
Of course now, it's not enough to have a static sign breaking the scenic view as you drive America's highways and byways. Electronic and digital billboards are becoming all the rage. Even the FBI understands how useful they can be with the ability to update as needed. Are they safe? The federal Highway Administration sure seems to think so, especially when they sit in congested areas that give drivers time to sit and watch them.
Some claim business forays into social media represent nothing more than electronic billboards, but somebody's watching. And just when you thought it was safe to go out in the water again … amphibious billboards! What's next? Billboards in space?
But billboards aren't just for business anymore.
GOD, Politics and Education
I'll never forget driving to Knoxville from Clinton, Tenn., and seeing:
"That 'Love Thy Neighbor' thing … I meant that." – God
Apparently, a non-denominational anonymous donor started that campaign. Halfway across the world, the Church of Singapore ran these to get more people to attend church on Sunday.
Some would say religion wouldn't be religion if there wasn't some controversy. You expect atheists to question God's existence, but what about this campaign to "challenge the mindset of a new generation of church goers"? I prefer the approach of The Foundation for Life, whose "Pass It On" series hits really hard.
When it comes to politics, sometimes it's tough to tell who's selling what. Read more: Signs of the Times
MONTICELLO, Ark. — I watched President Barack Obama's inauguration between classes today with pride and sore bones. Let me explain.
For the first time since I've started teaching, I can legitimately tell anyone that they can do anything they set out to accomplish regardless of race, creed or religion. That's priceless. But so is the fact that we now have a president who walks the walk as well as talks the talk. President Obama showed his colors by not only asking people to participate in a day of service to honor Rev. Dr. Martin Luther King Jr.'s birthday; he also took part by helping at a homeless center.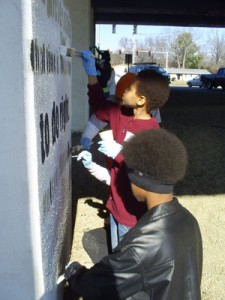 Photo by Ron Sitton
Community service — Middle school students participating in City Year paint a quote from Nelson Mandela on a support for the Interstate 630 overpass near Little Rock's Kanis Park. More than 70 people showed up to volunteer to help on the cold day. (Click photo to enlarge)

That's where my sore bones enter. I started yesterday's day of service by going to the Clinton Presidential Library to see City Year Heroes Opening Day, where 70 middle school students committed to working 100 hours of community service over the next five months. Keynote speaker C.J. Duvall, senior pastor at Theressa Hoover United Methodist Church, told the young participants that their service would inspire even more people to serve. North Little Rock Alderman Maurice Taylor then led the students in the Young Heroes Pledge, which concluded with a promise:
"I am a young hero and I will make a difference."
Just like their new president, they honored that promise. Read more: Service with a Smile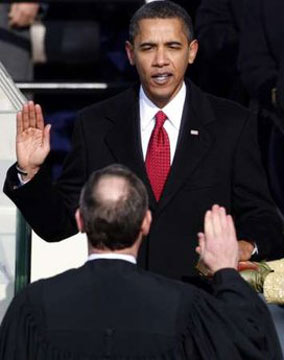 Yahoo
President Barack Obama
Barack Obama took the oath of office as the 44th president of the United States today and pledged to "begin again the work of remaking America."
Addressing a throng of about 2 million people on The Washington Mall and millions of others watching on television around the world, Obama recognized the multiple crises now afflicting the nation at a time of war abroad and economic turmoil at home. But he sought to rally Americans to a "new era of responsibility" and the promise of a brighter future.
He cited a profound "sapping of confidence across our land — a nagging fear that America's decline is inevitable, and that the next generation must lower its sights." The challenges are real, serious and many, and "they will not be met easily or in a short span of time," he said.
"But know this, America — they will be met. On this day, we gather because we have chosen hope over fear, unity of purpose over conflict and discord. On this day, we come to proclaim an end to the petty grievances and false promises, the recriminations and worn out dogmas, that for far too long have strangled our politics."
"Starting today," he said, with the local crowd totally silent in respect of the historic moment and the words almost as powerful watching on the screen from afar, we must pick ourselves up, dust ourselves off, and begin again the work of remaking America."
For the full story, photos, videos and the text of the speech and comments, check our sister blog The Locust Fork News Journal.
NORTH LITTLE ROCK – In spring 2007, I swore to more than one person that I would not get caught up in the presidential campaigns until it was actually time to vote. For more than a year I tried to keep my promise.
So … I lied. Isn't that what politics is about?
I had no intention of lying, but I got sucked in watching the hyperbole about this historic event unfolding before our eyes. At this point, no matter what happens, the general election will feature two historic contenders – even the Republicans can claim to be running a minority with one of the oldest candidates ever. Be prepared for a media wave even worse than this come election time.
When I tried to stay away from the election, it ran into me. While teaching a literary journalism course at the University of Arkansas at Monticello, I tackled Hunter S. Thompson, proponent of Gonzo journalism, as an example of ethical issues within the genre. To prepare, I read "Fear and Loathing on the Campaign Trail '72," a book cobbled together from Thompson's Rolling Stone articles.
Thompson is Thompson, and those of you who haven't read him may not appreciate his spot-on analysis of political machinery at work. He never claims to be sober in his analysis, but history relies on words and deeds more than state of mind. More than a few times I've told students that Barack Obama must read FLCT'72 if he wins the nomination, if only to keep from repeating the mistakes of history. If he will be the candidate of change, don't disillusion those who want it. Salon elegantly laid out the Democrat Party's quandary recently.
As I read FLCT'72, I marveled at the similarities to the current election, e.g. the importance of a minority candidate. Though not prominent in Thompson's book, Shirley Chisholm ran for president as the first black woman candidate ever. Chisholm considered her candidacy as viable, even if the media largely disregarded it as an anomaly. I wonder what she would think about this election; i.e. are the Republicans correct? Is the country still not ready for a minority president? I believe Chisholm would claim it is, but she was an optimist.
Of course, 1972 also marked the last assassination attempt on a candidate, i.e. George Wallace, who believed the country was not ready for much of anything minority-wise. Recently, a few black students came up to me with a print-out of an online dispatch that claimed the Ku Klux Klan plans to kill Obama. They asked if it was true. I didn't see a Web address on the print-out, so I searched truthorfiction.com and snopes.com and only came up with the satirical newspaper clipping claiming the KKK endorsed Obama. (By the way, that proved to be false.)
I wish everyone in the United States would grow past shooting people with whom they disagree. Unfortunately, history shows serious threats of change often bring out the worst in people. I do not think the Klan is any more likely to target Obama than an ultra-right wing fundamentalist is going to target Hilary Clinton; even less likely would be someone pissed about immigration targeting John McCain. I hope and pray we as a nation have grown to the point of letting our differences being decided at the ballot box instead of ending in a pine box. But I digress.
***
Regardless of the election's outcome, America has been forced to reassess race, first with the anniversary of the '57 Little Rock Central High Crisis, Katrina and Jena 6; more recently with the "race discussion" initiated by Obama. In the past month I've heard Black leaders including Obama, Condoleeza Rice and Julian Bond face the race issue simmering throughout America since my youth.
I applaud them for doing it.
Of course, Obama had no choice. Read more: -isms Dominate Politics, Intrude on Life

Presidential Tip Sheet: Early Bet on Edwards

Looking under the hood of the muscle car in the Krystal parking lot, it looks like John Edwards could be the next president of the United States.
Here's why.
In this early week in the race for president in 2008, rendered important due to new Democratic Party rock star Barack Obama's early hints he may run and the resulting step up of Hillary Clinton's reelection schedule, Edwards also stepped up in the public eye. Edwards the trial lawyer and vice presidential candidate and his smart yet southern wife Elizabeth out hardballed Chris Mathews of MSNBC on Tuesday.
For reasons I'll explain later, he already has a head start in the early primary and caucus races in Iowa and New Hampshire, and will emerge from the pack as the electable moderate southerner with the strength of character to pull off being president. When you think about it, he even looks a bit like Tony Blair – but without the penchent for supporting George W. Bush.
Former U.S. Sen. John Edwards, who has been traveling the world since focusing on his major populist theme of solving the poverty problem here and abroad, was the recent top choice among likely Iowa caucus-goers asked to say who they would support in the 2008 caucuses. Edwards, who has traveled to the state extensively since the 2004 campaign when he was the Democrats' vice presidential nominee, won the support of 36 percent of those polled. U.S. Sen. Hillary Clinton, D-N.Y., finished second at 16 percent. Obama got 13 percent.
Edwards has been working on an upgrade to his profile as the son of a mill worker, the story he used to get the Veep nod after strong early primary showings in 2004.
Trust us when we say this will become even more important as the 2008 approaches and economists officially announce the economic recession. Yes, it will be out of the bag by then.
Edwards has not declared his candidacy yet, so to learn about his recent activities you have to go to his One America Website.
Edwards may also be in a good position from a horse racing point of view. He can refine what his plan is riding loosely in third or fourth and wait for the next turn, while most of the media spotlight shines on the two early leaders on the rail, Hillary Clinton and Obama.
A Cook/ RT Strategies poll looking at the Democratic Party's crowded field of contenders shows Clinton leading public opinion with 34 percent. Obama is a distant second with 20 percent, even though he may not even run.
Former Vice President Gore, who has been testing the track's surface of late while fishing for an Oscar for his Global Warming film, still gets the support of 11 percent of the people, while Edwards gets 9 percent.
Sen. Joseph Biden of Delaware and Sen. John Kerry of Massachusetts tied with 4 percent. Everyone else – New Mexico Gov. Bill Richardson, Iowa Gov. Tom Vilsack, Sen. Evan Bayh of Indiana, Sen. Christopher Dodd of Connecticut, and retired Gen. Wesley Clark, Rep. Dennis Kucinich of Ohio – scored 2 percent or less in the survey of Democratic voters and Democratic-leaning independents.
Taking Gore out of the race, Clinton rises 5 points to 39 percent, Obama gains 1 point to 21, Edwards goes up 2 points to 11 percent. Kerry picks up 2 points to 6 percent.
Without Gore or Obama in the race, Clinton goes to 51 percent and Edwards grabs second place with 13 percent. Without Gore, Obama, and Kerry, Clinton gets 52 percent and Edwards 14 percent.
But that is before the race has even officially begun.
We still like Al Gore and think he should have won in 2000, and he would prove to be a much more loose and effecitve campaigner now, we suspect. So if he runs, he will be a major contender and may even get our votes.
But then, why would he want to go through it all again – when he can have far more fun and potentially be even more effective on the outside?
Rep. Dennis Kucinich of Cleveland, Ohio, who ran as the Ralph Nader of Democrats in 2004 and didn't get very far, made an impasshioned speech for peace this week in making his announcement that he would run again.
His key point: "What kind of credibility will our Party have if we say we are opposed to the war, but continue to fund it?"
He says the Congress has already set aside the $70 billion it would take to get American troops out of Iraq and home, and he is suggesting we face facts and do that – rather than give President Bush another $160 billion supplimental appropriation to continue the war for another year?
Which brings up another reason Edwards could emerge as the front runner during the primary process.
Expect to hear Bush take John McCain's advice, not Jim Baker's. Watch this.
In a month, Bush will go on national television and ask Congress for even more money to send another 40,000 to 50,000 MORE troops to "win" a "victory" – "Over there." He still doesn't get it.
Coupled with the inevitable recession, if this war is still dragging out that will make it very hard for any Repubican to "win" in 2008.
The obvious leader will be Sen. John McCain of Arizona. A few months ago he looked like the only hope the country had. But since his foray to the major-domo of the Christian Right, the Rev. Jerry Falwell, and his recommendation for more troops, McCaiin is likely to sink like a horse with a stone embedded in his hoof before this is all over.
Massachusetts Gov. Mitt Romney will pursue the GOP nomination (ho, hum) and may well be joined by Sen. Sam Brownback of Kansas (yech!), Arkansas Gov. Mike Huckabee (yawn), Rep. Hunter of California (who?), and Rep. Tom Tancredo of Colorado (give us a break).
The question marks in the Republican race are former New York City Mayor Rudy Giuliani and former House Speaker Newt Gingrich (har, har).
Although national polls of Republican voters often show Giuliani at the front of the GOP's 2008 pack, most observers with a real grasp of the Republican nominating process think Giuliani's support for abortion rights, gay rights, and gun control knock him out of any real chance of winning the nomination.
Cook Political Report/RT Strategies polled Republicans and Republican-leaning independents about the 2008 contest. When Giuliani was included in the list of candidates, he ran first with 27 percent, followed by McCain at 25 percent and Gingrich at 10 percent. Romney ran fourth with 9 percent. Everyone else was in the low single digits.
Taking Giuliani out of the mix, McCain's support rose from 25 percent to 34 percent and Gingrich's climbed from 10 percent to 16 percent. Romney edged up to 10 percent. No one else drew more than 5 percent, according to the Cook Political Report.
Then there's today's front runner on both sides, Hillary Clinton. But does anyone really think she can really win the presidency? Her negatives with men are way to high for her to have a chance, unfortunately.
If the Democrats really choose 2008 to be the year of the woman in American politics, then McCain could very well be the next president.
You will recall that one of the early front runners in the 2004 presidential race, now Democratic Party Chair Howard Dean, said that to win, the Democrats need to appeal to the NASCAR vote.
If John Edwards is listening, here's a tip on how he can win this thing. Get yourself a muscle car, go to Nashville and make some CMT-style music videos. In essence, start hanging out in the Krystal parking lot and talking it up. Get yourself a cowboy hat. Go country.
The liberals in New York, D.C., California and the other cities, can't win this thing without some working class votes in the South. And they will never, not in a million years, vote for Hillary.
Edwards has the union bona fides to talk the talk and walk the walk. He may even be able to carry Alabama in two years – once the economy goes in the tank and the war gets even worse.
How about Obama for Veep and president in 2016?