About Glynn Wilson
View all posts by Glynn Wilson
Alabama Governor Robert Bentley seems to like the taste of his own toes. He sticks his foot in his mouth so often that people down south have taken to calling him "Goober" after the character on the Andy Griffith Show who just could not keep his mouth shut even though he rarely knew what he was talking about.
But that's Alabama for you, where the state's history is rife with goofy governors, especially Republicans like Guy Hunt and Fob James.
This time, the mainstream Associated Press picked up Bentley's comments suggesting that Massachusetts Mormon Mitt Romney might want to release his tax records if he wants to be president as President Barack Obama has been saying regularly on the campaign trail of late. It was Saturday at the National Governors Association conference in Virginia, and a reporter just happened to spot Bentley and ask him whether he thought Romney should release his tax returns. The governor said yes – adding that he believes in transparency and releases his own tax returns every year.
"If you have things to hide, then maybe you're doing things wrong," Bentley reportedly said. "I think you ought to be willing to release everything to the American people."
After Democrats seized on his words and the comments began to be picked up on blogs, Facebook posts and Twitter Tweets, Bentley later stuck his foot even further into his mouth, saying he still believes Romney's taxes should be released and he believes in transparency, but his staff issued a statement insisting he wasn't implying that Romney had anything to hide.
"I believe my comments were taken out of context, they were not reported in their entirety, and I want to make sure the record is set straight," Governor Bentley said in this statement. "I believe in trasparency, and that was the basis for my answer. I personally choose to release my own returns each year, and there was no effort to imply that Mr. Romney has anything to hide.
"While I believe in total transparency, I also believe much of the rhetoric surrounding Mitt Romney's personal finances is nothing more than an attempt by Democrats to distract from the real issues of the presidential campaign," Bentley said. "The real issues are the economy, employment and getting America back on the right track. I fully support Mitt Romney and his vision for our country, and I will do everything I can to help get him elected."
Woops. Too late, and wrong.
Romney's record on the economy is not only fair game in the campaign, it is sort of critical for voters to know what kind of president he would be if elected. If his record as a business administrator are any indication, he will outsource jobs overseas, hide his personal wealth in overseas accounts, and then lie about it, according to the AP.
Bentley has his own political problems back home in Alabama. Perhaps he should stick to trying to set things right in his home state. He has made the state the butt of national and international jokes once again as a racist place for passing a discriminatory and draconian immigration law in a state where illegal immigrants are hardly a problem at all compared to California, Arizona and Texas.
He presides over a state in which all three branches of government are run by a rapid, right-wing Christian tea party that has damaged the very thing everyone seems to value most: the business recruitment climate. They have ruined public television and are hell bent on destroying the unions, just like the Republicans tried to do in Wisconsin. They are trying their best to run off school teachers and even turn the public schools into Christian schools.
They are going to join a few other so-called conservative states in defying the implementation of the Affordable Care Act, even though a conservative U.S. Supreme Court upheld the law.
All of this begs a few questions on this Sunday morning.
Are people still trying to secede from the rest of the country and the world by creating a safe little poor place for only uneducated, white Christian radicals to live?
Doesn't it sort of remind you of the Civil War all over again?
Why would any half-way intelligent person want to live and work in Alabama?
Perhaps it's time to make that move out West, my friends, or at least escape to the mountains of North Carolina or Virginia.
If some smart, progressive Democrats don't get it together and take back over this state — and soon — they will see a brain drain like nothing they have seen so far. Most of the kids from Alabama who manage to get out and get an education today don't come back anyway. They know there are better opportunities elsewhere where a higher percentage of the population can at least think for themselves.
While many talented and intelligent people have come from Alabama, it is becoming an almost unbearable intellectual wasteland of morons and dingbats, even on the political left. What is an educated person to do? Get out, that's what.
Home
|
Environment
|
How Much Heat Can We Take Before We Attack Global Warming?
How to Save the Planet and Fix the Economy Too


The Big Picture
Just how hot does it have to get before the people of the United States finally acknowledge that global warming is happening? When are we going to stop arguing about it and start doing something to at least slow it down from getting even hotter?
We have known about this for at least a couple of decades. The science was settled on this back in the 1990s when I wrote a doctoral dissertation about media coverage of global warming.
There is no doubt that humans are causing the warming of the planet with our insatiable demand for electric power from the burning of fossil fuels, which causes greenhouse gases to build up in the atmosphere and trap heat around the planet.
What will it take to convince the corporations that profit from electric power generated by the burning of coal, natural gas and oil? What will it take to convince the Republicans? What will it take to convince the Christians?
Once again this summer, temperatures have soared over the 100 mark in the United States and around the globe, setting more records, just as we have seen over the past 20 years. From Philadelphia and New York, to Louisville, Kentucky and Birmingham, Alabama and Sioux Falls, South Dakota, the heat baked the landscape like a plague.
At least 30 deaths were blamed on the heat, including nine in Maryland and 10 in Chicago, while officials said the heat caused highways to buckle in Illinois and Wisconsin. Thousands of mid-Atlantic residents remained without power for more than a week from deadly summer storms and extreme heat, including 120,000 in West Virginia and some 8,000 in the suburbs around Baltimore and Washington, D.C. In the Washington area, Pepco asked customers to conserve power, saying the heat was stressing the system.
This heat wave and an accompanying drought — and freak storms and massive power outages — will continue to spread over the next couple of months. But the Republicans in Congress and the states would rather try to defeat President Obama at the polls by lying to and exploiting their conservative constituencies than to tell people the truth.
Corporations like Southern Company, which controls Alabama Power and Georgia Power, would rather spend their money on campaign contributions to Republicans who oppose doing anything about global warming — or air pollution and water pollution for that matter — than to get onboard and try to help reverse the warming of the planet and the inevitable changes in climate.
As for the Christians, who tend to vote Republican, they just seem to figure that when the entire planet catches on fire, some god will snatch them out of the flames and save them and take them to another planet in the universe where they can live in what they call "heaven," while the rest of us burn.
I've often wondered if these Christians, like our not so esteemed governor of Alabama Robert Bentley, really believe there are separate planets in the universe reserved for the white Christians and the black Christians? Is there another planet set aside for the brown Christians and the yellow Christians?
Since scientists have not found a suitable new planet to house any of us yet — or a way to travel there — would it not behoove us to try to slow down the warming of the planet, the melting of solar ice caps and the rising seas until we might find such a place?
Or is god a space alien like the Mormons believe? Yeah, that's the ticket. Let's elect a Mormon for president and put off doing anything about global warming for another eight years and see what happens. Morons.
If the U.S. Supreme Court had not handed George W. Bush the presidency in the year 2000, we could be a long way down the road of doing something about this by now. But no, we just have to keep on having a silly argument that drags on for years and serves no purpose except to make a few people richer, while the rest of our lives just continue to get worse.
Now I know a lot of people on the left, including a lot of environmentalists, are no fans of President Obama. But if everybody does not get onboard and prevent the election of the Massachusetts Mormon Mitt Romney to the White House in November, we may see the world end as we know it in our lifetimes.
At least science and merit are back to some extent in the federal government, although we've got a long way to go to get rid of all the bureaucrats Dick Cheney hired. Maybe we can do that in a second Obama term.
Otherwise, we might as well fool ourselves like the Maya did by committing human sacrifices and polluting their own water supply. Oh, but we learned this week that the Maya calendar doesn't end on Dec. 21, 2012. Maybe it ends by the end of Romney's second term? Let's ask Nostradamus why don't we?
Or, perhaps it's time to stop fouling our own nest and to take responsibility for conserving this planet so there can be future generations.
If we would make up our minds to get on with a program to change this warming trend, it would not cost us jobs or hurt the economy. In fact, fixing the power plants we have and building new, cleaner ones would create millions of new high paying union jobs and save the economy.
And while we're are it, if we really wanted to fix the economy, there are two other things we could do right away — if we could find the political will. Get rid of the ridiculous Cold War trade restrictions on Cuba, and legalize marijuana. Trade with Cuba could save the Southern states from economic ruin, and the taxes we could collect on pot would immediately save us a billion dollars on law enforcement and eliminate the budget deficit overnight.
I've got it. Why don't we end the war on drugs and start a war on global warming? Would that help people understand?
We can do these things. But not if we cower to the corporations, listen to the Christians — or elect Republicans. We must first face reality in our politics.
Never fear, Southerner fans. The Southerner is not going away. We have moved again, to a bigger, badder server with a different hosting company. Stay tuned for updates soon from Alabama and Arkansas.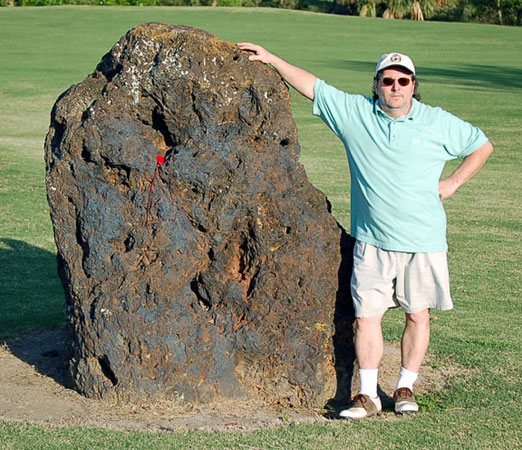 Glynn Wilson by the mythical "meterote" on Audubon Golf Course in New Orleans. It's really a chunk of iron ore from Alabama, most likely Birmingham's Red Mountain.
by Glynn Wilson
This may come as a surprise to some, but the so-called meteorite near the No. 8 green at Audubon Park is a chunk of iron ore from Alabama, most likely Birmingham's Red Mountain. It didn't drop in from space. It was dropped there by a fool public relations man, and sat there too heavy to move after the World's Industrial and Cotton Centennial Exposition ended in 1885.


Connecting the Dots
by Glynn Wilson
I almost lost my breakfast in my plate as I watched CNN's John King interview Dick Cheney on his "State of the Union" show this Sunday. It made me want to get rid of my television set, reinforcing an idea that seems to be growing among the American population.
As newspaper circulation continues in free fall and as we begin to acknowledge that broadcast news let us down as well as newspaper reporting over the past eight years, more and more I'm hearing people say they would rather have a high speed Internet connection than a cable TV package or a newspaper subscription any day.
I mean who gives a damn what Cheney has to say at this point? Is he the only guest King could get to assess the state of the nation? What a joke.
More and more young people are getting their view of the world from shows such as the Daily Show on Comedy Central, where this week Jon Daily took on Jim Cramer of CNBC for his failed coverage of the economic meltdown. This is a video series worth watching in case you missed it.
Jim Cramer in Daily Show Showdown
It's no wonder newspapers are dying. As their circulations fall and they lay off more news workers, they become even less interesting.
To read the full column, visit our sister site, The Locust Fork News-Journal.
Charles Darwin's On the Origin of Species Turns 150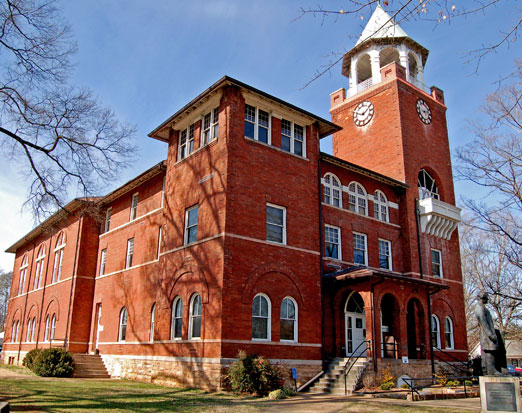 Glynn Wilson
The famous Rhea County Courthouse, where the infamous Scopes Monkey Trial took place
Under the Microscope
by Glynn Wilson
DAYTON, Tenn. — Forty-three years after the death of British naturalist Charles Darwin, whose 200th birthday is being celebrated far and wide this year, a few men were sitting around in a Rexall drug store across from the now famous courthouse in this rural Southern town talking politics, science and religion.
In contrast to most of the official accounts of how the so-called "trial of the century" and the "Scopes monkey trial" got started, this was the genesis for an idea for a trial to test the legality of teaching evolution versus creationism in the public schools: A conversation over Coca-Colas at a soda fountain counter. (There's no official indication whether whiskey was involved).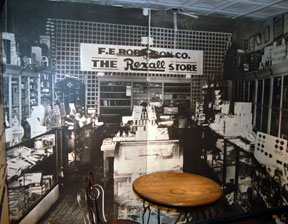 Glynn Wilson
A photograph of the drug store where the idea for the Scopes Trial was hatched
You won't even find this account on the Wikipedia page about the trial, although the evidence is presented in the museum in the basement of the courthouse, and knowledgeable locals know the story.
The way the word got out happened as it often does, with a leak to a newspaper reporter, in this case the old Chattanooga Times.
To read the whole column, visit our sister site, The Locust Fork News-Journal.
Evidence of Bush-Rove Crimes Hidden Away in Southern Town?
by Glynn Wilson
CHATTANOOGA, Tenn. — Hidden away in the basement of a bank building on Broad Street here, there is a bank of computer servers containing all the evidence Congress and the courts need to investigate and prosecute all the crimes of the Bush years. That includes the mysteriously missing e-mail messages sent by Karl Rove from his White House office through the Republican National Committee e-mail addresses from his special Blackberry reserved for political activities.
Ethics rules prohibit political campaigning from the White House, but since that was Rove's sole job as political adviser to President Bush, what was an operative to do if he wanted to insist that a U.S. attorney be fired for not towing the Bush administration line by prosecuting Democrats? Rove, who has now defied a Congressional subpoena three times — a criminal act unprecedented in American history — is known to have used that Blackberry paid for by the RNC to keep on top of all kinds of nefarious activities, including the political prosecution of former Alabama Governor Don Siegelman.
To read the full story and watch the video, go to our sister site, The Locust Fork News-Journal.


Under the Microscope
by Glynn Wilson
A couple of weeks ago, when not one single Republican took up our new President Barrack Obama's call for "bipartisanship" to vote for his stimulus package to aid the faltering economy — a measure backed by virtually every economist in the land as a needed step to avert a far worse economic collapse — a reader on an e-mail list asked: "Why is cable media spinning this as a failure for Obama?"
My answer?
"Because they are the corporate media," I wrote. "That's why we are building a replacement here at the Locust Fork News-Journal."
Obviously, more of an explanation is in order.
In one of his blog columns this week, Tommy Stevenson at The Tuscaloosa News picked up on a recent episode of the Bill Moyer's show on PBS, which Moyer's set up by asking: Is the old media sustaining the old politics?
Guests chosen for the show to discuss this issue were New York University journalism professor Jay Rosen, who later had this blog post on the subject under this statement: pundits and reporters as an establishment institution.
Also on the show was attorney and Salon.com columnist Glenn Greenwald, who also wrote more about it later in this post, summarized by this statement: The mentality of the Beltway journalist.
Before I get to the criticism, let me applaud all these commentators for getting a discussion going on these issues. It has been reported that the Moyers show got more comments than anything they have done to date.
This is just one demonstration of the public upheaval that has been building for several years against the establishment media in this country, sometimes referred to, and not as a compliment, as "the mainstream media."
The blogging revolution started in part as a place to vent this backlash against the press and the media, the TV punditry, mainly for not doing its job in the run up to the Iraq war or for holding the Bush administration accountable on all kinds of issues.
There is no doubt the establishment or corporate press as I call it was complicit in allowing the Bush administration to get away with murder, literally, as well as torture, warrantless domestic spying, and turning the justice department into just another political wing of the Bush White House's perpetual campaign operation.
With all due respect to Tommy Stevenson, Bill Moyers, Jay Rosen and Glenn Greenwald, none of them have ever chased major stories for the national desk of the New York Times. None of them have ever worked a major city bureau for a top 10 circulation newspaper like The Dallas Morning News out of New Orleans. None of them have ever had the experience of making democracy work like I did working for a chain of weeklies on the Gulf Coast, where for nearly four years in the late 1980s and early 1990s, thanks in part to my reporting, we won every environmental battle that came down the pike.
To read the full essay, go to our sister site, The Locust Fork News-Journal