Guest Column
by Tom Campbell
NEW YORK — Few people ever have a chance to be arms' length from greatness. As a lifelong fan of Alabama football, I feel lucky to know that I've been a witness to an event that will become a part of Alabama's fabled history.
To have had such an opportunity twice is remarkable. On both occasions, I tried to burn each detail into my memory because I knew the events before me were celebrating a legacy of pride and greatness.
Two celebrations of excellence of historic proportions for the storied University of Alabama football program will endure in my memory.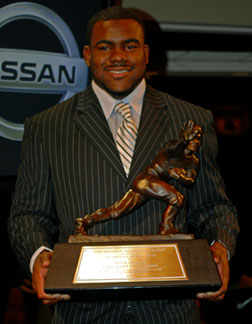 Tom Campbell
Mark Ingram will carry the Heisman experience for the rest of his life
Over 25 years ago, as my last official act as student body president at the University of Alabama, I attended the funeral of Coach Paul "Bear" Bryant. As sad as Bryant's funeral and grave site procession were, the Alabama family celebrated a man whose impact upon his players, coaches, university and fans proved immeasurable.
Economic times were hard then, and folks rallied around the prowess and class surrounding the football institution Coach Bryant built. During a time when people were losing a lot — jobs, bonuses, homes — Alabama football offered fans in the community something to be proud of and helped people feel like winners. Despite the celebratory remembrance of Bryant's life and career, this event nevertheless marked an end.
Now, decades later, in the midst of a terrible economic climate, I had the opportunity to observe another event crucial to the history of Alabama's football program as a special assignment reporter for the Locust Fork News Journal. However, this celebration, at the announcement of the 2009 Heisman Trophy winner, marked a new beginning rather than an end.
Before the announcement of the Heisman winner, the press was treated to a banquet dinner in Times Square. Surrounded by the five finalists, their esteemed coaches and a legion of legendary figures from football history, I felt like the room was filled with electricity and promise. Pluck and grit and winning attitudes really had made a difference in the lives of these young men and their proud coaches, and I was inspired to see the culmination of a football season filled with talent, drive and teamwork.
In each of the five young finalists, Tebow, Ingram, McCoy, Gearhardt and Suh, I saw student athletes brought to this level not only by their physical prowess but also by the humility and class that comes with winning character. Each finalist was being celebrated for personal greatness. Each young man was supremely self-confident. But to a man they exuded gratitude for their God-given talent and appreciation for the coaches, programs and teammates who allowed them to shine. None appeared to express an air of entitlement or arrogance.
Of particular interest to me personally, was of course Mark Ingram. The Flint, Michigan, native turned Alabama standout sat before me with poise and polish. This young man had a brilliant turnout in what may well be a National Championship season, and it was easy for me to forget that just a few miles east of Times Square, Ingram's father awaited transfer to prison — that Ingram achieved this accomplishment amidst personal turmoil and hardship.
Equally hard to believe was the fact that Ingram has achieved this honor as a sophomore. I wondered if he would follow Tim Tebow as the second Heisman winner to earn that distinction as a sophomore.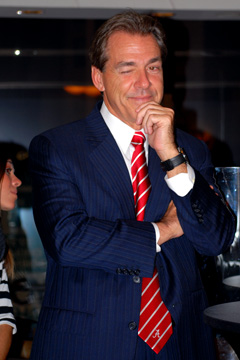 Tom Campbell
Alabama's Nick Saban winks as if he knows a secret after Ingram dodges a question about the Heisman Curse
Before the result was announced, the pride Coach Nick Saban exuded for his player proved infectious, and I found myself forgetting my journalistic objective for attending the Heisman banquet in the first place as I hoped to hear those two words revealed, "Mark Ingram."
Would this be one more mark of greatness for the University of Alabama football program? Would Ingram prove himself a formidable opponent on the national stage? Would Saban continue to create his own legacy at Bama, marked as much by the quality of the character of his players as their domination on the football field? Would their affiliation with the University of Alabama continue to be a rallying point of pride and celebration for fans in a time of financial difficulty for many in our state?
And the answer was yes.
Mark Ingram was awarded the Heisman — a storybook beginning for what surely will prove to be a heralded football career.
And I was fortunate enough to witness another legendary chapter in the story of the Alabama football program.
Roll Tide!