Defenders of Honor Stand Guard for Fallen Pine Bluff Soldier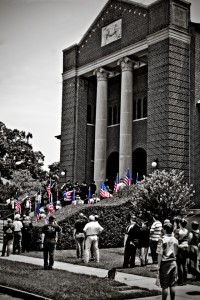 MONTICELLO, Ark. — As promised, a flashback to last weekend when a group of Arkansans mobilized in Pine Bluff, Ark.,  to defend the honor of a U.S. soldier whose funeral was targeted by the Westboro Baptist Church. Thanks to Aaron Etue of Flip Out Photography, we can show you the scene.
First a little background in case you didn't read the first post. Vilonia High School math teacher John Allison, a former Marine and friend, organized folks through a facebook public event to fight the hate of WBC with love toward the family.
Within 36 hours, 126 people pledged to attend and stand up for the honor of fallen Arkansas soldier, Army Sgt. Michael J. Strachota. Allison estimated more than 200 people (including the Patriot Guard riders) showed in support of Sgt. Strachota and his family.
"It was an awesome sight," Allison said in a facebook email exchange. "That many people, most of whom didn't know the Strachotas at all, standing in the hot sun to honor him and his family. Several elderly people stood on the flag line until they almost collapsed, but each time another person quickly came to their aid and another took their place in line."
Rumors placed WBC protestors at the White Hall Huddle House — a call to boycott the business received lukewarm response on the facebook page — but Allison only knew of three who protested at 6th and Main, down the street from the memorial service. The heat also forced some people to stay home though they'd pledged to come. Allison said the crowd thinned once the mass began.
Etue shot these photographs for posterity, but luckily he is willing to share here. Click on the photo to see the full-sized image.