About Ronald Sitton
View all posts by Ronald Sitton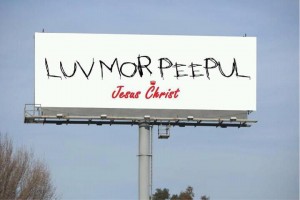 What kind of seeds are you sowing, America? How proud you must be.
Perhaps you didn't see the Southern Poverty Law Center's info about anti-Gay groups and their propaganda a few years back.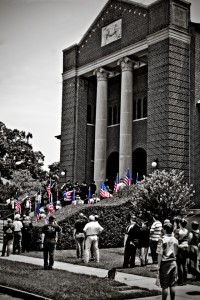 MONTICELLO, Ark. — As promised, a flashback to last weekend when a group of Arkansans mobilized in Pine Bluff, Ark.,  to defend the honor of a U.S. soldier whose funeral was targeted by the Westboro Baptist Church. Thanks to Aaron Etue of Flip Out Photography, we can show you the scene.
First a little background in case you didn't read the first post. Vilonia High School math teacher John Allison, a former Marine and friend, organized folks through a facebook public event to fight the hate of WBC with love toward the family.
Within 36 hours, 126 people pledged to attend and stand up for the honor of fallen Arkansas soldier, Army Sgt. Michael J. Strachota. Allison estimated more than 200 people (including the Patriot Guard riders) showed in support of Sgt. Strachota and his family.
"It was an awesome sight," Allison said in a facebook email exchange. "That many people, most of whom didn't know the Strachotas at all, standing in the hot sun to honor him and his family. Several elderly people stood on the flag line until they almost collapsed, but each time another person quickly came to their aid and another took their place in line."
Rumors placed WBC protestors at the White Hall Huddle House — a call to boycott the business received lukewarm response on the facebook page — but Allison only knew of three who protested at 6th and Main, down the street from the memorial service. The heat also forced some people to stay home though they'd pledged to come. Allison said the crowd thinned once the mass began.
Etue shot these photographs for posterity, but luckily he is willing to share here. Click on the photo to see the full-sized image.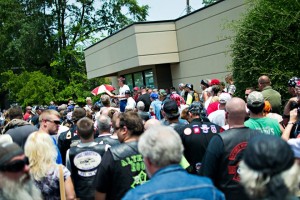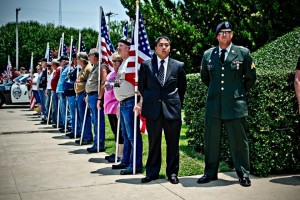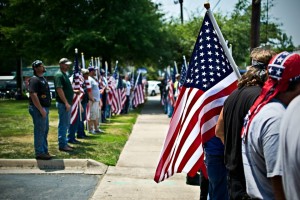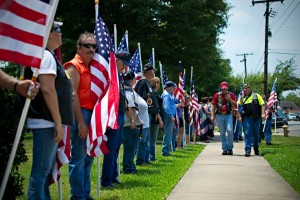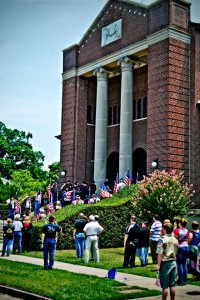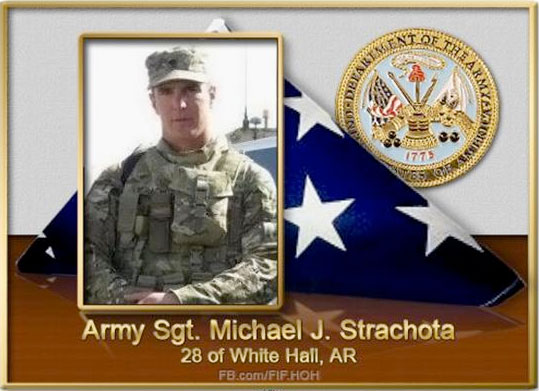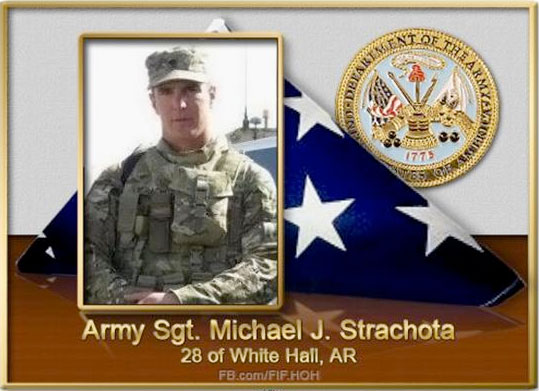 An Arkansas high school teacher's facebook page to "Preserve the Honor of Fallen Pine Bluff Soldier" plans to buffer funeral participants from a Westboro Baptist Church protest Saturday afternoon at Pine Bluff's St. Joseph Catholic Church.
John Allison, a 44-year-old former Marine who teaches math at Vilonia High School, started the page Friday afternoon; by midnight, 62 of the more than 1,800 invitees confirmed they would attend with an additional 31 maybes. (UPDATE: Those attending topped 100 by 10:30 CST this morning.)
The stated goal of attendees is to keep the Westboro Baptist Church of Topeka, Kan., from disrupting the memorial service for fallen Arkansas soldier, Sgt. Michael J. Strachota of the U.S. Army. Strachota died June 24 in Afghanistan, a week and a half prior to a scheduled home leave on July 5.
"Please join us to peaceably make certain these disrespectful hatemongers are far enough removed they cannot disrupt the service or upset the family and friends," Allison writes. "Help us prevent this so-called church from dishonoring this man's honorable service and sacrifice."
A press release indicates WBC will preach "in respectful, lawful proximity" that God kills American soldiers as punishment for sin. The flier uses incendiary language about military personnel, including the phrase, "Thank God for IEDs."
In stark contrast, Allison provided five ground rules for those providing a "shield":
"1. This will be a peaceful undertaking. We are certainly not here to cause a scene that will cause more of a disturbance than WBC. Our goal is not to shout, scream, or strike those gathered with WBC.
"2. Do not bring weapons of any kind: no guns, knives, mace, pepper spray, or anything else you might be tempted to use as a weapon.
"3. Our goal is to get enough people together to shield those attending the memorial service from the WBC protesters.
"4. Flags, crosses, crucifixes, other symbols of patriotism and religion are welcome. If you wish to make signs, they should have only positive messages honoring the courage and sacrifice, nothing derogatory or demeaning toward any person or group. Remember, we are there to help honor Sgt. Strachota, not to protest or make a political statement.
"5. We have now learned the Patriot Guard will be at the service also. They do this all the time at military funerals across the country so we will fall in with them and follow their lead."
According to the Patriot Guard Riders' website, the motorcycle enthusiasts "standing for those who stood for us" will also be in attendance. The group warns participants to hydrate; the Weather Channel predicts it will be 95-96 degrees by the 1 p.m. start, though the 46 percent humidity will make it feel like 104.
(EDITOR's NOTE: Allison and the reporter attended Northeast High School in the late '80s.)

Editor's Note: See also:
Ron Howard: What I Learned from Andy Griffith in the Los Angeles Times
Ron Howard says co-star Andy Griffith was a leader, a mentor and coach in the New York Daily News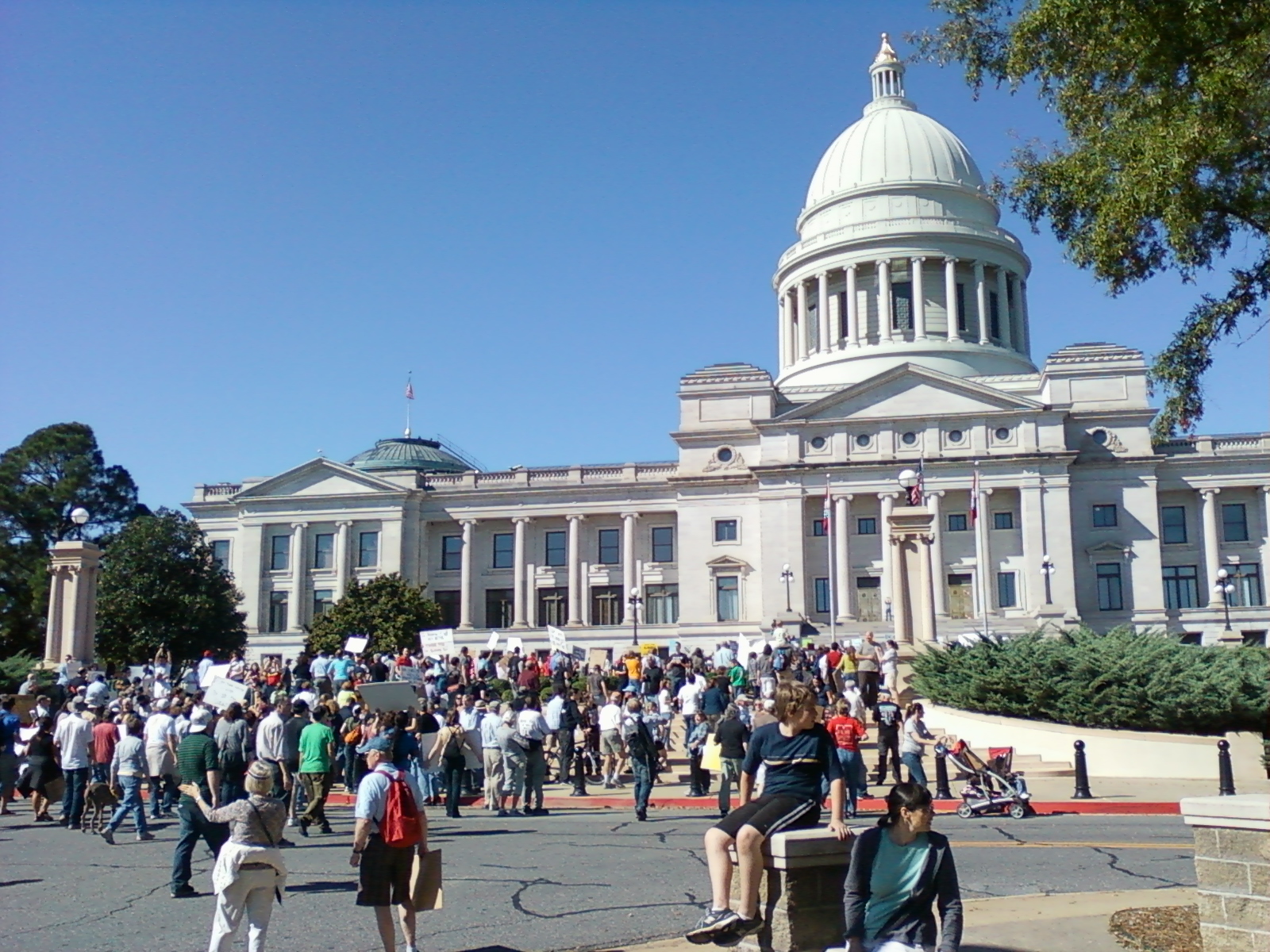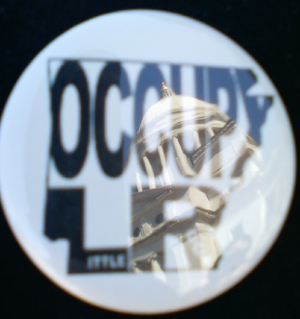 Movement the First: To Protest or Not
It started with a spark.
A Canadian spark no less, when the Adbusters Media Foundation came up with an idea to Occupy Wall Street. That spark started the occupation in Liberty Plaza Park Sept. 17, America's Constitution Day.
At first, few paid attention. But the movement gathered steam and the spark spread to cities across the country and then around the world.
During the time of year normally reserved for the state fair, the spark made it to the Natural State.
***
I stayed up too late Friday night with one of my best friends. He would leave Saturday morning for three weeks of drill with the Arkansas National Guard, which has orders to be ready to go to Afghanistan at a moment's notice … they just don't know when they're going. He's already been to Iraq twice and would just as soon not see the site of America's longest war.
I'd told him I'd planned to go to the march, to which he retorted, "As a participant or to cover it?" I hadn't actually decided yet. So he asked me what was the goal, since he'd heard it was just a bunch of rich kids camping out in New York. Why weren't they in D.C. instead, if they wanted to fix something with the government?
As I explained, it's not the government. When 9/11 happened, where did they aim first? At corporate America. That was a terrorist act; this seemed to be something more.
We spent the evening debating whether a protest would actually work. I suggested if I marched in protest, my personal reasons would be to end the Federal Reserve and to get the military out of Afghanistan. Needless to say, we kept it up long after we needed to go to bed.
As I lay down and set my alarm, I noticed it was nearly 2 a.m.  That 9 a.m. start would come early.
The Southern Food & Beverage Museum declared Sunday, Oct. 11 to be the first Southern Food Heritage Day. (Luckily, I started early by eating fried Oreos from the Arkansas State Fair.) If you don't have any idea what to make to celebrate this day, don't worry, we've got you covered with our Southern Compendium entry. Granted, some of the links are toast … but that's probably keeping some of us healthy! Seriously, I'll try to update it with some healthy food choices added.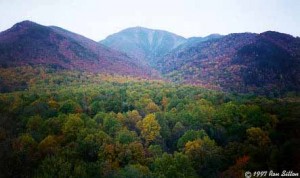 MONTICELLO, Ark. — All apologies for the lack of posts in September. But as promised, a cross-post from my personal blog when it relates to the South.
For those wondering, this week's celebrating the U.S. National Parks and Ken Burns' documentary showing on PBS. After staying West for most of the week, it's time to turn attention to the Eastern United States.
The Great Smoky Mountains hold a special place in my heart for many reasons, some of which I will describe. I first remember visiting the Smokies at the age of 5, about the time my parents were going through a divorce. Mama and Papa took me on a tour of the Southeast in hopes of getting my mind off the events at home. For the most part, it did.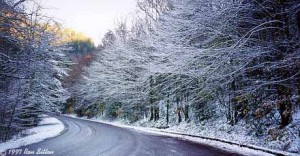 It's amazing that 35 years later, I still remember some of the things I saw, e.g. I remember seeing people outside of their cars trying to get pictures of the black bears. Granted, some of this memory has been muddled as Tanya told me about her dad trying to take a picture of a black bear and getting closer and closer until he realized he was way, way TOO close.
Much clearer, I remember coming into the North Carolina side of the Smokies. A caged bear amused tourists by drinking soda pop from a bottle. I'll never forget how sad it seemed to see such a magnificent animal behind bars when I'd just seen other bears in the "wild."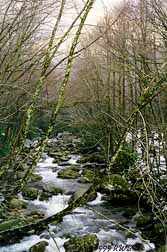 I also remember meeting Chief Fish (at least that's what he told me his name was) and getting a picture. When I returned to the area a quarter of a century later, I asked about Chief Fish and was told that he had moved away to start a road-paving business. I don't hold that against him, but I wonder if he got tired of being a curiosity. I know I will never forget him.
I moved to Eastern Tennessee in the late 1990s to work on my doctorate at the University of Tennessee. While there, I took a bunch of trips to the Great Smoky Mountains to clear my mind. It was a special haven, especially after one of the most severe break-ups I encountered in my lifetime. I don't recommend having personal angst as a reason to see it, but the beauty puts things into perspective.
I turned the camera eye on the Smokies to provide pictures for Scenic Vistas, a special feature in The Southerner online magazine that we started while I was in graduate school. The picture at the bottom of this post and the river picture to the left both came from that period.
One of the best places in the Smokies must be Cades Cove, a nice circular drive that takes you past some of the original settlers' outposts and pastoral scenes, including this one of deer in the field.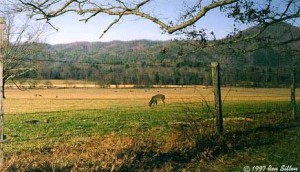 One of the funniest things about the Great Smoky Mountains that I heard actually came from a conversation with a North Carolina resident while I was visiting Boone. She noted the "Flor-idiots" would come up to see the scenery and stop in the middle of the roads, causing traffic jams (at the very least) and occasionally being a health hazard to those not smart enough to get out of the road.
But really, who can blame them when you see sights such as this (below)? Once again, I plan to add a section to my home page of photos from across the nation … but that takes time and right now, time is taken. Soon? I hope. Until then, hope you enjoy what's shown here, but better yet, get out and see it for yourself. It makes me proud that our government set land aside for future generations to enjoy without having to be wealthy individuals. Truly, it's one of the best things our government has ever done.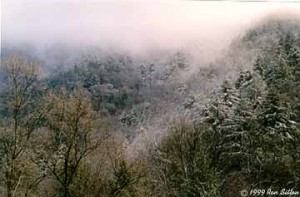 NOTE: Updated 22 Feb 13 to fix broken links.
Breathing good, I'm in the yard workin' but I saw this and though I should pass it on; yes, folks, the following is a press release but ya know …
-rws
*******

Buy tickets now for the 2009 Eureka Springs Blues Weekend at www.EurekaSpringsBlues.org! This year's Blues Weekend will be on May 28, 29, 30 & 31, and features a lineup that Blues Festival Guide describes as "a who's who of the blues".

Presented by the 1905 Basin Park Hotel, the 2009 Eureka Springs Blues Weekend will feature Guitar Shorty, Hubert Sumlin & the Buddy Flett Band and Joe Louis Walker headlining evening shows in The Auditorium May 28, 29 & 30 respectively. For acoustic guitar lovers, we have Delta Blues legend David "Honeyboy" Edwards headlining a special "Acoustic Afternoon at The Auditorium" with EG Kight and Mary Flower on Saturday, May 30th. Shows will also be held throughout the weekend in the 1905 Basin Park Hotel's Barefoot Ballroom and Ozark Room, Basin Spring Park and at various venues around Eureka Springs.
This year's Blues Weekend will be a fund-raiser for The Blues Foundation's Handy Artist Relief Trust and Turpentine Creek Wildlife Refuge. The HART Fund provides assistance to musicians in need, including acute, chronic & preventive medical & dental care, as well as funeral expenses. For more information, please visit www.Blues.org.
Turpentine Creek Wildlife Refuge is located seven miles south of Eureka Springs on Highway 23. It provides lifetime refuge to abandoned, abused, and neglected "Big Cats", with emphasis on tigers, lions, leopards, and cougars. Natural habitats have been built over the past decade to allow the "Lions, Tigers & Bears" to live in more natural surroundings. For more information, please visit www.TurpentineCreek.org.
During last year's Eureka Springs Blues Weekend, a pair of cubs were born at Turpentine Creek, one of which, "BB King," is sponsored by long time supporters of the refuge and producers of Blues Weekend, Lori and Charles "Rags" Ragsdell. Also, Candye Kane could not perform during last year's Blues Weekend due to illness, and The HART Fund helped pay her medical bills. These two events helped "seal the deal", and Blues Weekend became one of the few blues festivals in America that dedicates 100 percent of all profits to charity.
Other headliners appearing in The Auditorium and the 1905 Basin Park Hotel Barefoot Ballroom and Ozark Room include EG Kight, Moreland & Arbuckle, Candye Kane, Mary Flower, RJ Mischo, Lee McBee & the Confessors, Deanna Bogart and John Nemeth. Also, one-man band King Clarentz, International Blues Challenge winner JP Soars & the Red Hots and Ozarks Blues Society Blues Challenge winners Oreo Blue and Kory Montgomery & Isayah Warford will be opening acts.