About Ronald Sitton
View all posts by Ronald Sitton
We've steadily ceded our freedom as we age; people are more worried about their new hand-held devil's box.
I'm trying not to believe we don't know any other way than to fight and line the pockets of those who make money from war … but the numbers suggest we know little else. If we don't have an enemy, we make one up just to keep peace at bay.
I don't agree with the suggestion that the US is the No. 1 enemy to peace, but if we need an enemy and cannot find one, the freedoms of the populace become a convenient target. If focused on the boogeyman, it sure seems a lot easier to take away those freedoms bit by bit so as we don't even realize until they're gone.
But it cannot be obvious … we can surely find a foe. Still, how many more homeless veterans do we need? How many more innocents shall we kill with drones (90% – j/s) to drive families to despair and refresh the ranks of our next enemy?
Instead, it's easier to return to perspective by the second. One can almost numb the reality by watching the lives tick by like sand. Not as depressing … novocaine for the brain.
We'll always have those willing to send others to die to preserve the freedoms they never planned to share in the first place. History, i.e. his story a.k.a. the story framed by the 'winner' so it doesn't seem as callous and conniving.
The annual Gallup-Healthways Well-Being Index ranks eight Southern states among the bottom 10, with West Virginians taking 50th for the fourth year in a row.
West Virginians were the least likely to be thriving, as was the case in 2011. Also, West Virginians had the worst emotional health in the nation and were more likely to report being diagnosed with depression than residents of any other state.

Residents in West Virginia also had the lowest score on the Physical Health Index, which includes having the highest percentage of obese residents in the nation.
I suggest getting off your arse and seeing Southern beauty to break those blues. You could go someplace like Abrams Falls if you're in Tennessee. Or you could find someplace closer to home.
As I finish my time in Southeast Arkansas, I plan to knock out my bucket list. Check back to see you can find beauty all over our country, but especially in the South. If you're sad or unhealthy, folks, you just ain't trying.
MONTICELLO — In hopes of limiting facebook political rants, I'm blogging for those wishing to consider and discuss.
We just thought it was ugly so far.
***
Prior to Labor Day weekend, I plan to vote for Gary Johnson, the Libertarian candidate. In a nutshell, here's why:
If you want to keep the wars, vote Democlican or Republicrat.
If you want to keep the drug war, vote Democlican or Republicrat.
If you want to remain a slave to the Federal Reserve, vote Democlican or Republicrat.
If you think it's insanity to continue things more-or-less the way they've been while expecting change — well, you know what I think. Just remember: when civil liberties disappear, it's impossible to correct government.
(Note: I plagiarized myself by writing the previous bit here, posting it to facebook, then deciding to repost it here yet again.)Read more: Why a Libertarian Vote Matters
MONTICELLO — If you haven't noticed, this blog represents a labor of love about a region we've inhabited the majority of our lives.
Sure, you see blog ads on the side and we may get pennies on the dollar if you click through them. You can contribute directly through PayPal, which makes the best way to support investigative journalism.
But what if you don't have any money to spare? So what can you do to help, patient reader?
You'll notice the "Around the South" section features someone reading a newspaper. We show this as a tribute to all of those years folks got their "facts" from trusted newsprint. Some still do, though many are going digital.
If you'd like to appear in The Southerner Journal on your birthday, send us a picture of you reading a newspaper. Better yet, make a pic of you next to a computer screen, iPad or cellphone with The Southerner Journal. Send the photo, your name and birth date to sitron45 at gmail dot com (making sure to write it like an email address) with the subject heading: Southerner Read.
We'll do our best to use your picture on your birthday if it arrives in time. Just another way of saying THANKS! for continuing to come back for an Independent take on the South in the 21st century.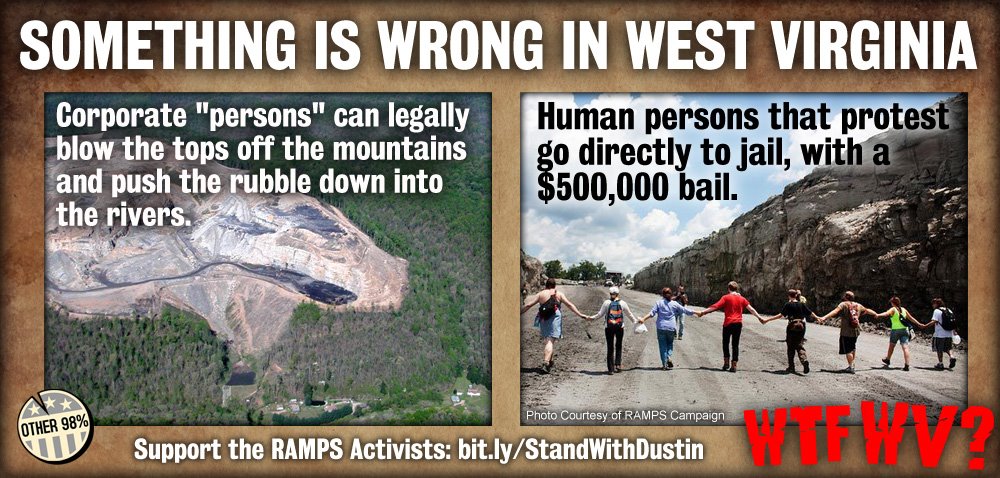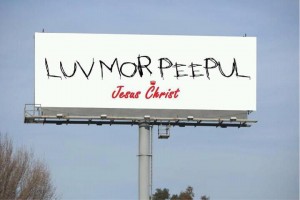 What kind of seeds are you sowing, America? How proud you must be.
Perhaps you didn't see the Southern Poverty Law Center's info about anti-Gay groups and their propaganda a few years back.
Lottery sales keep breaking records this summer: Arkansas, Florida, Georgia, Louisiana, Maryland, Missouri, North Carolina and Tennessee.
Some states essentially made the lottery into an education lifeline, but not all of the money goes to education as shown in this South Carolina example. Missouri budgeted for an increase that did not occur. Ohio educators claim education does not receive the money it deserves. With that much money, is it any wonder crime occurs?
What do you think?
Feel free to comment.
Click the above link for info on the quiz to determine which U.S. Presidential candidate most aligns with your views.
Are you among those wishing to break America's duopoly in national politics?
Do you know if your candidate actually shares your views?
In 2012, don't vote the party line; vote for the candidate who represents you. Find out through this quiz!
Made by self-proclaimed unaffiliated political enthusiasts, the quiz allows you to expand responses and assign importance to answers.
Once you finish, check each candidate's support across the nation, or view how each state leans from those who've participated. As of Wednesday, July 18, Gary Johnson seems most attuned to Southern voters while Maryland supports Obama and Alabama supports Romney.
Alabama – Arkansas – Florida – Georgia – Kentucky – Louisiana – Maryland – Mississippi – Missouri – North Carolina – South Carolina – Tennessee – Virginia – West Virginia
Home
|
Arkansawyer
|
Defenders of Honor Stand Guard for Fallen Pine Bluff Soldier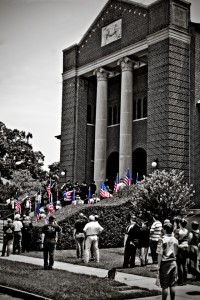 MONTICELLO, Ark. — As promised, a flashback to last weekend when a group of Arkansans mobilized in Pine Bluff, Ark.,  to defend the honor of a U.S. soldier whose funeral was targeted by the Westboro Baptist Church. Thanks to Aaron Etue of Flip Out Photography, we can show you the scene.
First a little background in case you didn't read the first post. Vilonia High School math teacher John Allison, a former Marine and friend, organized folks through a facebook public event to fight the hate of WBC with love toward the family.
Within 36 hours, 126 people pledged to attend and stand up for the honor of fallen Arkansas soldier, Army Sgt. Michael J. Strachota. Allison estimated more than 200 people (including the Patriot Guard riders) showed in support of Sgt. Strachota and his family.
"It was an awesome sight," Allison said in a facebook email exchange. "That many people, most of whom didn't know the Strachotas at all, standing in the hot sun to honor him and his family. Several elderly people stood on the flag line until they almost collapsed, but each time another person quickly came to their aid and another took their place in line."
Rumors placed WBC protestors at the White Hall Huddle House — a call to boycott the business received lukewarm response on the facebook page — but Allison only knew of three who protested at 6th and Main, down the street from the memorial service. The heat also forced some people to stay home though they'd pledged to come. Allison said the crowd thinned once the mass began.
Etue shot these photographs for posterity, but luckily he is willing to share here. Click on the photo to see the full-sized image.