About Ronald Sitton
View all posts by Ronald Sitton
MONTICELLO, Ark. — I watched President Barack Obama's inauguration between classes today with pride and sore bones. Let me explain.
For the first time since I've started teaching, I can legitimately tell anyone that they can do anything they set out to accomplish regardless of race, creed or religion. That's priceless. But so is the fact that we now have a president who walks the walk as well as talks the talk. President Obama showed his colors by not only asking people to participate in a day of service to honor Rev. Dr. Martin Luther King Jr.'s birthday; he also took part by helping at a homeless center.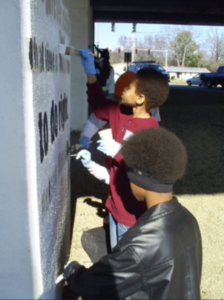 That's where my sore bones enter. I started yesterday's day of service by going to the Clinton Presidential Library to see City Year Heroes Opening Day, where 70 middle school students committed to working 100 hours of community service over the next five months. Keynote speaker C.J. Duvall, senior pastor at Theressa Hoover United Methodist Church, told the young participants that their service would inspire even more people to serve. North Little Rock Alderman Maurice Taylor then led the students in the Young Heroes Pledge, which concluded with a promise:
"I am a young hero and I will make a difference."
Just like their new president, they honored that promise. Read more: Service with a Smile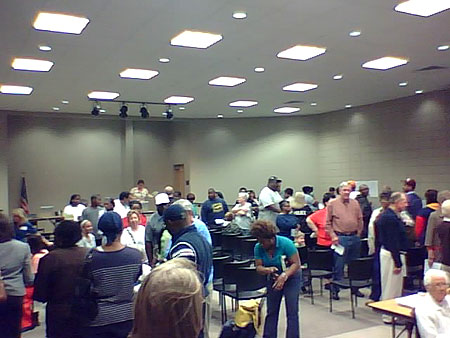 NORTH LITTLE ROCK, Ark. — Moms carried small children on their hips while the pre-teens looked around in disgust. Elderly women moved ahead to sit down while their husbands kept their place in line. Younger men and women spoke in hushed tones. Though crowded, nobody wanted to leave and miss their chance.
Early Christmas shopping? Nope; the line that stretched around the inside lobby of Laman Library held hundreds of citizens taking the opportunity to vote early as Arkansas' polls opened Monday, Oct. 20.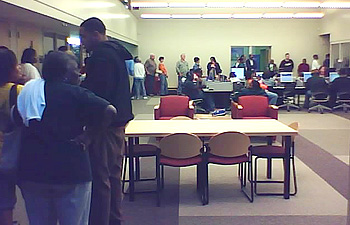 I arrived around 11:10 a.m. after purchasing $2.23 gas at the Indian Hills Kroger on John F. Kennedy Boulevard. I thought the gas line was long, but I wasn't prepared for the line to vote. The last time I practiced early voting, it was an in-and-out affair as very few people took advantage.
That's not the case this year. Luckily, I kept speaking with a corrections' officer through the wait, passing the time and being continually amazed at the numbers of people who kept pouring in the doors. I'm sure he said something about the turnout first, maybe along the lines of "This just shows people want a change." I just remember saying it did my heart good to see so many people wanting to exercise their Constitutional right.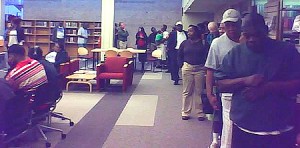 We discussed the issues while moving inch-by-inch, around the outside wall while trying not to disturb the library patrons working on the computers but having no choice but to glance at their computer screens as we moseyed by. A middle-aged woman tried breaking in line. No one said anything to her, but she must have gotten hot under the collar as the stares could've sent knives into her back; she finally moved to the end of the line, all the way back across the lobby.
As 11:15 stretched to 12:20 and we'd made it but halfway around the lobby, I decided it'd be a good idea to call work and let them know I might be late. "It shouldn't take too long. Now that I'm here, I want to make sure I vote," I told Amy Meeks, the secretary of Arts & Humanities at the University of Arkansas at Monticello. She replied that it was not a problem and she'd let the dean know.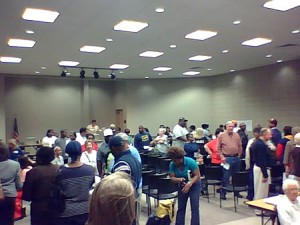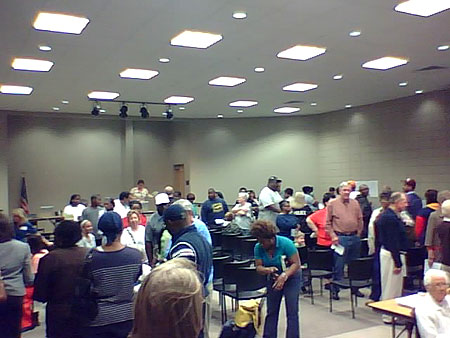 It takes roughly an hour-and-a-half to two hours for the 100-mile drive between North Little Rock and Monticello. I knew I'd be pushing it, but I'd already stood in line this long. Usually, I am not the type to wait in line at a grocery store; I'll leave the buggy and come back later. The only similar-type lines I've ever found worth the wait were for student tickets to the University of Tennessee-University of Arkansas football game in 1998 and for student refund checks while an undergraduate at the University of Arkansas at Little Rock. But to vote? I feel this election undoubtedly deserves the same rapt attention as refund checks and football tickets.Read more: Early Voters Unfazed by Long Lines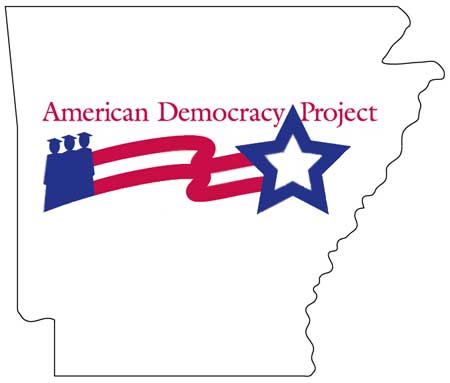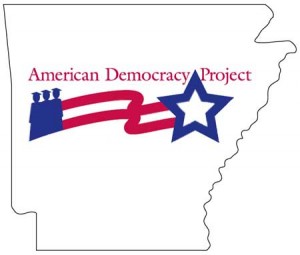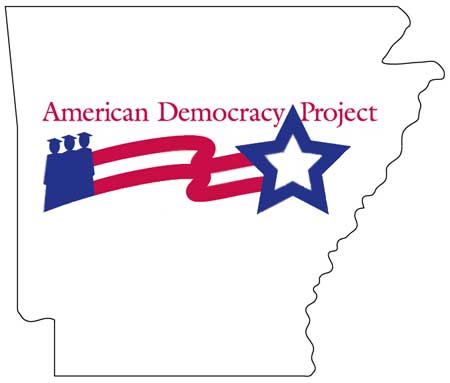 UAM PRESENTS 2008 ELECTION ISSUES FORUM
MONTICELLO, Ark. – You've heard the candidates, now it's time to also consider the issues.
Attend the 2008 Election Issues Forum at the University of Arkansas at Monticello in the University Center Green Room on Tueday, Oct. 21 at 7 p.m.
Brought to you in part by the UAM American Democracy Project, the UAM Journalism Club, and the UAM Speech and Debate Program, this event promises to educate the public about ballot initiatives prior to the Nov. 4 election.
Supporters and opponents of the ballot issues facing Arkansas voters will speak about the proposed State Lottery, Unmarried Couples Adoption Ban, Water Bond Act and more. Confirmed interest groups sending representatives include the Family Council of Arkansas, Hope for Arkansas and Arkansas Families First.
Audience members in this Town Hall-style forum will submit questions for the candidates to answer following the discussion of each issue.
Columnist John Brummett makes a good case why we should be grateful for Lu Hardin, especially since he threw a lifeline to The Oxford American.
For those of you blissfully unaware, the savior of Golden Eagles' football faces a dilemma of whether to return to the Land of Cheese and pacify both his flock and his folly.
Brett Favre, known in these parts first for taking little ol' Southern Miss to its first 10-win season in over 35 years, went on to do a few things in that professional league too. Folks up there practically built shrines for the guy who made the Pack relevant again.
Now it seems Mr. Wrangler might want to play (though he denied it) and doesn't really care if it's for a new set of worshipers or the old (after all, those Greek gods did all right switchin' to the Romans, didn't they?). And all the talking heads are in a twitch.
Well Brett, I'm here to tell ya don't do it son. Read more: bReAk ThE cUrSe!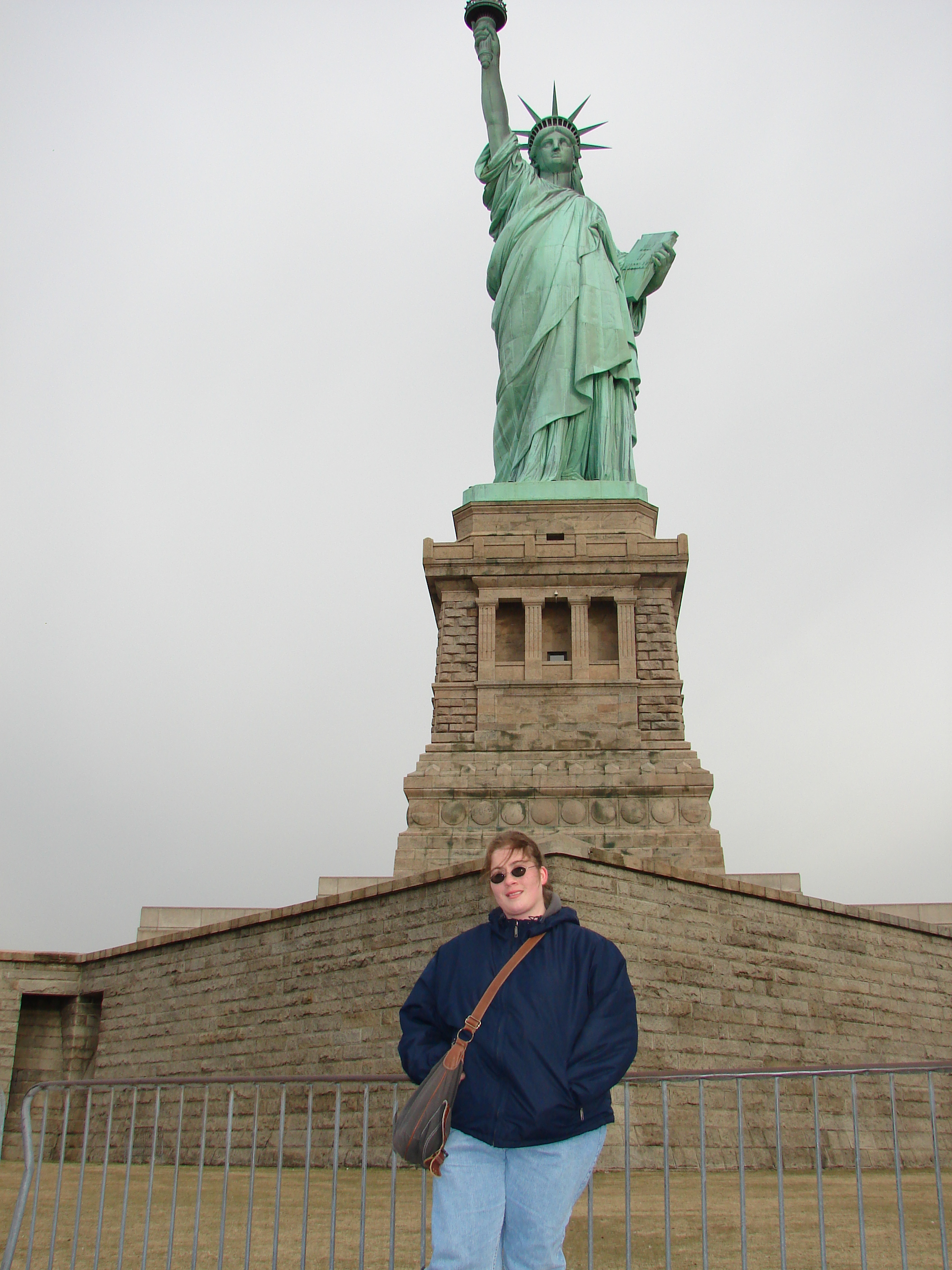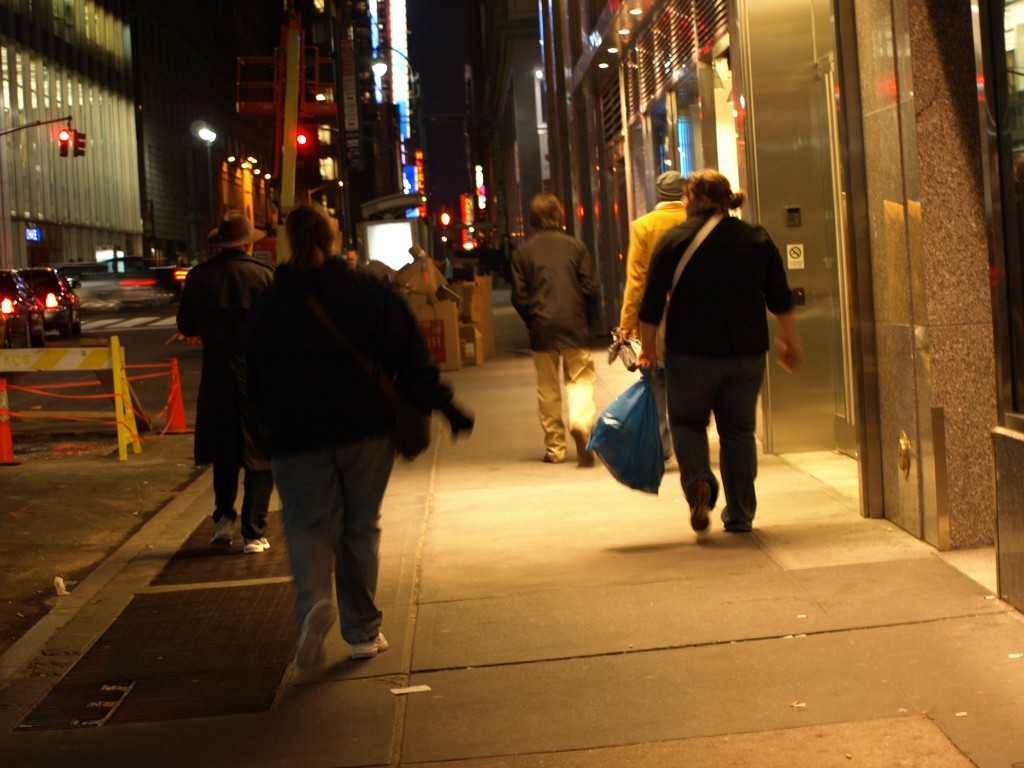 Photo by Latoya Shelton
Walkin' — A contingent from the University of Arkansas at Monticello walks in The Big Apple over Spring Break.
** Editor's Note: Through the generosity of an unidentified donor and the New York Times' American Democracy Project, five students from the University of Arkansas at Monticello made a trip to New York City for Media Pro Workshops and the College Media Adviser's annual spring conference. Four of the five had never ventured north of Missouri; one had never flown. Here's her story for your late Spring reading.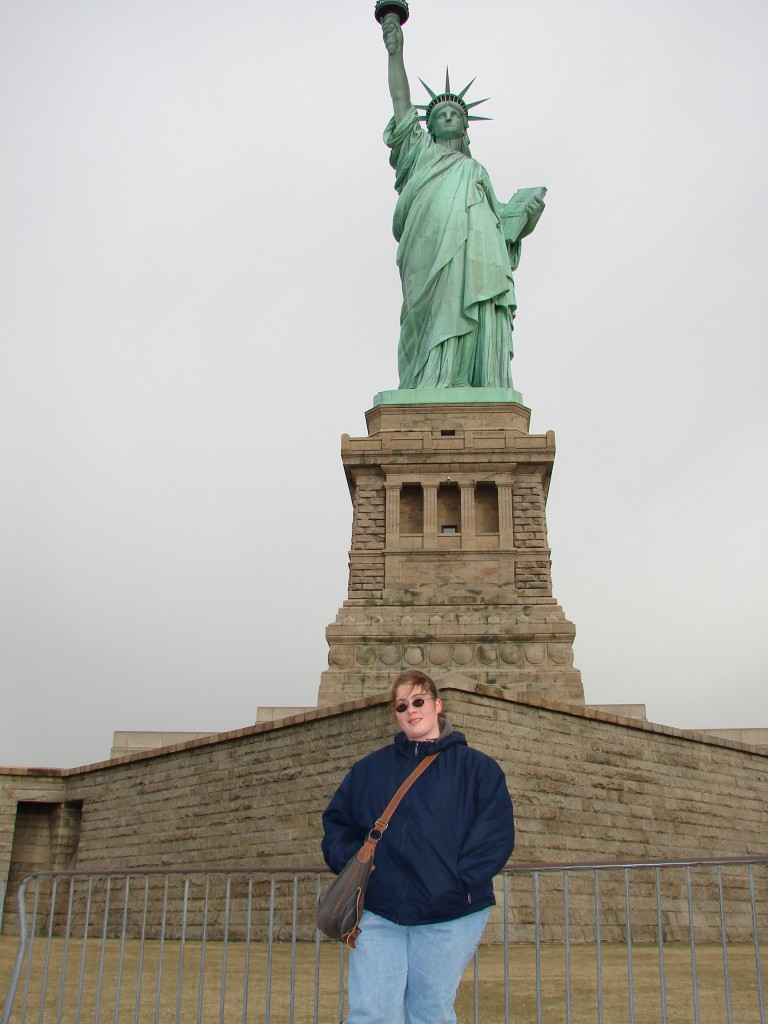 Photo by Ron Sitton
Lady Liberty — Linna Jones poses in front of the Statue of Liberty. Her trip marked many firsts in her life.
By Linna Jones
Many thoughts ran through my head, while packing for what would be the first plane ride of my life. I took this first flight to New York City and the upper part of the East Coast. I took my first trip to the airport as the passenger and a first of many new experiences. I feared the airline would lose my luggage or I might get motion sickness as I sometime do when traveling by car. I didn't know what to expect. I didn't know how I would react to the plane and I didn't know what world was behind those nylon dividers at the top of the stairs, where people checked their ticket to go through to board at the Little Rock National Airport. I watched people going into the nylon maze before, but I never passed that point. I knew everything would be a surprise.
Before the Airport
I started packing in the afternoon of March 11 for the trip; I selected my clothing carefully knowing I might meet many people in the world of journalism.
In the big black rolling nylon suitcase on the floor, I placed the sorted clothing items into the bag starting with my slacks and blue jeans. They filled a narrow rectangular section of the bag, with empty space in the shape of an L around them. Next, I placed my shirts in the L folded neatly as possible to fill the empty space. I folded my black-hooded fleece sweater and placed it in the left corner of the suitcase where the lid opened to expose the inside space.
I then packed my white New Balances wrapped in a Wal-Mart sack to keep them from getting dirt all over the clothes. I placed my toiletries or anything else that would cause a mess if the contents leaked in gallon freezer bags. As always, I packed two Ace bandages just in case I twisted my ankles. In another Wal-Mart sack, I placed three books; two for my literary journalism class and one just to read, if I wanted to.
After I packed all that I thought I needed, I still had a little room in the suitcase so I put a pillow in there, too. I heard that items in suitcases may be displaced during travel and handling, so I shook it to see what would happen inside the suitcase. The contents shifted out of place without the pillow. The pillow steadied the contents and filled-up the empty space.
Just in case, I packed a carry-on with a change of clothes, a pair of shoes I could walk in, a scarf and hat (in case it was cold when we arrived) and my homework that needed to be done.
The next morning, I checked out of my dorm room and went to weigh my suitcase. I parked my car behind the Baptist Collegiate Ministry building on the day of the Wellness Fair. Vehicles packed the parking lot of the John F. Gibson University Center. Jeff Peebles, a Public Safety officer, pulled up by that time in his squad car; he guessed the weight of my suitcase, after picking it up, to be 38 pounds. Peebles overestimated the weight by three pounds; it weighed 35.
I returned to find my Buick Roadmaster blocked in by another car and I tried every possible way to get it out. Eventually Beth Dillard, a resident in my dorm, offered to move the red truck on the right side of the car. I feared I would hit the car behind me by not having help in backing up. Another member of the BCM walked up and he backed it up for me while I watched how close he got to the car. Finally, he backed it out and I thanked him for his help and started on my way to Star City to meet my mother.
I arrived at the Star City Nursing Center 30 minutes later and met my mother and fellow church member Janice Mizell, who rode along to drive my car back home. I entered through the double glass doors and turned down the right wing of the nursing home to visit my grandmother in her room of white cement blocks, white Venetian blinds and tan divider curtains. This time, she didn't know I was, but I talked to her anyway. "Who are you?" she asked. "I am you ornery old granddaughter," I said. She looked at the ceiling never turning her head. She often kept her eyes closed, because she is blind. I told her I was going on a trip. She still didn't know me and at times, decided not to talk. I told her I loved her and I left. I walked down the hall to visit another resident and then I left.
We loaded the car and started on our journey to the airport, but we stopped at my father's work place to pick him up. My mother drove right by it saying she sometimes missed it and we turned around and turned onto a dusty gravel road. She turned left on another gravel road, out the window we passed barren fields not yet planted for the year. We finally turned in the shop yard, where tractors were parked under open-air tin-roofed sheds and parked in front of the shop with a concrete floor and particleboard walls on the inside. My mother took out the overalls and dress shirt she gathered for my father and he changed. While he changed, I placed my toothbrush and other items I forgot to put in my luggage, out of my black leather carry-on and into my suitcase.
Soon we traveled on our way to Little Rock. Anxious and excited, I looked out on the road and at familiar scenery of empty fields, railroad tracks paralleling the highway and the beginnings signs of Pine Bluff passing by my window. We passed by Pine Bluff and traveled to the Wal-Mart to eat at a Burger King near it. From there, we traveled on to Little Rock and to the airport.
Little Rock National Airport
We arrived at the airport an hour and a half earlier than the 3:30 p.m. meeting time. Mizell and I carried in my carry-on, heavy coat and big black suitcase into the airport. We stopped by a seat where we entered and sat down. My mother and father came in after they parked the van. We sat near the baggage check area for the airlines and watched as families with small children, men and women in business suits and other travelers walked by carrying or rolling their luggage. We sat in front of Delta Airlines check in and I tried to remember which flight our group was scheduled to fly on. I forgot to bring my flight itinerary and it set on my desk in my dorm.
I went and asked about where to check my luggage at Delta Airlines and the attendant ask my name and for my identification. She told me the flight was with Northwest Airlines. I decided to wait for everyone else to arrive before I printed my ticket and checked my luggage.
I kept a close eye on my luggage. I heard of unattended luggage being stolen, even if left for a minute. I sat with my mother, father and Mizell and talked while we waited.
At one point I left them, I felt the need to move, and walked up steps to the gift show on the second floor. I walked in the brightly lit space filled with books, reading materials, candy and snacks, post cards, Razorback memorabilia and other items. While there, I talked to a staff member of an airline. I asked him questions about flying, one of them being, where can I get my wings? "It all depends on the airline and you have to ask the flight attendant," the man said. We spoke for a little longer and parted. Before I left, I bought two packages of peanut butter and crackers for the plane in case I needed them. I waited to buy water until I was on the other side of the nylon maze. I descended the stairs and again joined my party and continued waiting.
Soon after, everyone arrived and we checked our bags. We walked down to the end of the room to the Northwest Airlines' counter. I waited in line and showed my ID to the attendant and he even didn't weigh my bag. He lifted and said it weighed below 50 pounds. "How can you tell?" I asked. "I deal with bags all day, I know," he said. I didn't question him and then tried to print out my tickets, and didn't have a clue about what to do.
After I asked what to do, I slid my debit card in the machine and with help found my way through screen taps I printed my ticket. I collected one and walked off thinking I had all of them. I didn't and a woman called my name and said I left my ticket. I thanked her and put the tickets into an envelope and safely into my purse.
I then stood in line to have my luggage scanned, which was by the ticket machines and divided lanes of the Northwest counter. They took my luggage. Ronald Sitton, the journalism adviser, collected numbers from the parents of the students just in case something happened.
Pretty soon, the time arrived to go and I handed my keys over to my mother. It felt strange not to have them hanging from my belt loop, but I decided not to take the chance and lose them. "Have fun and be careful," mom said. "I love you." I hugged my mother, father and Mizell and walked off with the group to get ready to board the plane.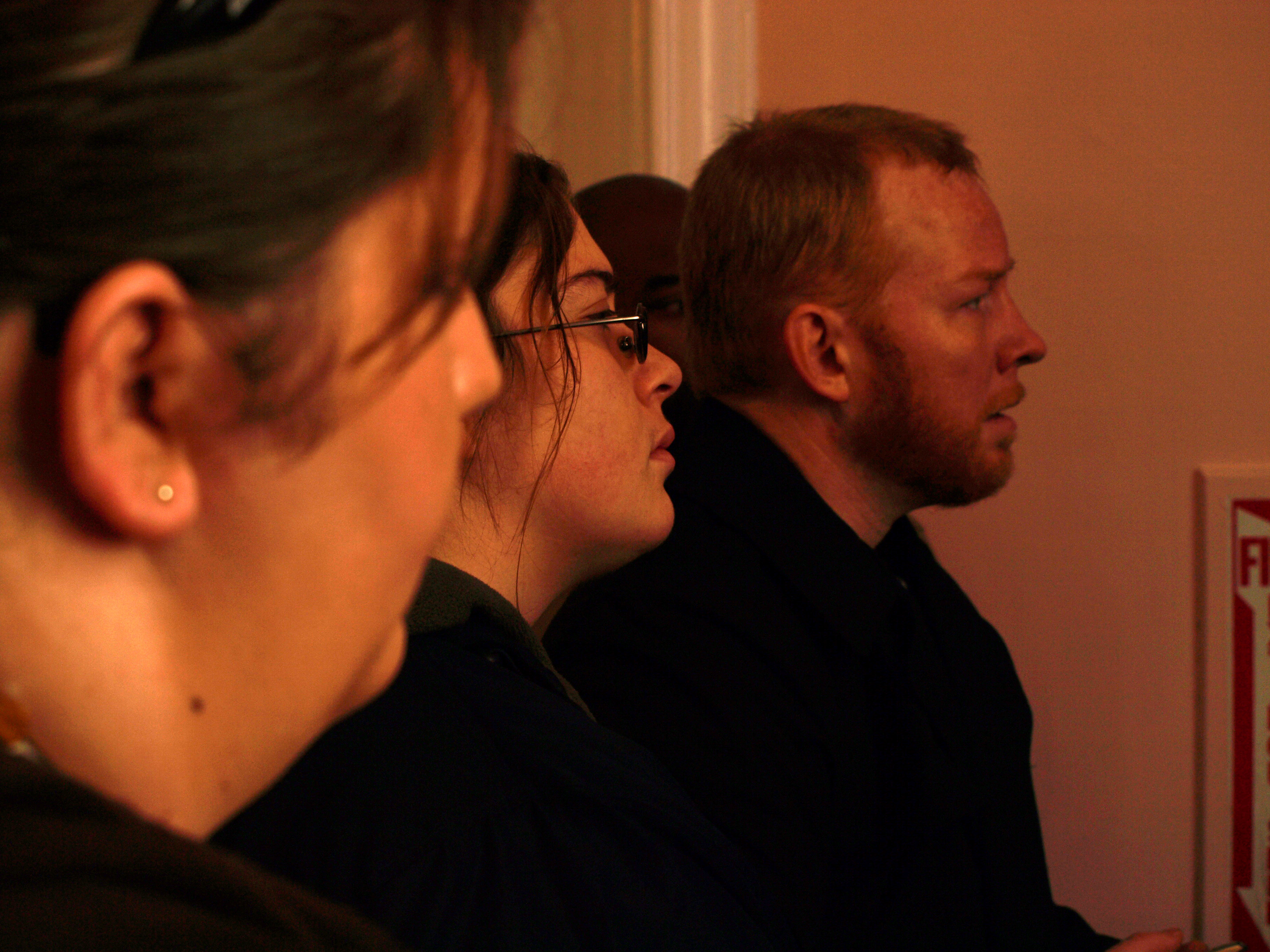 Photo by Latoya Shelton
St. Paul's Chapel — Flanked by Danielle Thomas and adviser Ronald Sitton, Linna listens intently to UAM alumnus Chester Johnson describe St. Paul's Chapel's role in the aftermath of Sept. 11 and Ground Zero.
The Nylon Maze
The second floor of the Little Rock National Airport hosts a gift shop, a restaurant and the entrance to the terminal. Looking at it, the nylon strips and the poles extended from the beginning of the little room to the scanning machine. The strips and poles reminded me of a maze. I looked at this barrier before as a person merely dropping someone off, but I never walked into it, only away. It seemed like a mystery, a portal into another world. I walked up with three other members of my group and waited in line to get our tickets checked.
As I waited I watched the man checking tickets; he looked like he enjoyed his job. He laughed and joked with the passengers as he looked at the tickets. When I finally reached him, he greeted me with cheerful tone and expression. He looked at my ID and asked, "Did you know your license was about to expire?" I said I knew, but I didn't have time to renew it. I also knew I would be back in the state of Arkansas before it expired. We spoke for a few more moments and I walked through the maze of nylon bands
The room where they scanned seemed blank with only white, black and grey as the color scheme. I approached where they scanned the luggage and other personal items; I watched a man remove his shoes and contents from his pocket and place them in a grey plastic container. A woman working with the TSA, the security for the airport, repeatedly shouted a warning "Remove all liquids and gels from you carry-on. If you don't you will hold up people behind you," the woman said. Danielle Kloap, a fellow classmate, dug into her bag and pulled out a bottle of water. The woman told her to throw it away. Kloap looked unhappy about this, but she threw it away. She removed her shoes and placed them in the plastic bin with the contents of her pockets her purse and her gels and liquids.
When a free space opened up on the counter, I picked up a bin. I removed my shoes and placed them in the bin along with my purse and coat. I guided the bin and my carry-on to the scanning machine and put it on the conveyor belt when they told me. I walked through the metal detectors, and collected my things on the other side.
I picked up my carry-on, coat, cell phone, purse and other items from the bin and put on my black loafers. I almost stopped for a minute, surprised by a long room with multiple sitting areas for the flight gates and restaurant for people to eat. I followed Kloap, Michael Thomas and Michael Ford, because I did not want to be left behind or lost. They stopped at Quiznos. I bought a bottle and I paid $2.62. For some reason the price didn't shock me; I somehow expected it to be high. I placed the water in my purse and walked to keep up with the group to get to our flight gate.
The Flight
The time soon arrived to board, each passenger showed the flight personnel their ticket and they scanned it. The group and I walked down this long tunnel, which connected to the door of the plane. I carefully stepped into the plane and a room that looked like a long tube met my eyes. Blue seats three wide lined the sides of the plane creating a narrow aisle. Passengers found their seats and put their luggage in the overhead compartments.
I sat between Latoya Shelton and Kloap and it looked like we were close to the wing. Shelton sat down first and then I clumsily sat down and then placed my luggage underneath the seat in front of me. Shelton looked at me "You've never flown before have you?" she asked. "No," I said. I soon found my seat belt and put it on. I remember staring ahead looking at the interior of the plane and it felt like the plane was moving, creeping at a slow pace. I looked out the window and saw the ground moving like a movie, except I was the one moving. I watched the ground and the people or objects move out of the window as they taxied the plane onto the runway.
When it reached the runway, I heard the engine power up and felt the plane slowly gain speed and rise. Each time the plane ascended, my stomach felt like a gymnast doing back flips. I closed my eyes and took deep breaths to ease the queasy feeling in my stomach. My head felt like it was about to explode from the pressure, but the gum I chewed helped. The plane soon leveled off and I pulled out my journal to write down some notes and occasionally I looked out the window.
The plane passed over fields and waterways. The view reminded me of the satellite view on Google Maps or a patchwork quilt of greens, browns, blues and whites sewn together with turn rows, and drainage ditches. I looked at one of the fields as we passed and it had water furrows, wavy lines, like a rice field.
In about an hour, the plane reached Memphis, Tenn. I looked through the window and at the earth to see the city, which looked like a mini city built by a child from Lego blocks. I saw a silver pyramid out the window and as the plane turned in the sky, I saw it from multiple angles. When the plane was finally cleared to land the details of the landscape, houses, cars and even the side of a FedEx truck became more readable.
We arrived at Memphis International Airport around 5 p.m., but a delayed flight kept us there for two hours.
To New York
The plane soon arrived to carry us to LaGuardia and the island of Manhattan. The passengers boarded the plane and the plane allowed passengers a little room to move. Kloap and I moved to different rows than the number on our tickets read and I sat comfortably with three seats to myself. The nauseating feelings I felt the first time didn't happen this time. I sat by the window watching the ground move beneath the plane.
During the two-hour trip, I attempted to do a little homework and completed some of it.
I looked out of the window, when the plane approached New York City. I looked at the glow of the lights and saw patterns among the buildings, street lamps and other illuminating devices. As we flew around the island of Manhattan, I saw the tall buildings, and the lady liberty herself. I took pictures of the lights from the view out of my window and prayed the pictures would turn out all right; they didn't.
As the plane flew lower to the ground my head felt like a balloon with too much air. I popped one of my ears, but I couldn't pop the other one. The captain came on the intercom announcing our arrival and said the weather was about 30-40 degrees, colder than when we left Tennessee. The plane finally landed and we exited the plane and went to collect our luggage. After finding all of it, we rented a SuperShuttle van to take us to The Roosevelt Hotel on Madison Avenue at 45th Street.
In New York
My view of New York City came somewhat from the movies and television shows I watched. I expected it to be cleaner; I don't know why. The height of the buildings amazed me for the first few days and then the older buildings fascinated me more with their architecture and style.
The buildings made me feel small, but it was the people I met and some of the things I experienced that really stood out in my mind. St. Paul's Chapel stood out among all of the tall buildings. From the outside, the chapel looked small among the high rises around it, but the inside made some of the biggest churches I've seen look tiny. I felt like I was walking with the forefathers of our great nation and the volunteers and firefighters of Sept. 11. Chester Johnson explained what happened during the attacked on the World Trade Centers and how St. Paul's Chapel helped when they were needed most.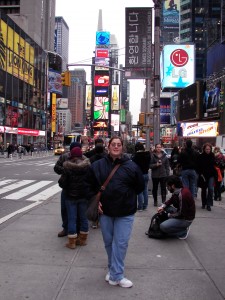 For the longest time, I wanted to see a Broadway play. I got my chance to see one the night of March 15 and proved to myself that I could walk New York City by myself. I knew "Mary Poppins" might be playing in New York from a friend who saw it in London told me it was coming to the United States. By this time, I walked with others to Times Square enough to know where I was going, but I was still unsure. I wanted to see the show and after a nap, I bought a map and asked for the best way to get there. A bellhop at The Roosevelt Hotel showed me on the map and I began my walk to the discount ticket booth, where I thought I needed to buy my ticket. I passed the familiar sights on my way to my destination. When I arrived, I found out I needed to purchase the ticket at the theater. When I asked where it was he told me it and then I asked what was near it. He told me to look for "Champs."
I started my walk and asked a couple of times if I was going in the right direction. I soon saw the word "Champs" in red lights and turned right. I saw the New Amsterdam Theatre and to my surprise a McDonald's I saw on the Food Channel one day. It looked like a theater, too, all-lit up in lights. I remembered the cable program saying they changed a large amount of light bulbs to keep the thing lit.
I walked up to the theater and up to the ticket booths and asked the cost of tickets for Saturday and Sunday nights. The man quoted a Sunday ticket being $120, and then he said there was a ticket for $80 in the mezzanine section that night. I said I would take it. I pulled out a $100 bill and paid for the ticket. I looked at my watch; it read 7:30 p.m. and the show started at 8 p.m. I went next door and bought a chicken club sandwich. The inside of the restaurant looked like the backstage of a theater, just like the program described. I soon returned to the New Amsterdam Theatre. I rode the elevator to the mezzanine section of the theater and found my seat. I waited for the show to start.
Two women and a man from Spain sat in my row. I tried to talk to a woman beside me and found out she didn't speak English. The young woman with an accent explained that her mother didn't speak English and the daughter often translated for me. I tried to speak to her in what Spanish I remembered, but I used broken Spanish and probably slang.
The play soon began and color met my eyes and the beautiful music and talent met my ears as I watched and listened to the performance. I remembered some of the scenes from the collector's program I saw over a year ago and looked at my own. At times, I sang along with the actors and other times I just soaked all of the color and song I could in my mind.
After the night of the play, New York City poured out new sites. I watched another play: "Chicago." I met a woman and other volunteers who collected money for the homeless and an elderly woman who watched the crowd carefully to cross the street in safety. I walked across with her. I looked upon the face of the Statue of Liberty and felt short standing beside a bronze replica of her face. I only came up to the wide part of her nose.
I even tried a little white wine, only two sips though, but I will save that story for another time.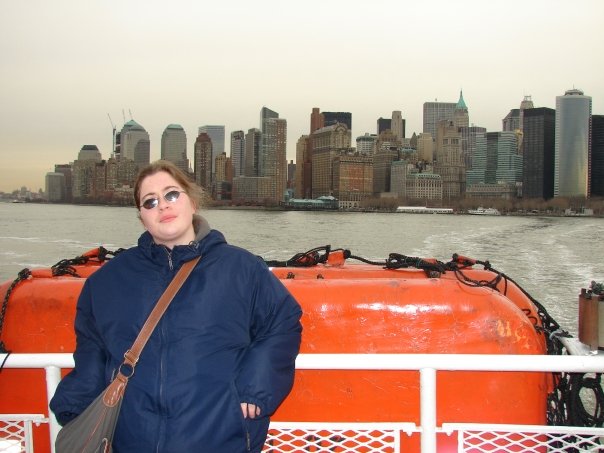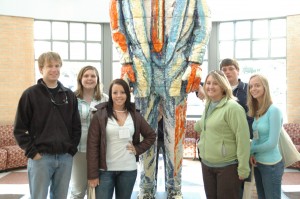 As Super Tuesday looms, commentators question whether younger participants might make a difference in the next general election. Many contend younger participants must get involved in the process for democracy to truly work, but younger voters historically refuse to vote in large numbers.
Yet over two days in the fall semester, more than 50 college and university students started their involvement by participating in the third annual conference of the American Democracy Project's Southern Consortium at Kennesaw State University in Kennesaw, Ga. Conference coordinator Michael Ross, KSU's associate professor of middle grades education, confirmed that 81 people – 51 students and 30 faculty or staff members – registered for the conference.
ADP seeks to produce graduates who understand and are committed to their roles as citizens in a democratic republic. Currently, 228 institutions in the American Association of State Colleges and Universities participate in the project.
"How can we drive the commitment to civic engagement to the core of the academy?" KSU's Provost Lendley Black asked a room full of college and university students, professors and administrators prior to Associate Dean Michael Heard introducing the Alabama circuit judge who ruled against the Ten Commandments' Judge in the late 1990s. "Too many students see citizenship as an on-again, off-again activity."
Adjudicating Democracy
Alabama Circuit Court Judge Charles Price provided insights into continuous citizenship during a plenary address to the ADP-South conference. Price's ruling that the courtroom display of the Ten Commandments was unconstitutional brought death threats but earned him both the Wiley Benton award, honoring the lawyer of the Little Rock Nine, and the John F. Kennedy Profile of Courage, which chose Price as Alabama's first black recipient.
"I respect people of faith for I am one of them," Price said. "As a judge however, I will do what is legal and what is right."
Continue this article.