Jackson Invokes King's Memory, Purpose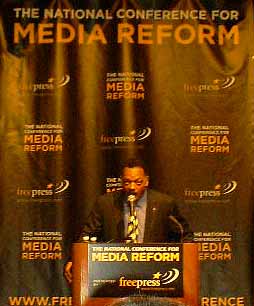 Continuing the Fight – Rev. Jesse Jackson finishes his speech at the National Conference for Media Reform. Jackson urged participants to continue the fight to keep independent media alive and well.
MEMPHIS (Jan. 12) – Rev. Jesse Jackson told a gathered crowd of approximately 2,500 and an additional 2,000 watching the event through streaming media on freepress.net that President George W. Bush is a war addict who needs some type of methadone.
"The president is in a hole looking for a shelter rather than a rope," Jackson said.
While he occasionally referred back to the president, Jackson used the forum to speak about the upcoming national Martin Luther King, Jr. holiday and claimed that romanticizing King's legacy takes away from the struggle of today.
In a rather poignant moment, Jackson spoke of King's last hours before coming to Memphis, noting King spent his birthday at home with family and in the basement of his church trying to decide how to end poverty and to end the war. Jackson said King almost gave up the struggle the morning before coming to Memphis due to the accomplishments of the Civil Rights movement, comparing King's indecision to that of Jesus in the garden of Gethsemane prior to his crucifixion.
Jackson then spoke of the problems of the affirmative action movement, noting the main beneficiaries of affirmative action has been white women through Title IX legislation allowing equal competition in sports. But he claimed many young white female beneficiaries are against affirmative action because they don't hear the truth of affirmative action in mass media.
"I'm concerned that the media has the capacity to make America better," Jackson said. "We must fight to open the airwaves for all people."
Jackson said corporate ownership of media may be a small part of the bottom line for corporations, but it's a big part of the propaganda to continue the war that's profiting the corporations.

"Why can't we fight to expand the leadership and ownership of local media?" Jackson asked, noting that corporate media marginalizes his position by seeking his opinion on the Duke lacrosse team and comedian Michael Richards, but refusing to ask his opinion on the Iraq war.
"Why pigeonhole me to respond to a broke-down comedian and not talk about war and peace? Don't just talk about Michael Richards; talk about Arsenio Hall 15 years ago so Bill Clinton could play his saxophone, but now there's no black comedian on primetime television," Jackson pined, calling the major news networks "All Day, All Night, All White" to the applause of the conference attendees. "I have an opinion about Iraq … It's like a cross-eyed archer, you're shooting the wrong target."
Jackson praised Nancy Pelosi's rise to Speaker of the House and claimed Bush makes the idea of a woman or black president more plausible every day. But Jackson said more needs to be done to start new jobs instead of raising the minimum wage, which doesn't help the unemployed.
"We need bold leadership, not baby steps," he said. "Katrina is a metaphor for abandon urban American. Stop bombing Iraq and reinvest in America. Put our children back n school and their parents back to work."
Jackson then praised those in attendance.
"Free press, you have the power to redeem the soul of America. Keep writing your story. Report your story. … We hear so much nonsense, that sense doesn't seem to make sense. But tell it anyhow," he said.
Jackson claimed that though the major networks are not covering the conference, "their spies are here, they know what's going on." The statement brought a laugh from the crowd and more than a few heads turning to see if they could spot the spies.
Jackson finished by leading the crowd in a chant of "Stop the war, save the children. We're all somebody. Everybody is necessary. Don't let them break your spirit. Keep fighting back. Keep hope alive. Keep hope alive. Keep hope alive."
Afterwards, a freepress representative told the crowd that the Internet service provider was having problems from people attempting to watch the conference online.
Jackson reminded everyone of an upcoming demonstration to stop the war in Washington, D.C. on Jan. 27 when he initially came onstage.
I'm off to catch a break-out session and plan to post pictures later this evening when I get the right cord for the job.