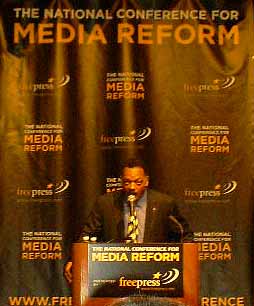 Continuing the Fight – Rev. Jesse Jackson finishes his speech at the National Conference for Media Reform. Jackson urged participants to continue the fight to keep independent media alive and well.
MEMPHIS (Jan. 12) – Rev. Jesse Jackson told a gathered crowd of approximately 2,500 and an additional 2,000 watching the event through streaming media on freepress.net that President George W. Bush is a war addict who needs some type of methadone.
"The president is in a hole looking for a shelter rather than a rope," Jackson said.
While he occasionally referred back to the president, Jackson used the forum to speak about the upcoming national Martin Luther King, Jr. holiday and claimed that romanticizing King's legacy takes away from the struggle of today.
In a rather poignant moment, Jackson spoke of King's last hours before coming to Memphis, noting King spent his birthday at home with family and in the basement of his church trying to decide how to end poverty and to end the war. Jackson said King almost gave up the struggle the morning before coming to Memphis due to the accomplishments of the Civil Rights movement, comparing King's indecision to that of Jesus in the garden of Gethsemane prior to his crucifixion.
Jackson then spoke of the problems of the affirmative action movement, noting the main beneficiaries of affirmative action has been white women through Title IX legislation allowing equal competition in sports. But he claimed many young white female beneficiaries are against affirmative action because they don't hear the truth of affirmative action in mass media.
"I'm concerned that the media has the capacity to make America better," Jackson said. "We must fight to open the airwaves for all people."
Jackson said corporate ownership of media may be a small part of the bottom line for corporations, but it's a big part of the propaganda to continue the war that's profiting the corporations.
Read more: Jackson Invokes King's Memory, Purpose