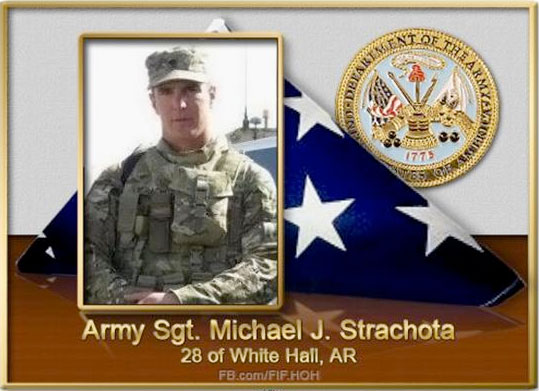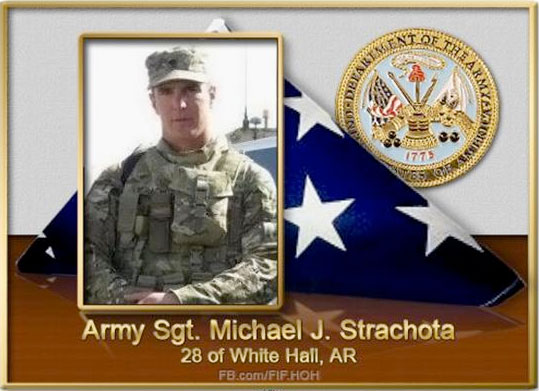 An Arkansas high school teacher's facebook page to "Preserve the Honor of Fallen Pine Bluff Soldier" plans to buffer funeral participants from a Westboro Baptist Church protest Saturday afternoon at Pine Bluff's St. Joseph Catholic Church.
John Allison, a 44-year-old former Marine who teaches math at Vilonia High School, started the page Friday afternoon; by midnight, 62 of the more than 1,800 invitees confirmed they would attend with an additional 31 maybes. (UPDATE: Those attending topped 100 by 10:30 CST this morning.)
The stated goal of attendees is to keep the Westboro Baptist Church of Topeka, Kan., from disrupting the memorial service for fallen Arkansas soldier, Sgt. Michael J. Strachota of the U.S. Army. Strachota died June 24 in Afghanistan, a week and a half prior to a scheduled home leave on July 5.
"Please join us to peaceably make certain these disrespectful hatemongers are far enough removed they cannot disrupt the service or upset the family and friends," Allison writes. "Help us prevent this so-called church from dishonoring this man's honorable service and sacrifice."
A press release indicates WBC will preach "in respectful, lawful proximity" that God kills American soldiers as punishment for sin. The flier uses incendiary language about military personnel, including the phrase, "Thank God for IEDs."
In stark contrast, Allison provided five ground rules for those providing a "shield":
"1. This will be a peaceful undertaking. We are certainly not here to cause a scene that will cause more of a disturbance than WBC. Our goal is not to shout, scream, or strike those gathered with WBC.
"2. Do not bring weapons of any kind: no guns, knives, mace, pepper spray, or anything else you might be tempted to use as a weapon.
"3. Our goal is to get enough people together to shield those attending the memorial service from the WBC protesters.
"4. Flags, crosses, crucifixes, other symbols of patriotism and religion are welcome. If you wish to make signs, they should have only positive messages honoring the courage and sacrifice, nothing derogatory or demeaning toward any person or group. Remember, we are there to help honor Sgt. Strachota, not to protest or make a political statement.
"5. We have now learned the Patriot Guard will be at the service also. They do this all the time at military funerals across the country so we will fall in with them and follow their lead."
According to the Patriot Guard Riders' website, the motorcycle enthusiasts "standing for those who stood for us" will also be in attendance. The group warns participants to hydrate; the Weather Channel predicts it will be 95-96 degrees by the 1 p.m. start, though the 46 percent humidity will make it feel like 104.
(EDITOR's NOTE: Allison and the reporter attended Northeast High School in the late '80s.)
OLNEY, Md. — Not to be missed during this time of our national heat stroke, floatingsheep.org provides a regional breakdown of differences indicated by tweets concerning "church" or "beer."
Betcha couldn't guess which terms pops up more often in the South, could ya? Should we be surprised that it so closely corresponds to those areas where alcohol is still BANNED although Prohibition was repealed in 1933?
Will the South come into the 21st century in my lifetime? Doubtful.