Explosive New Story Lends Credence to Siegelman Appeal
New Reporting May Show Bush Was 'In the Loop'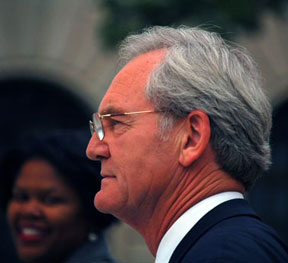 Glynn Wilson
Former Alabama Gov. Don Siegelman in front of the federal courthouse in Montgomery, with Sephira Bailey Shuttlesworth, wife of Birmingham Civil Rights icon Fred Shuttlesworth, in the background.
by Glynn Wilson
Former Alabama Governor Don Siegelman and HealthSouth founder Richard Scrushy will get another day in court Dec. 9 in Atlanta, when a three-judge appeals court panel will hear oral arguments in a rare hearing that is likely to result in the case being thrown out, perhaps by Christmas.
We are working on a longer news feature about the case as an advance on the hearing, and will go into some detail about the arguments before the court.
But an explosive new story in Time magazine confirms what we have been reporting all along, and reveals critical and startling new evidence about the political, unethical, and, if true, illegal activities on the part of the Bush-appointed U.S. attorneys and career prosecutors in Montgomery.
The Time lede:
Next month in Atlanta, a federal court will hear the high-profile appeal of former Alabama governor Don E. Siegelman, whose conviction on corruption charges in 2006 became one of the most publicly debated cases to emerge from eight years of controversy at the Bush Justice Department. Now new documents highlight alleged misconduct by the Bush-appointed U.S. attorney and other prosecutors in the case, including what appears to be extensive and unusual contact between the prosecution and the jury.
For more on this breaking story, see the piece in our sister blog, The Locust Fork News Journal.