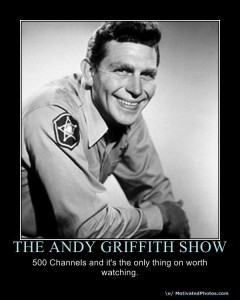 OLNEY, Md. – The South — and the world — mourns today following news of Andy Griffith's demise.
The 86-year-old came into our homes more than half a century on this newfangled contraption called TV. He made us laugh, a LOT, and brought the down-home goodness of Mayberry into the American conscious.
Sure, Andy Griffith played roles other than Andy Taylor, but no other role suited him so.
***
I started watching "The Andy Griffith Show" when my mom married my dad, Leroy Sitton, in 1977. Dad worked for the Arkansas State Police. I'm – still – a redhead. And Ronny Howard actually knew to spell his name with a "y." It all rolled from there. In hindsight, I'm only surprised that it took until the 8th grade for Patrick Grogan to nickname me "Opie."
Although I didn't live in Mayberry, I learned a lot from watching Sheriff Taylor and the gang.
Watching Aunt Bee arrive to help with Opie in "The New Housekeeper" showed me acceptance may be hard, but love can overcome anything.
Watching the citizens of Mayberry's hostility to a fella who knew everything about them in "Stranger in Town" showed me folks have NO IDEA about the long reach of media, which is particularly relevant in these days of facebook and twitter.
Watching Barney Fife take over as sheriff in "Andy Saves Barney's Morale" showed me absolute power can corrupt absolutely.
I could go on, but I'm sure you have your favorite episodes.
Surprisingly, television allowed Griffith to portray a single dad in an era where single parents were frowned upon. By the time I came around, single dad-hood wasn't a big deal as we received daily doses of "Family Affair."
***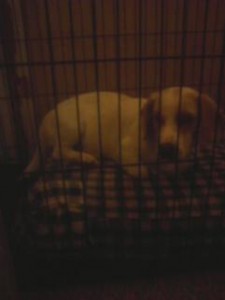 The show made such an impact on me, we named our dog Otis after Mayberry's town drunk. At first glance, this might seem to be a slight. But what else could we name the dog after he continually put himself in his kennel whenever he messed up?
***
Sunday would have been dad's 74th birthday. In a way, I find it fitting that Andy Griffith died the week that marks dad's birthday, my folk's anniversary and the nation's Independence Day.
The only way it would be more fitting would have been for "Ang" to pass on July 4th. But then again, he never was one to hog the spotlight.
We'll miss you, sir.
***
Editor's Note: A previous version left out the word "on" when discussing the reader's favorite episodes and also contained an AP style error. All apologies.