Month: November 2006
NORTH LITTLE ROCK (Nov. 17) – Easy now … two posts in one day? What will people think?
I drove to downtown Little Rock to the bank and decided to stop at Go Green Biofuels at 801 South Chester to fill up my S-10 with E-10 unleaded, i.e. ethanol.
I saw a news spot on the business a few weeks ago, but had not stopped to fill up since it's open from 8 a.m. to 5 p.m. and I often do not get back into Little Rock until at least 8 p.m.
It's not the easiest access either, as you cannot enter the station from Chester. In addition, 8th Street runs one-way, requiring the driver to turn on 7th Street and make the block.
When I entered the station, only the owner's Prius sat in the lot. He stepped out as I pulled up. Buddy Rawls, 58, works as a psychological examiner but wants to establish a thriving independent business.
"I guess you can call it moonlighting," he said when I called later to make sure I got his name correct. "It seems to be filling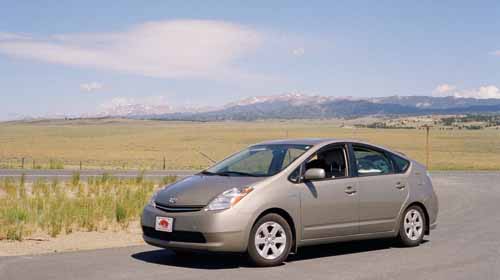 Eco-Friendly – Our Toyota Prius sits packed on the Oregon Trail during summer vacation. The car requires fuel with no less than a 89 octane rating
that role. I'm doing this in addition to my full-time work."
Before I pumped, we talked about the octane in ethanol. I always run at least mid-grade in our Prius, and usually regular unleaded in the S-10. Rawls said E-10 Unleaded consists of 90 percent gasoline and 10 percent ethanol.
He stepped back in the store and brought out a couple of pamphlets, including one from drivingethanol.org that notes ethanol-enriched gasoline burns cooler, saves engine wear and reduces emissions and air pollution by 30 percent. It also notes the IndyCar Series started using ethanol in 2006.
The other pamphlet from Ethanol Across America disputes the notion that any automaker in the world disapproves of E-10 Unleaded. It provides quotes about ethanol use from automakers owner's manuals including GM, Ford, DaimlerChrysler, Acura, Audi, BMW, Honda, Hyundai, Infiniti, Isuzu, Jaguar, Kia, Land Rover, Lexus, Mercedes-Benz, Mazda, Mitsubishi, Nissan, Porsche, Rolls Royce/Bentley, Saab, Saturn, Subaru, Suzuki, Toyota, Volkswagen and Volvo.
I ask Rawls if he expects to stay open later so there's a better chance I can stop more often. Apparently, a mechanic plans to take over the garage area, so the hours should get better starting in early December. As far as access, Rawls plans to ask the highway department to approve changing 8th Street back to two-way. If that could happen for at least a block, it would help.
The downside: E-10 Unleaded costs $2.19 when I can get on littlerockgasprices.com and find unleaded at $2.01. Yet as I'm driving home, I note Exxon fleecing the Park Hill patrons at $2.13 for unregular. I feel better about taking a stand for a choice that may prove beneficial down the road.
Final thought – it ain't easy being green, but nothing good for you is ever really easy.
Editor's Note: A controversy rages in Alabama over whether to continue calling the Alabama-Auburn game the "Iron Bowl."
Over at Tuscaloosa News columnist Tommy Stevenson's new blog, he's asking the question.
We raised the issue last year in this story, which should tell you where we come down on the subject: It ain't "The Iron Bowl" no more.
What do you think? Sign in below and give us your comments. Onto the story…
by Paul Rockne
It's Traditional Rivalry Week for Southeastern Conference football.
Photo by Glynn Wilson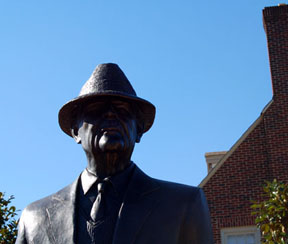 Funny, when Paul "Bear" Bryant was alive, it was hard to get a picture of him where you could see his eyes, especially on the football field. Now, with the sun behind Bryant-Denny Stadium, it's hard to get a photo of his new statue with his eyes in the picture…
There are three of these throw-out-the-record-books games, in which the outcome is the be-all and end-all for rabid fans, on tap this weekend – headed by the Iron Bowl, which annually pits Alabama against Auburn.
In the state of Alabama, polls have shown that over the years some three-fourths of the population – young and old, women and men – watch the Bama-AU battle if it is offered on TV. This year it is being carried live on CBS (not a good omen for Alabama, which has fared poorly on that particular network in the past few years).
Outside of Alabamians, few football fans in the other 49 states will be tuned into CBS Saturday because they will be tuned into the big No. 1 Ohio State vs. No. 2 Michigan game over on ABC that will determine the Big Ten title and put the winner into the BCS national championship game.
The Tide-War Eagle game is more important than life or death to a good number of the teams' fans. While it doesn't quite mean that much to the teams and players – winning or losing won't mean a winning or losing season for either and a win won't put either into the Western Division title game – it does have it's importance to both.
For Alabama, it will mean stopping a four-game losing streak to Auburn. A Bama win would also be big in that it would be the first-ever for the Tide in Tuscaloosa. Right now Auburn owns a five-game winning streak in T-Town, owns the Alabama home field. Add to that the fact that, so far, Bama Coach Mike Shula is 0-for against Auburn. No coach can last for long at Alabama if he can't beat Auburn – and Shula knows that.
A win for Auburn would erase the two losses this season and send the Tigers a-bowling with a good taste in their mouths. It would also be win No. 10 for the season for Coach Tommy Tuberville's team. And it would probably mean a new version of the "Fear the Thumb" T-shirts that AU unveiled after last year's Iron Bowl triumph.
People outside Alabama have a hard time understanding exactly why the "Iron Bowl," if we should still call it that, is such a big deal (although ESPN announcers have been debating among themselves if it is or isn't the nation's fiercest rivalry, thus giving the game more national attention).
Remember, this is a series that was put on hold for 41 years over a dispute – following a tie game – over a referee and per diem money paid to players to travel. Alabama owns a 38-31-1 edge in the series, with the lone deadlock coming in that final game before the 41-year break. There have been 22 shutouts in the series (meaning a close, low-scoring game benefits the Tide?), while Auburn owns a 4-1 record in one-point games in the series (meaning a close game is a good omen for AU?).
One final historical fact does seem to lean the Tide's way. This is the eighth time since the series was rekindled in 1948 that both teams come into the Iron Bowl off losses. Alabama holds a 5-2 edge in games that followed the double losses.
The other two other rivalry games set for Saturday include Ole Miss (3-7, 1-5) at No. 9 LSU (8-2, 4-2) and No. 22 Tennessee (7-3, 3-3) at Vanderbilt (4-7, 1-6). The schedule also includes one big non-rivalry matchup – No. 5 Arkansas (9-1, 6-0) at Mississippi State (3-7, 1-5). Arkansas can clinch the Western Division crown with a win over the Bulldogs, or a win over LSU next week.
Other league games on tap this week include a trio of cremepuffs with the SEC taking on two Sun Belt Conference squads and one Divison 1-AA team: No. 3 Florida (9-1) will get no computer points for its national title game bid with a win this week. The Gators host Division 1-AA Western Carolina (2-8). South Carolina (5-5) looks pretty assured of getting that sixth win to become bowl eligible as the Gamecocks host Middle Tennessee (7-3). Kentucky (6-4) will be at home against Louisiana-Monroe (2-7).
Saturday's weekend TV football lineup, other than pay-for-view is as follows:
Miami at Virginia, 11 a.m. (WB)
Yale at Harvard, 11 a.m. (WGN)
Iowa at Minnesota, 11 a.m. (CSS)
Maryland at Boston College, 11 a.m. (ESPN)
Michigan St. at Penn St., 11 a.m. (ESPN2)
Buffalo at Wisconsin, 11 a.m. (ESPNU)
Oklahoma at Baylor,11 a.m. (FSNS)
Tennessee at Vanderbilt, 11:30 a.m. (Lincoln Financial)
Charleston Southern at Coastal Carolina, 12:30 p.m. (SS)
Army at Notre Dame, 1:30 p.m. (NBC)
Michigan at Ohio State, 2:30 p.m. (ABC)
Auburn at Alabama, 2:30 p.m. (CBS)
Alcorn St. at Jackson St., 2:30 p.m. (CSS)
Kansas St. at Kansas, 2:30 p.m. (FSNS)
Bethune Cookman at Florida A&M, 2:30 p.m. (ESPNU)
San Diego St. at TCU, 3 p.m. (VS)
Arkansas St. at Troy, 6 p.m. (CSS)
Washington at Washington St., 6 p.m. (FSNS)
Virginia Tech at Wake Forest, 6 p.m. (ESPN2)
South Florida at Louisville, 6 p.m. (ESPNU)
Rutgers at Cincinnati, 6:45 p.m. (ESPN)
California at Southern Cal, 7 p.m. (ABC)
UCLA at Arizona St., 9:15 p.m. (FSNS)


Good writing is good writing … it sets you free, if you are an artist.
– Anonymous
by Glynn Wilson
TUSCALOOSA, Ala., Nov. 11 – It is an almost surreal feeling to be standing in the cold fog within earshot of Bryant-Denny stadium during an Alabama football game and there's not a person in sight. Not a soul yelling "Roll Tide."
At this moment Alabama is hanging in there with LSU and only trailing by a touchdown in the first half. But there is not a sound around the campus in the dark.
Except for the voices coming from the TV.
Half of the inhabitants from here are on the road too, in Baton Rouge, Louisiana.
Sipping on just enough Jamaican rum to keep the bones warm, I am watching the game and at the same time trying to think some more about what I might say to journalism students at the university about the state of writing for the Web.
Read more: Connecting The Dots: Writing, Art and Freedom…
The return of the king … a different kind of homecoming … the oldie-but-goodie hit song, "The Boys (make that "boy") Are Back in Town" … all could be the theme for the SEC Game of the Week in this, the second week of November, 2006.
Steve Spurrier, the ex-Florida Gator head coach who brought the national championship trophy to Gainesville in 1996 and built a dynasty on the way to the title, returns to The Swamp Saturday, bringing his South Carolina Gamecocks in to face Urban Myer's version of the Gators.
This game has more story lines than a national election. Spurrier is the winningest coach in the SEC, with a 95-21 record at Florida and now South Carolina. His name stands atop a list of legends. No. 2 is Tennessee's Gen. Robert Neyland. No. 3 is Alabama's Frank Thomas, followed in fourth place by Alabama's (and Kentucky's) Paul Bear Bryant.
Spurrier, who won a Heisman Trophy while playing for Florida, will be making his third trip to Gainesville this season and he is only hoping the third trip will be as pleasant an experience for him as the first two. Spurrier attended a reunion for the '96 national title team in early September and then later in the month came back to be inducted into the Florida Ring of Honor.
Another question Saturday in Gainesville is can Spurrier keep his winning streak alive in Florida-South Carolina games? Spurrier has never been on the losing sideline of a Gator-Gamecock matchup. He posted a 10-0 record at Florida against South Carolina and is 1-0 at S.C. vs. the Gators. Spurrier's Gamecocks beat Meyer's Gators last season in Columbia, S.C. – the first and only time Florida has lost to S.C.
And while the storyline being watched by most is that of Meyer trying to escape the shadow of Spurrier's legend at Florida, there are some real-time storylines as well. Spurrier bringing his 5-4 Gamecocks into Florida hoping for a win that will make his team bowl eligible and send South Carolina bowling for a second year in row. Meyer has his 8-1 Gators in the national championship mix, ranked No. 6 in AP and No. 4 on the BCS list.
Other league games on tap this week include: Georgia (6-4, 3-4) at Auburn (9-1, 5-10), Vanderbilt (4-6, 1-5) at Kentucky (5-4, 3-3), Tennessee (7-2, 3-2) at Arkansas (8-1, 5-0), Alabama (6-4, 2-4) at LSU (7-2, 3-2).
This week's college football TV schedule kicks off tonight with Texas El-Paso at UAB live from Legion Field in Birmingham, Ala., at 7 p.m. on ESPN2. Saturday's weekend TV lineup, other than pay-for-view is as follows:
N.C. St. at Clemson, 11 a.m. (WB)
Samford at Jacksonville St., 11 a.m. (CSS)
Wisconsin at Iowa, 11 a.m. (ESPN)
Cincinnati at W. Virginia, 11 a.m. (ESPN2)
Minnesota at Michigan St., 11 a.m. (ESPNU)
Georgia at Auburn, 11:30 a.m. (Lincoln Financial)
Baylor at Okla. St.,11:30 a.m. (FSNS)
Miami at Maryland, 2:30 p.m. (ABC)
South Carolina at Florida, 2:30 p.m. (CBS)
Michigan at Indiana, 2:30 p.m. (ESPN)
Texas Tech at Oklahoma, 6 p.m. (FSNS)
Tennessee at Arkansas, 6 p.m. (ESPN2)
Duke at Boston College, 6 p.m. (ESPNU)
Alabama at LSU, 6:45 p.m. (ESPN)
Wake Forest at FSU , 7 p.m. (ABC)
Rumsfeld Ousted As Secretary of Defense
by Glynn Wilson
The sweep is final and complete. The Democrats will now control a majority in both the Senate and the House for the first time since 1994 as the two close races still in play on Wednesday in Montana and Virginia ended up going to the Democrats, according to the Associated Press and other news organizations.
Jim Webb's close victory over incumbent Sen. George Allen gave Democrats their 51st seat in the Senate, an astonishing turnabout at the hands of voters unhappy with Republican scandal and unabated violence in Iraq, according to the AP, which called the race first this evening.
The Senate teetered at 50 Democrats, 49 Republicans and one independent for most of Wednesday, with Virginia hanging in the balance. Webb's victory ended Republican hopes of eking out a 50-50 split, with Vice President Dick Cheney wielding tie-breaking authority.
The AP contacted election officials in all 134 localities where voting occurred, obtaining updated numbers Wednesday. About half the localities said they had completed their postelection canvassing and nearly all had counted outstanding absentees. Most were expected to be finished by Friday.
The new AP count showed Webb with 1,172,538 votes and Allen with 1,165,302, a difference of 7,236.
An adviser to Allen, speaking on condition of anonymity because his boss had not formally decided to end the campaign, told the AP the senator wanted to wait until most of canvassing was completed before announcing his decision, possibly as early as Thursday evening. The adviser said that Allen was disinclined to request a recount if the final vote spread was similar to that of election night.
The victory puts Sen. Harry Reid, D-Nev., in line to become Senate majority leader.
Combined with the major victory in taking over the House of Representatives on Tuesday by re-capturing at least 27 seats and leading in four other races, Election Day 2006 was a repudiation of the failed policies of President George W. Bush.
In an acknowledgement of that defeat and the failed war strategy in Iraq, the president handed the Democrats the head of Secretary of Defense Donald Rumsfeld in a last gasp attempt to appear willing to acknowledge mistakes and avoid total lame duck status by appearing to be willing to work in a non-partison fashion for his last two years in office.
Rumsfeld resigned with a short statement in which he quoted the great British war strategist of World War II Winston Churchill.
To paraphrase Richard Nixon, let's make one thing perfectly clear. Mr. Rumsfeld, you are no Winston Churchill.
Bush replaced Rumsfeld with Robert Gates, who may come under close scrutiny during his Senate confirmation hearings, which will now be led by Democrats, for his controversial role in the Iran-Contra scandal when he worked for then-Vice President George H.W. Bush in the late 1980s.

Turning to the polls online to look for hope or impending disaster on election day 2006, it is surprising to find the online pollsters more optimistic for the Democratic Party than even the national corporate broadcast media at this point.
It's a balanced picture on TV, of course, with the Republicans coming back in the end.
But the best pollsters seem to think it's over and the Democrats will take back both houses of Congress.
We are not so sure, due to the "too close to call" nature of many races – and our fear that the Republicans will likely do their best to disengranchise voters where they can and "steal" any close election.
Let's hope the pollsters are right.
According to the Cook Political Report, the Democratic Party should pick up 20 to 35 seats in the House, four to six seats in the Senate and a six to eight more governor's races than the GOP.
"All Monday there was considerable talk that the national picture had suddenly changed and that there was a significant tightening in the election," Cook says, but it's not true.
"This was based in part on two national polls that showed the generic congressional ballot test having tightened to four (Pew) and six (ABC/Wash Post) points," he says.
But seven national polls have been conducted since Wednesday, November 1 and give Democrats an average lead of 11.6 percentage points, "larger than any party has had going into an Election Day in memory."
Even if you knock five points off of it for the margin of error, it's 6.6 percentage points, he says, "bigger than the advantage that Republicans had going into 1994."
"Furthermore, there is no evidence of a trend in the generic ballot test," he argues.
In chronological order of interviewing (using the midpoint of field dates), the margins were: 15 points (Time 11/1-3), 6 points (ABC/Wash Post), 4 points (Pew), 7 points (Gallup), 16 points (Newsweek), 20 points (CNN) and 13 points (Fox).
In individual races, some Republican pollsters see some movement, voters "coming home," in their direction, and/or some increase in intensity among GOP voters," he says. But "all seem to think that it was too little, too late to significantly change the outcome."
It might be enough to save a few candidates, but no one thinks it is a major change in the dynamics of races.
For all the details on each individual race, go to the Cook Political Report.
Sabato's Crystal Ball is predicting about the same result, 4, 5 or 6 seats going to the Democrats, "resting party control of the Senate squarely on the edge of the butter knife," according to Larry J. Sabato and David Wasserman of the University of Virginia Center for Politics.
"We think the Democrats may replicate their feat from 1986 (the sixth year election of Ronald Reagan's Presidency) and capture just enough seats to take over," they said. When they add together all their predictions, Democrats pick up six seats, "sufficient to wrest control from the GOP."
For all the details on each individual race, go to Sabato's Crystal Ball.
So, it looks good tonight, but don't count on it. Go to the polls yourself and make it happen. Your future freedom depends on it.
If the power does change hands, it means above all, that Rep. John Conyers will become chair of the House Judiciary Committee. No one is campaigning on the issue, but he will no doubt launch a major investigation into President George W. Bush's war crimes and bring articles of impeachment against the dicktater in chief.
He's already drawn up the articles and held hearings in the Capitol basement, since the Republicans would not use their Constitutional oversight responsibilities to do the right thing for their country. They won't even give him a room or put his hearings on the agenda.
It's at least worth an investigation, some hearings, a national discussion and a damn vote. Otherwise, we are a democratic republic no more and the world will never believe us or look up to us again…
The SEC spotlight falls on Tennessee Saturday, where the Vols (No. 8 in the national polls) will entertain No. l 3 LSU in the only matchup of ranked teams on the SEC slate this weekend.
The game is a big one for Tennessee (3-1 in league play, 7-1 overall) because the Vols are one of the many one-loss teams still hoping to run the table the rest of the way and somehow make it to the BCS title game. Teams with two losses, like LSU (2-2, 6-2) are already out of that discussion.
That said, Saturday's tussle is very important to the Bayou Bengals as well. Fair or not, there's a feeling around Baton Rouge that this week's trip to Tennessee is a defining moment for the LSU program, it's quarterback and head coach.
The questions haunt LSU: Can QB JaMarcus Russell win the big road game? Can Tiger head coach Les Miles overcome the stigma that fans have attached to him – a coach who took Nick Saban's leftover talent and then underachieved with it?
Russell, a junior from Williamson High in Mobile, has great numberfs for the season – 135-for-194 in passing for 1,190 yards and 15 touchdowns. He has thrown just four interceptions in the 194 attempts – however, all four of the picks came in the two games the Tigers lost, to Auburn and Florida.
The game, on paper, looks to be an entertaining offensive showcase. LSU and Tennessee rank first and second, respectively, in scoring in the SEC. Tennessee, behind QB Erik Ainge, leads the SEC in passing offense and total offense, with LSU's Russell right behind him in second place. LSU and Tennessee are two of the 12 teams in the nation converting on at least one-half of their third-down conversions. And if the Vols are trailing heading into the fourth quarter, they certainly shouldn't panic. Tennessee has overcome fourth-period deficits in each of its past three games to win.
Other league games on tap this week include Arkansas State (5-3) at No. 6 Auburn (8-1, 5-1), Mississippi State (2-7, 0-5) at Alabama (6-3, 2-3), Florida (7-1, 5-1) at Vanderbilt (4-5, 1-4), Georgia (6-3, 3-3) at Kentucky (4-4, 2-3), Northwestern State (4-4) at Ole Miss (2-7, 1-5) and Arkansas (7-1, 4-0) at South Carolina (5-3, 3-3).
This week's college football TV schedule kicks off tonight with an armed services special – Air Force at Army – at 7 p.m. on ESPN2. Saturday's weekend TV lineup, other than pay-for-view is as follows:
Missouri at Nebraska, 11 a.m. (ABC)
Virginia at FSU, 11 a.m. (WB)
Wofford at Georgia Southern, 11 a.m. (CSS)
Baylor at Texas Tech, 11 a.m. (FSNS)
Maryland at Clemson, 11 a.m. (ESPN2)
Ball St. at Michigan, 11 a.m. (ESPNU)
Miss. St. at Alabama, 11:30 a.m. (Lincoln Financial)
North Carolina at Notre Dame,1:30 a.m. (NBC)
TCU at UNLV, 2 p.m. (VS)
LSU at Tennessee, 2:30 p.m. (CBS)
Kansas St. at Colorado, 2:30 p.m. (FSNS)
Ohio St. at Illinois, 2:30 p.m. (ESPN2)
Purdue at Michigan St., 2:30 p.m. (ESPNU)
Washington at Oregon, 2:30 p.m. (TBS)
La. Lafayette at Troy, 6 p.m. (CSS)
Southern Cal. at Stanford , 6 p.m. (FSNS)
Oklahoma St. at Texas, 6 p.m. (TBS)
Boston College at Wake Forest, 6 p.m. (ESPN2)
Georgia Tech at N.C., 6 p.m. (ESPNU)
Arkansas at S.C., 6:45 p.m. (ESPN)
Virginia Tech at Miami, 7 p.m. (ABC)
Sunday's ESPN game at 7 p.m. will feature Southern Miss at Memphis.