Under the Microscope
by Glynn Wilson
It should be no secret that I would rather be photographing birds from a canoe than covering politics.
Unfortunately, the state of American politics and the press is in such bad shape that I feel I have no choice. It's that important.
While there are about a zillion places on the planet I would rather be than Highway 280 south of Birmingham, I headed over to the Cahaba Convention Center Friday night to meet former president Bill Clinton.
Now here is where Web coverage gets a little different than the mainstream press. The idea here on a blog journal is to create a more conversational style for readers who are tired of the formalism of balanced journalism.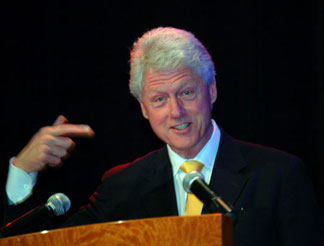 Photo by Glynn Wilson
Former President Bill Clinton campaigns for Hillary in Birmingham, Alabama.
If I had been covering the event for a newspaper such as the New York Times or the Christian Science Monitor, I would have remained at arms length from the politician and written a more formal news feature on the event, complete with background information and political analysis all wrapped up in the pretty language of a literary feature.
Instead, I concentrated mainly on getting some serviceable photographs in the bad light of the big HealthSouth hall, then passing on the key points of what Clinton said.
As it turned out, I was right down front at the end of Clinton's address. He walked right toward me to shake some hands. What was I to do?
Perhaps I should have asked a tough question in that rare moment in today's over-handled PR world when you get to meet an American president up close and personal. But quite frankly, I wasn't in the mood to be a tough reporter in that moment. I'm sure meeting George W. Bush would be different.
So instead, I scanned my brain quickly for something to say during that brief handshake. Here's what I came up with, which I think he will remember.
As I grasped that infamous hand and looked Bill Clinton in the eyes, I said, simply: "You were the best president ever – no matter what they say about you."
He smiled that humble smile of his and said thank you, then turned to state Sen. Roger Bedford, D- Russellville, to shake his hand and continue working the room.
I also had a word with former Lt. Gov. Lucy Baxley at the event. She suffered a stroke not long after losing the race for governor last year, but she didn't want to miss the annual Jefferson-Jackson dinner, which drew about 1800 people this year and raised about $350,000 for the Alabama Democrats.
I also got a hug from my old source and friend Nancy Worley, our former secretary of state who is being legally harassed by certain Republican forces in this oh so conservative state.
When I told some of my Democrat friends in Birmingham about the Clinton meeting, they were very interested, since they consider Clinton not only to be the best president ever.
"He is the only president we've ever had," said one Democrat from Clay, Alabama.
I'm sure all those Republican birders out there would scoff at that statement. But that is what the world looks like from over here whether they like it or not.
Thier man Bush has been the worst president in American history bar none. I would bet the whole Yuengling 12-pack that historians will come to that conclusion when all is said and done.
Except for being defeated by the big, corporate insurance companies on creating a national health care system, cowtowing too much to corporate America by supporting the NAFTA free trade agreement, and that little matter of oral sex with a flirtatious intern, it was great to be alive and covering science with Bill Clinton in the White House.
The federal government actually worked for the first time in my lifetime, and the economy was on such a roll I spent most of the 1990s in grad school studying science and communications.
Unfortunately it all unraveled when the U.S. Supreme Court handed Bush the election of 2000. After the attacks of 9/11, I knew I wanted back in the news business covering politics.
I never imagined I would meet Bill Clinton on Highway 280 in Birmingham, since that's rock solid Republican territory. I think Republicans must like suburban sprawl and driving gas guzzling SUVs in rush hour traffic.
Me? After a fine Sunday breakfast on a beautiful spring day, I'll be putting the canoe in the water this afternoon, searching for some birds to shoot – with a camera of course.
And unlike all of the Republicans and most of the Democrats on the TV talk shows today talking about the shootings in Virginia, I've been in favor of stronger gun control laws for a long time. Give me a camera over a gun any day…
Postscript Note: Notice our lead story on the Locust Fork News page today. The New York Times didn't have it. The Washington Post didn't either, and neither did the Birmingham News.
Al Gore Presidential Campaign Team Assembles in Secret
Just another great reason to check LocustFork.Net every day and make it your home page. Why support the corporate media?