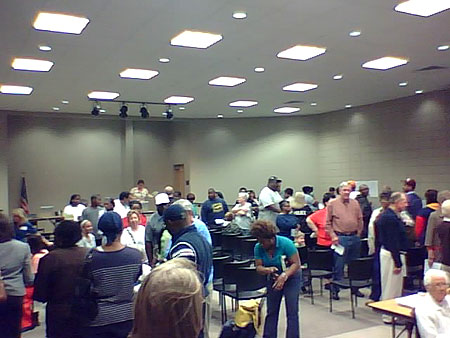 NORTH LITTLE ROCK, Ark. — Moms carried small children on their hips while the pre-teens looked around in disgust. Elderly women moved ahead to sit down while their husbands kept their place in line. Younger men and women spoke in hushed tones. Though crowded, nobody wanted to leave and miss their chance.
Early Christmas shopping? Nope; the line that stretched around the inside lobby of Laman Library held hundreds of citizens taking the opportunity to vote early as Arkansas' polls opened Monday, Oct. 20.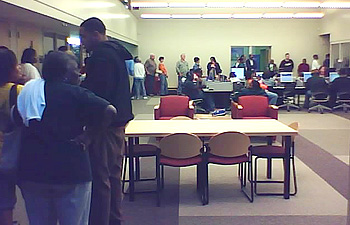 I arrived around 11:10 a.m. after purchasing $2.23 gas at the Indian Hills Kroger on John F. Kennedy Boulevard. I thought the gas line was long, but I wasn't prepared for the line to vote. The last time I practiced early voting, it was an in-and-out affair as very few people took advantage.
That's not the case this year. Luckily, I kept speaking with a corrections' officer through the wait, passing the time and being continually amazed at the numbers of people who kept pouring in the doors. I'm sure he said something about the turnout first, maybe along the lines of "This just shows people want a change." I just remember saying it did my heart good to see so many people wanting to exercise their Constitutional right.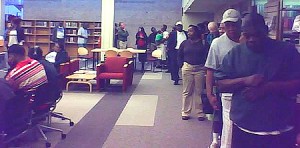 We discussed the issues while moving inch-by-inch, around the outside wall while trying not to disturb the library patrons working on the computers but having no choice but to glance at their computer screens as we moseyed by. A middle-aged woman tried breaking in line. No one said anything to her, but she must have gotten hot under the collar as the stares could've sent knives into her back; she finally moved to the end of the line, all the way back across the lobby.
As 11:15 stretched to 12:20 and we'd made it but halfway around the lobby, I decided it'd be a good idea to call work and let them know I might be late. "It shouldn't take too long. Now that I'm here, I want to make sure I vote," I told Amy Meeks, the secretary of Arts & Humanities at the University of Arkansas at Monticello. She replied that it was not a problem and she'd let the dean know.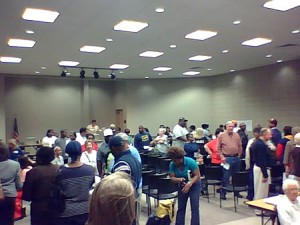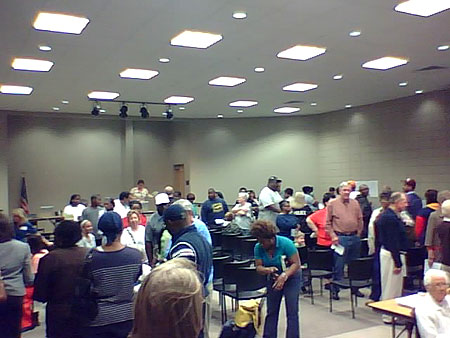 It takes roughly an hour-and-a-half to two hours for the 100-mile drive between North Little Rock and Monticello. I knew I'd be pushing it, but I'd already stood in line this long. Usually, I am not the type to wait in line at a grocery store; I'll leave the buggy and come back later. The only similar-type lines I've ever found worth the wait were for student tickets to the University of Tennessee-University of Arkansas football game in 1998 and for student refund checks while an undergraduate at the University of Arkansas at Little Rock. But to vote? I feel this election undoubtedly deserves the same rapt attention as refund checks and football tickets.Read more: Early Voters Unfazed by Long Lines