Editor's Note: A controversy rages in Alabama over whether to continue calling the Alabama-Auburn game the "Iron Bowl."
Over at Tuscaloosa News columnist Tommy Stevenson's new blog, he's asking the question.
We raised the issue last year in this story, which should tell you where we come down on the subject: It ain't "The Iron Bowl" no more.
What do you think? Sign in below and give us your comments. Onto the story…
by Paul Rockne
It's Traditional Rivalry Week for Southeastern Conference football.
Photo by Glynn Wilson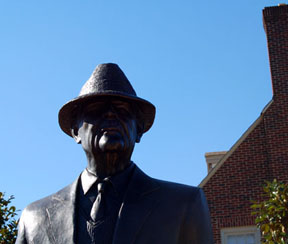 Funny, when Paul "Bear" Bryant was alive, it was hard to get a picture of him where you could see his eyes, especially on the football field. Now, with the sun behind Bryant-Denny Stadium, it's hard to get a photo of his new statue with his eyes in the picture…
There are three of these throw-out-the-record-books games, in which the outcome is the be-all and end-all for rabid fans, on tap this weekend – headed by the Iron Bowl, which annually pits Alabama against Auburn.
In the state of Alabama, polls have shown that over the years some three-fourths of the population – young and old, women and men – watch the Bama-AU battle if it is offered on TV. This year it is being carried live on CBS (not a good omen for Alabama, which has fared poorly on that particular network in the past few years).
Outside of Alabamians, few football fans in the other 49 states will be tuned into CBS Saturday because they will be tuned into the big No. 1 Ohio State vs. No. 2 Michigan game over on ABC that will determine the Big Ten title and put the winner into the BCS national championship game.
The Tide-War Eagle game is more important than life or death to a good number of the teams' fans. While it doesn't quite mean that much to the teams and players – winning or losing won't mean a winning or losing season for either and a win won't put either into the Western Division title game – it does have it's importance to both.
For Alabama, it will mean stopping a four-game losing streak to Auburn. A Bama win would also be big in that it would be the first-ever for the Tide in Tuscaloosa. Right now Auburn owns a five-game winning streak in T-Town, owns the Alabama home field. Add to that the fact that, so far, Bama Coach Mike Shula is 0-for against Auburn. No coach can last for long at Alabama if he can't beat Auburn – and Shula knows that.
A win for Auburn would erase the two losses this season and send the Tigers a-bowling with a good taste in their mouths. It would also be win No. 10 for the season for Coach Tommy Tuberville's team. And it would probably mean a new version of the "Fear the Thumb" T-shirts that AU unveiled after last year's Iron Bowl triumph.
People outside Alabama have a hard time understanding exactly why the "Iron Bowl," if we should still call it that, is such a big deal (although ESPN announcers have been debating among themselves if it is or isn't the nation's fiercest rivalry, thus giving the game more national attention).
Remember, this is a series that was put on hold for 41 years over a dispute – following a tie game – over a referee and per diem money paid to players to travel. Alabama owns a 38-31-1 edge in the series, with the lone deadlock coming in that final game before the 41-year break. There have been 22 shutouts in the series (meaning a close, low-scoring game benefits the Tide?), while Auburn owns a 4-1 record in one-point games in the series (meaning a close game is a good omen for AU?).
One final historical fact does seem to lean the Tide's way. This is the eighth time since the series was rekindled in 1948 that both teams come into the Iron Bowl off losses. Alabama holds a 5-2 edge in games that followed the double losses.
The other two other rivalry games set for Saturday include Ole Miss (3-7, 1-5) at No. 9 LSU (8-2, 4-2) and No. 22 Tennessee (7-3, 3-3) at Vanderbilt (4-7, 1-6). The schedule also includes one big non-rivalry matchup – No. 5 Arkansas (9-1, 6-0) at Mississippi State (3-7, 1-5). Arkansas can clinch the Western Division crown with a win over the Bulldogs, or a win over LSU next week.
Other league games on tap this week include a trio of cremepuffs with the SEC taking on two Sun Belt Conference squads and one Divison 1-AA team: No. 3 Florida (9-1) will get no computer points for its national title game bid with a win this week. The Gators host Division 1-AA Western Carolina (2-8). South Carolina (5-5) looks pretty assured of getting that sixth win to become bowl eligible as the Gamecocks host Middle Tennessee (7-3). Kentucky (6-4) will be at home against Louisiana-Monroe (2-7).
Saturday's weekend TV football lineup, other than pay-for-view is as follows:
Miami at Virginia, 11 a.m. (WB)
Yale at Harvard, 11 a.m. (WGN)
Iowa at Minnesota, 11 a.m. (CSS)
Maryland at Boston College, 11 a.m. (ESPN)
Michigan St. at Penn St., 11 a.m. (ESPN2)
Buffalo at Wisconsin, 11 a.m. (ESPNU)
Oklahoma at Baylor,11 a.m. (FSNS)
Tennessee at Vanderbilt, 11:30 a.m. (Lincoln Financial)
Charleston Southern at Coastal Carolina, 12:30 p.m. (SS)
Army at Notre Dame, 1:30 p.m. (NBC)
Michigan at Ohio State, 2:30 p.m. (ABC)
Auburn at Alabama, 2:30 p.m. (CBS)
Alcorn St. at Jackson St., 2:30 p.m. (CSS)
Kansas St. at Kansas, 2:30 p.m. (FSNS)
Bethune Cookman at Florida A&M, 2:30 p.m. (ESPNU)
San Diego St. at TCU, 3 p.m. (VS)
Arkansas St. at Troy, 6 p.m. (CSS)
Washington at Washington St., 6 p.m. (FSNS)
Virginia Tech at Wake Forest, 6 p.m. (ESPN2)
South Florida at Louisville, 6 p.m. (ESPNU)
Rutgers at Cincinnati, 6:45 p.m. (ESPN)
California at Southern Cal, 7 p.m. (ABC)
UCLA at Arizona St., 9:15 p.m. (FSNS)