Caring More About Football Than Global Warming

Connecting the Dots
by Glynn Wilson
TUSCALOOSA, Ala., Jan. 7 – It is 72 degrees in mid-January and still drizzling rain in T-Town. It looks like global warming is taking a toll after six years of being denied and ignored by the Bush administration.
All the national news organizations are focusing on what Bush will say in an address to the nation this week about the quagmire in Iraq.
Trial balloons are being floated over the airwaves saying he will propose sending anywhere from 20,000 to 40,000 more troops to face the growing insurgency there. Not many Republicans or Democrats think that will be enough troops to do much good, and most of the Democrats think it will just do more harm than good.
The notable exception is Republican Senator John McCain of Arizona, who wants to run for president in 2008 and thinks the only path to that success will be some sort of "victory" in Iraq.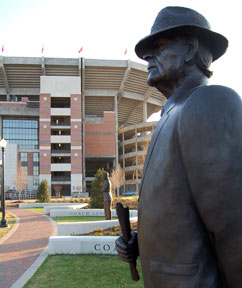 Photo by Glynn Wilson
"Bear" Bryant's image casts a shadow over Tuscaloosa.
Meanwhile back at the Christian-Republican ranch in Alabamaland, all the buzz is about the University of Alabama's success in recruiting Nick Saban to take over the UA football program.
The only war that really matters here is the one between the Crimson Tide and a smattering of orange-clad opponents on the gridiron, most notably the Auburn tigers and the Tennessee volunteers.
As usual I am torn between the glaring contradictions.
While the people of Alabama claim to be deeply Christian, their Bible clearly says in the venerated Ten Commandments, "Thou shalt have no other gods before Me … Thou shalt not make unto thee any graven image"
Yet towering over the psyche of this place is a granite statue of the winning football coach Paul "Bear" Bryant. And as we reported this week before the Saban press conference, there is an empty spot on the "walk of champions" in front of the newly expanded Bryant-Denny Stadium for a new statue for the next coach who wins a national championship.
And just about everyone around here, including virtually every sports writer at every local newspaper, thinks Saban has what it takes to capture that spot in college football history – even if the national sports press corps thinks Saban is a liar.
The opinion and theory that Saban will be a winner here will be tested on the football fields of the Southeastern Conference and beyond.
What I want to know is: When will the people of Alabama and the local news media start caring as much about good government as they do about a winning football program? When will they get as tough on politicians are they are on football coaches?
If a football program is a business and the coach should be treated as a CEO, then shouldn't we think of government in the same way? If George W. Bush was the CEO of a corporation – or a football coach – he would have been fired in 2004.
But the people elected him again for another four years and the mainstream press for the most part went along with it and even endorsed him.
So much for the theory of the "liberal media."
Now that the Democrats have taken back control of both houses of Congress, there are many of us out here wondering if they will play the role of a national board of directors – and fire Bush by impeaching him and removing him from office.
The people and the press in Alabama so wanted former Gov. Don Siegelman and HealthSouth founder Richard Scrushy to go to jail for their alleged crimes. Where is the outrage over Bush's crimes against nature and humanity?
If we had elected Al Gore in 2000, we would live in a different world today – a world with no quagmire in Iraq and perhaps some progress by now in dealing with global warming.
But no, the oil companies and corporate CEOs have gotten richer under Bush's watch – and we've done absolutely nothing to deal with the growing threat to the planet from climate change and the greenhouse effect due to the burning of fossil fuels.
Maybe we will start caring about that issue when the beaches of Gulf Shores erode north to Bay Minette.
Related stories:
Alabama Fans: Meet Nick Saban
Tide Faithful Goes Nuts Over Saban's Arrival