Category: Southern Scene
MONTICELLO — Two black cats laze on the hardwoods while the gray perches in the high chair.
Cats — big and small — seldom waste steps, in essence an efficiently ruthless killing machine. If not on the prowl, they move in moderation.
Life is generally good in moderation. Excess breeds addiction.
***
According to historian Donald Holley, Monticello helped lead the anti-liquor movement within the state in the late 1800s, as the local Women's Christian Temperance Union shut down the town's saloons in 1888. The Monticello chapter of the Ku Klux Klan provided "extra-legal assistance" in Prohibition enforcement during the 1920s.
In short, Monticello faces a truly historic challenge this fall as it considers whether to go "wet."
I know this mindset, i.e. I grew up Missionary Baptist. We didn't drink; we didn't dance.
But I needed money to go to the University of Arkansas at Little Rock. I didn't come from a lot of money; I worked two or three jobs at a time going to school. I waited tables, barbacked and bartended my way through, earning a bachelor's and master's without owing anyone a dime in student loans.
Mama Macy grieved me for "slingin' that whisky." It paid the bills.
Does alcohol negatively affect people? To say it doesn't would be disingenuous. But it is also disingenuous to pretend keeping sales outside the city limits will "save" the inhabitants of Drew County. Years ago when I first came through Monticello, you would drive by a "Jesus Saves … Let Him" sign just prior to getting to the liquor store.
I would encourage the good citizens of Monticello to let him save, but otherwise help the city gain sales tax revenue from bringing alcohol-serving businesses into town. Morality should not be legislated; it's easy to make laws to target folks, but then don't be surprised when you end up targeted.
The vast majority of adults who drink do so in moderation, which is great not only for alcohol but also for proselytizing.
***
Ani DiFranco plays "Which Side Are You On?" in the background.
***
One last drop: It's time for a "sin" tax on soft drinks in Arkansas. For those so concerned about what I'm drinking, two can play at that game.
-30-
Continuing a long-running trend
MONTICELLO — Hey Arkansawyers!
Today marks your last chance to vote early before tomorrow's important primary election. Make sure you vote!
Why does it matter? Our nation reached the sorry state it occupies because the electorate didn't pay attention during the primaries. By the time the general vote came around, we were left choosing between Tweedledum and Tweedledee, both beholden to industry interests that have no interest in the regular folk's problems.
Don't let that happen this year. Vote out ANYONE willing to give away our rights as citizens of Arkansas, the United States or the world. Think globally, but VOTE locally.
Did you hear?
Now they want to share
EVERYTHING.
Government
trade back and forth with
companies.
Demolish
any barriers
between them.
Privacy?
What an outdated
concept, please.
Gave that up
when you logged on for
the first time.
Realize:
Double-edged swords
cut both ways.
On CISPA,
Tell your senator
to VOTE NO!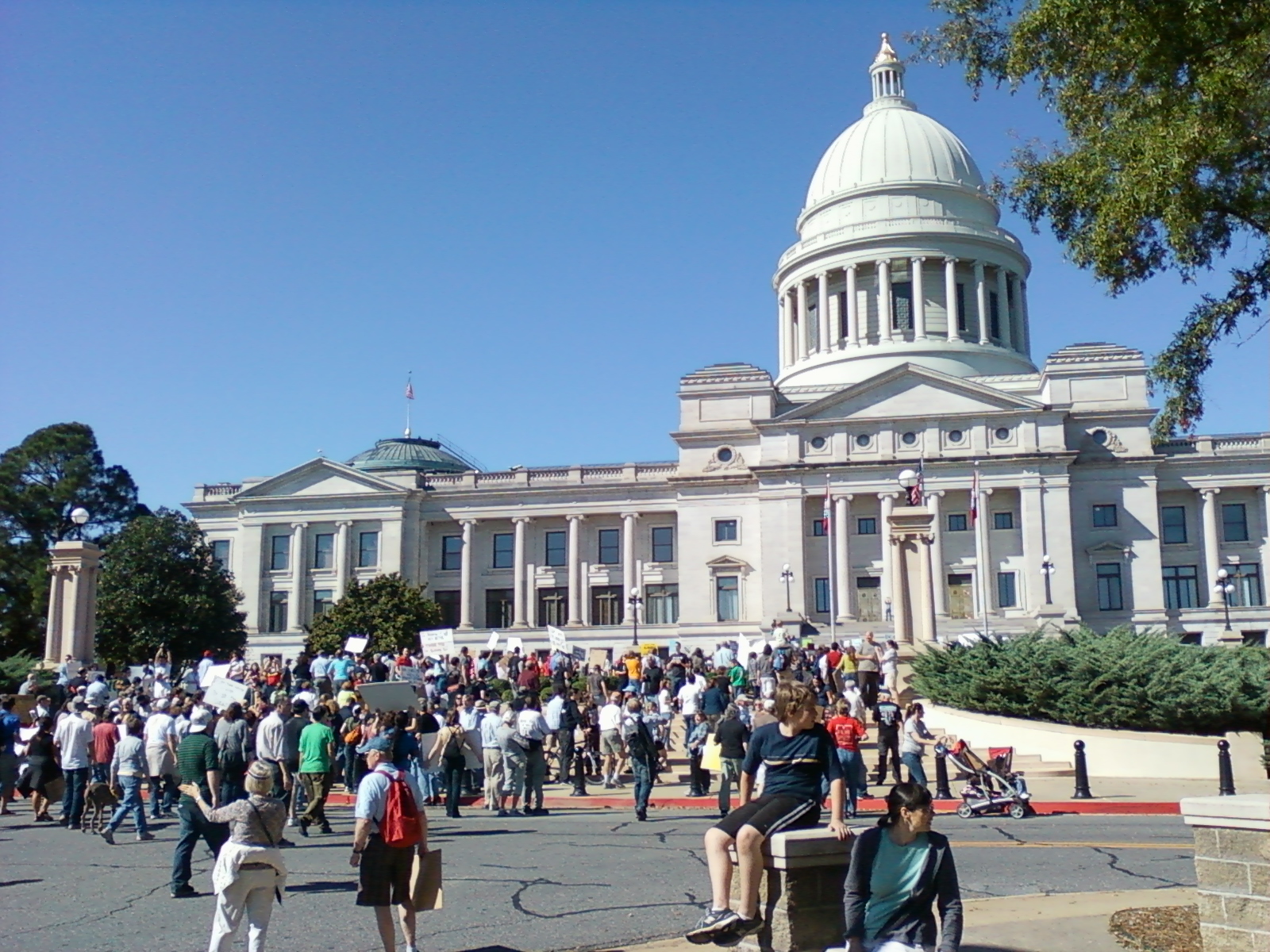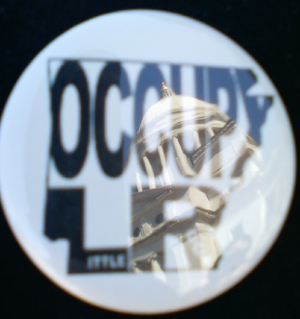 Movement the First: To Protest or Not
It started with a spark.
A Canadian spark no less, when the Adbusters Media Foundation came up with an idea to Occupy Wall Street. That spark started the occupation in Liberty Plaza Park Sept. 17, America's Constitution Day.
At first, few paid attention. But the movement gathered steam and the spark spread to cities across the country and then around the world.
During the time of year normally reserved for the state fair, the spark made it to the Natural State.
***
I stayed up too late Friday night with one of my best friends. He would leave Saturday morning for three weeks of drill with the Arkansas National Guard, which has orders to be ready to go to Afghanistan at a moment's notice … they just don't know when they're going. He's already been to Iraq twice and would just as soon not see the site of America's longest war.
I'd told him I'd planned to go to the march, to which he retorted, "As a participant or to cover it?" I hadn't actually decided yet. So he asked me what was the goal, since he'd heard it was just a bunch of rich kids camping out in New York. Why weren't they in D.C. instead, if they wanted to fix something with the government?
As I explained, it's not the government. When 9/11 happened, where did they aim first? At corporate America. That was a terrorist act; this seemed to be something more.
We spent the evening debating whether a protest would actually work. I suggested if I marched in protest, my personal reasons would be to end the Federal Reserve and to get the military out of Afghanistan. Needless to say, we kept it up long after we needed to go to bed.
As I lay down and set my alarm, I noticed it was nearly 2 a.m.  That 9 a.m. start would come early.
I wrote the following to Hershey's, the chocolate giant, to request they quit using child labor.
To show I'm serious, I'm boycotting Hershey's chocolate bars, Hershey's Kisses, Bliss chocolates, York patties, Kit Kats, Reese's Peanut Butter Cups, Almond Joys, Mounds, Twizzlers, as well as Cadbury or Carmello candies (Hershey's has licensing agreements with them).
If you're serious about your chocolate, join me in this boycott and let Hershey's know about it: https://www.thehersheycompany.com/contact-us/contact-us-form-step-2.aspx
Thanks,
-ron
****
Good morning.
It is with grave concern that I write you today. As a child I visited the Hershey factory in Pennsylvania. I fondly remember the "history" of chocolate shown by GI Joe figures (not dressed in fatigues, of course). Every since then, I've been a huge Hershey's fan … until recently.
I found out your company still uses child labor from this article: http://www.nydailynews.com/ny_local/2011/06/08/2011-06-08_activists_protest_hershey_in_times_square_calling_on_chocolate_giant_to_stop_usi.html
Why? According to your Corporate Social Responsibility Reports (granted, not updated since 2010 — http://www.thehersheycompany.com/social-responsibility/csr-report.aspx), today's Hershey continues to build "on Milton Hershey's legacy of commitment to consumers, community and children, we provide high-quality Hershey products while conducting our business in a socially responsible and environmentally sustainable manner." Would Milton approve of child labor?
C'mon, we're in the 21st century for crying out loud! I've alerted all of my facebook friends to this problem and have vowed to not eat any Hershey's chocolate until this issue is fixed. You cannot fathom how difficult it is for me to say that, as I'm sure I could be certified as a chocoholic. But I'm steadfast in my resolve not to contribute to such atrocities.
Please stop this heinous practice immediately so that I can get back to my favorite past time of eating Hershey's chocolate.
Sincerely,
Ronald Sitton, Ph.D.
NORTH LITTLE ROCK — If you didn't notice the hubbub following the Arizona shootings, you must live in a cave (Hello Mr. bin Laden!). [No, really Mr. NSA/DOJ/FBI/CIA … I meant that as a joke! Really!!] I digress.
Hank Williams Jr. reminds me the shyt will hit the fan whenever discussing this but I cannot help myself. I'll only pause for a little shameless self-promotion:
****
Follow me on Twitter @sitron45
*****
And now back to the regularly scheduled programming …
Walking into the living room before they brought Leroy home, I immediately noticed my shotguns laying across the chair. Someone went diggin' to get those out. I saw them last when they went into the gun case as I had no place to keep them in an apartment upon returning to Arkansas.
We grew up in a small arsenal. Dad kept weapons from the bedroom to the bookshelf. Before he installed a security system and bought a gun safe, he would meticulously scan every inch of the house before leaving, checking every window latch, every door lock, every hideaway.
I thought it odd until the day the .38 came up missing.
NORTH LITTLE ROCK — As we get older and look at our meager earnings/savings compared to the time investments in our careers, government and taxes provide easy targets to those looking to blame someone for their fate (myself included).
"If only they'd let me get paid an honest day's wages for all of the work I'm doing!" the familiar cry rings. "How can they keep taking things from me when I don't have anything to give? If the government would just get out of my business, everything would be better."
Yet when complaints against government annually pop up, I often wonder what folks would do without the government providing roads for commerce, public safety personnel and a judicial process rather than mob rule. In some ways it reminds me of the Albert King tune with the verse, "Everybody wants to go to heaven, but nobody wants to die."Read more: Government Provides Incentive to Quit